As Steven Gloates, DVM, searched for a tool to relieve his patients' chronic pain, he worried he might outstrip his own comfort level.
After all, it had been just five months since he bought his small-animal practice. Was this really a good time to invest in a Class IV laser?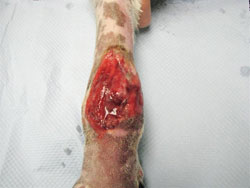 CS Wound – Before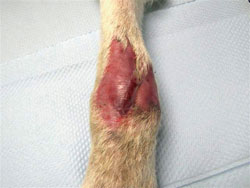 CS Wound – After
Now, six months later, he wonders what all the trepidation was about.
"It's a technology that comes with a lot of skepticism," says Dr. Gloates, owner and operator of Vetcetera Pet Healthcare Centre in Schuylkill Haven, Pa. "But once you get your hands on it and see how it works and what it can do, that skepticism gets erased."
Every month, it seems, he dials up a new use for his LiteCure Companion Therapy Laser. "It's not exactly discovering, because the uses are well documented," says Gloates, who makes presentations for LiteCure. "It's more a case of making sure not to miss the opportunities to use the laser."
From burns to hot spots, lesions to lick granulomas, clinical uses are many for therapeutic laser technology, practi- tioners say. Often, veterinarians seek out the laser to ease the pain and swelling of arthritic patients but then find its versatility seals the deal.
Many Possible Uses
That was the case for Brandy Ellis, DVM, one of two veterinarians at Olive Branch Animal Clinic in Olive Branch, Miss. In the first month after the clinic acquired the therapeutic laser, three dogs were treated for arthritis, with two gaining significant pain relief and increased range of motion.
Another dog, with a severe hot spot, experienced almost immediate results, Dr. Ellis says.
"I'm eager to try using it more on chronic skin problems to see what benefit we can get," she adds.
Ellis also tried the recommended six-treatment regimen for a patient's lick granuloma, which was very slow to heal. "I really didn't think it would work," she says.
But the results were so positive that after four treatments, the dog's owner was ready to declare victory. He had to be assured the last two treatments were necessary.
"I was skeptical. I guess because it's presented that there are so many uses," Ellis says. "It all sounded too good to believe.
"But I've been really happy with it. There's definitely something to it."
'Wide Margin of Safety'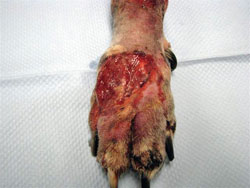 CS Paw – After
CS Paw – After
David Bradley, DVM, a fellow of the American Society of Laser Medicine and Surgery, helps disseminate information on the laser's versatility as a consultant for LiteCure. He says many of the technology's uses begin in general practice exam rooms, where veterinarians ask, "I wonder if it would work on this?"
"Luckily, there is a wide margin of safety, with no untoward effect on healthy tissue," Dr. Bradley says. "There are very few contraindications."
One contraindication is allowing direct exposure of the laser to the optical lens or retina. But some practitioners have enjoyed "some pretty good success" treating chronic corneal ulcers with tangential exposure at low power, the doctor says.
Two keys to off-label use are good clinical sense and client consent, Bradley says.
"We do encourage them to realize [the therapeutic laser] has a broad range of applications," he says. "By adjusting the power and time, they can move cautiously into uncharted territory, while always keeping safety in mind.
"Because of the margin of safety, there is little to lose and so much to gain."
In addition to low-power uses on acupuncture points, wounds and skin conditions, the technology allows for an increase in power and time to achieve a saturation of photons, aiding the treatment of neurological conditions, Bradley says.
"We're also seeing some benefits in chronic cases where the autoimmune system has gone haywire, such as with feline asthma," he adds.
"In some cases, medications can be detrimental or harsh. There may not be a lot of other options."
Bradley encourages practitioners to communicate with him or others who compile and share clinical information.
"We want to hear all the good and the bad so we can make sure the latest information gets to those who can use it," he says.
When practitioners stretch to take advantage of the therapeutic laser's versatility, it not only can help boost client satisfaction, it can invigorate the practice itself, Bradley says.
"There's an excitement about resolving difficult cases," he says. "That's part of what makes this such an interesting field for us."
Success Stories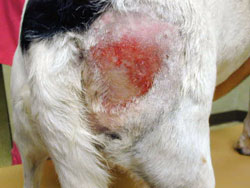 CS Hotspot – Before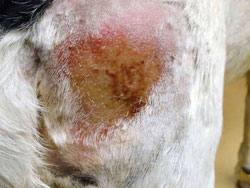 CS Hotspot – After
Successful treatment is a great barrier-breaker for clients who start out thinking laser therapy is akin to snake oil, Gloates has found.
"I haven't taken advantage of the marketing opportunities, just because it always seems like there are a million other things to do," he says.
"And yet I have still gained clients who have found out about the technology and heard we have it."
Gloates says he loves sharing his success stories. Like the Jack Russell terrier he treated for severe burns after its owner, a single mother of two, lost her home in a grease fire. The dog's skin was peeling off and conventional treatment wasn't working, "so we turned to the laser," Gloates says.
In the first week of treatment, there was dramatic improvement, the doctor relates, and after three to four weeks, the burns were completely healed.
"Most of the skin I had expected to lose was retained," he says.
Also retained: his appreciation for a technology that has affected his practice financially as well as clinically.
"Since I bought the practice, I have purchased a number of pieces of equipment—blood machines for the lab, anesthesia monitoring equipment. For sure the therapeutic laser is more than paying for itself, and I can't say that for the other equipment.
"I have absolutely no regrets," Gloates says. <HOME>
This article first appeared in the November 2009 issue of Veterinary Practice News