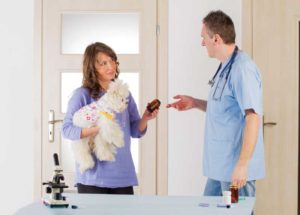 Frustrated with clients who wait until the last pill is gone before requesting refills, a hospital manager implemented a $15 expedited refill charge. Some pet owners complained they couldn't afford the convenience fee on top of the cost of medications. Patients on drugs such as insulin and phenobarbital couldn't wait the 48 hours the practice required for refills.
After another practice experienced several surgical cancellations, employees began charging a $50 no-show fee when the client gave less than 24 hours' notice. Now the manager is considering a similar policy for appointments.
While these hospital policies may make practice owners and managers feel less frustrated, they also may put patients' health at risk, encourage clients to seek care elsewhere, and harm your hospital's income and reputation. If you want a thriving, profitable practice, undo rules that limit your success.
Banish this rule: You require 24 hours to refill medications
Think like a client. She can take her prescription to a retail pharmacist and have it filled while she waits, usually within 15 to 20 minutes. Although veterinarians account for 62 per cent of pet medications sales, mass-market retailers have claimed 20 per cent, while internet retailers have a 12 per cent share.1 Savvy marketers will steal and retain pet medication sales if you make it inconvenient for pet owners to do business with you. Replace rules with systems that make it easy for clients to get refills from your practice. Consider these strategies:
Send reminders to prompt refills
Just as you send reminders for vaccines, do the same for preventatives and long-term drugs. When pets have arthritis, diabetes, cardiomyopathy, epilepsy, or another chronic condition, clients count on you to help them manage patients' quality of life. Medication is a key strategy in your disease management.
Have nurses enter reminders when refilling prescriptions. If a client buys a 30-day supply of an NSAID, set a reminder for 23 days, when seven doses or a one-week supply will remain. The client will receive e-mail, text, or app refill notices through your practice-management software or third-party provider. Because many clients will get notices on smartphones, include links to your online store and hospital phone number.
Flea, tick, and heartworm preventatives need refill reminders, too. In your software, go into the inventory module for each preventative and turn on reminders for one month before doses will run out.
| | |
| --- | --- |
| Quantity purchased | Reminder interval |
| 12 months | Remind in 11 months |
| Six months | Remind in five months |
| Single dose | Callback in 20 days |
For single-dose users, enter a 20-day callback after one dose is sold. Clients who buy singles can least afford the expense of heartworm treatment. The client-care team needs to call single-dose users every 20 days because pet owners will have to repurchase and give the next dose within 10 days. Say, "This is <Name> calling from <Your Veterinary Hospital>. We appreciate your commitment to protect <Pet Name> from deadly heartworms. This is a courtesy reminder that <Pet Name> will need her/his next dose of <Brand Name> on <Date> to protect from <list parasites>. When you pick up your refill, we can tell you about rebates for more savings. We are open <describe hours and days> and look forward to seeing you!"
Let clients request refills through your website, text, or app
Receptionists will cheer when you eliminate 20 or more calls each day. At one clinic I'm familiar with, clients can request refills before 2 p.m. on the hospital's website and pick up by 4 p.m. the same day. Include the link where clients may request refills on prescription labels. Some texting services let clients text your hospital's phone number, which they already know. Employees reply to medication requests when messages pop up on their desktop screen. You also can send a text when the medication has been filled and is ready for pick up.
Place a sticker on the vial when one refill remains
When blood work is due before the next refill, put a label on the vial such as "Blood test required before next refill." The label will note that zero refills remain. Use a bright-coloured sticker rather than typing, "Blood test required before next refill" on the label. Few clients will reread labels for chronic medications when dosing instructions remain the same.
The sticker alerts both clients and employees. When the client arrives to pick up medication, the receptionist would see the sticker and say, "This is your last refill before blood work is due. Let's schedule a 15-minute nurse appointment for the blood draw. We could see your pet next Tuesday at 1 p.m. or Wednesday at 11 a.m. Which works for you?" In addition to using stickers on medications that need drug monitoring, put the "Blood test required before next refill" sticker on heartworm preventatives when a heartworm test will be due.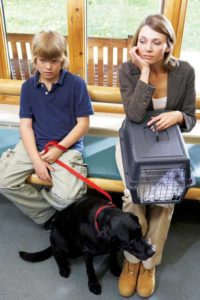 Banish this rule: You charge a no-show fee
While this client behaviour is aggravating and results in lost income, collecting fines from no-shows will prove even more frustrating. You'll risk negative online reviews and losing clients. Take these proactive approaches:
Text or call clients to get patients rebooked
Be a patient advocate and recapture lost revenue. Because there was a medical reason the pet needed to see a doctor for an appointment or surgery, make it happen. Don't make clients feel guilty. Say, "Hello, <Client Name>. This is <Name> from <Your Veterinary Hospital>. We missed you and <Pet Name> yesterday for your 3 p.m. appointment with Dr. <Name>. We want to make sure she gets the care she needs, so please call us at (555) 555-5555 to reschedule your appointment."
Track no-shows
Create an alert in the client's record each time he no-shows, noting the reason. A blizzard is excusable. "I forgot" may or may not be noteworthy. Before getting angry with the client, be sure you have the right e-mail and cell phone number for electronic appointment confirmations. If he didn't get the notice, it may be your fault he forgot. Monitor the number of no-shows so you may remedy the conduct of repeat offenders.
After three no-shows, have the client prepay the exam fee
Explain, "We're happy to see <Pet Name>. Because you've missed three consecutive appointments, I need to get your credit card number over the phone today so you may prepay the exam and confirm this appointment. This is a one-time prepaid exam fee. Once you keep this appointment, we'll be happy to schedule future exams without payment in advance."
Collect prepayments for surgical and dental procedures
Consider two approaches. One choice is to perform presurgical blood work on the day of diagnosis if the procedure will happen within several days. Because the client pays for lab tests today, you'll increase the likelihood she will arrive as scheduled for the procedure. A second option is to have clients prepay 50 per cent of the treatment plan when booking. Use the term 'prepayment' instead of 'deposit.' Pet owners may misinterpret 'deposit' to mean they will get money back when the pet is returned in good condition.
Instead of policies that punish clients, what systems could you create to help you enjoy mutually respectful relationships?
 References
1 Niedziela K. Veterinarians Sell 62% of Pet Drugs. Today's Veterinary Business. Published September 2017. Available at: bit.ly/2FKrB34. Accessed March 28, 2019.
Wendy S. Myers, CVJ, has been training veterinary teams for more than 20 years as owner of Communication Solutions for Veterinarians in Castle Pines, Colo. She helps health-care teams improve telephone and communication skills that result in getting more pets the medical care they need. Myers shares her expertise through conferences, online courses, and monthly CE credit webinars. She is a certified veterinary journalist and author of five books. You may reach her at wmyers@csvets.com or www.csvets.com.