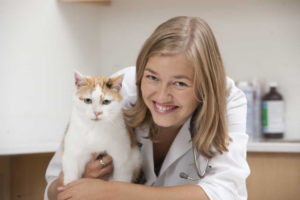 University of Guelph (U of G) has awarded the Research Excellence Award to Adronie Verbrugghe, DVM, PhD Vet Sci, Dip ECVCN, to continue her research in canine and feline nutrition.
"It is a great honour to receive a Research Excellence Award from the University of Guelph," says Dr. Verbrugghe, department of clinical studies at the Ontario Veterinary College (OVC). "Research can only be excellent if it is a team effort."
Verbrugghe's research looks at how pet nutrition affects metabolic pathways, inflammation, and immunity, as well as the microbial environment in the gut, which are all factors in obesity. She also researches nutritional supplements for canine cancer patients and plant-based diets for pets.
"The impact of nutrition on health is a crucial, incredibly timely area of research, particularly as it applies to veterinary medicine," says U of G vice-president research, Malcolm Campbell, PhD. "Professor Verbrugghe's research explores the interplay between nutrition and medical outcomes, making fundamental discoveries, and creating impactful innovations."
Verbrugghe is the Royal Canin veterinary diet endowed chair in canine and feline clinical nutrition, as well as one of the few board-certified veterinary nutritionists in Canada. She also runs a clinical nutrition service in the companion-animal hospital at the OVC Health Sciences Centre, and has helped lead the development and introduction of a companion-animal nutrition curriculum, helping DVM graduates help pet owners better feed their pets.