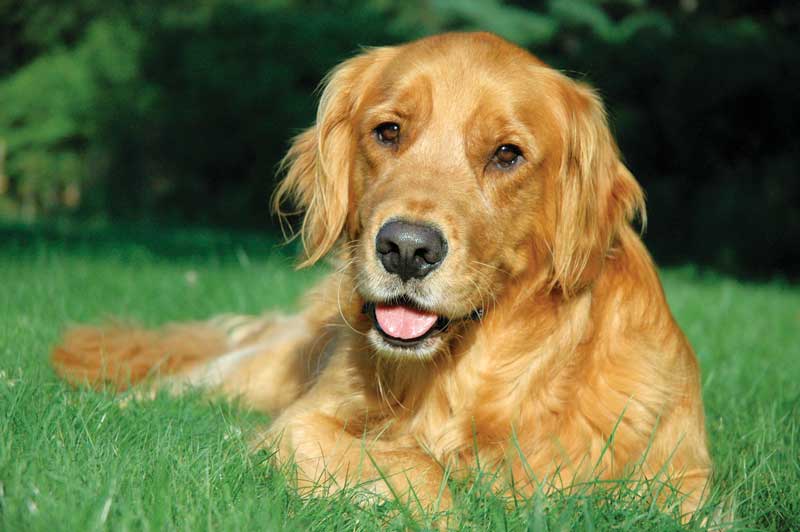 Controlling pain and restoring function in our veterinary patients are typically categorized as surgical or medical management. Surgical approaches for our patients include joint prosthesis, alteration in joint mechanics with osteotomies, and less invasive approaches using arthroscopy.
However, there is increased interest and a significant amount of research being done on less invasive forms of managing osteoarthritis (OA), controlling pain, and restoring function. These include rehabilitation, nutritional management, regenerative medicine, drug therapy, oral and injectable chondroprotectants, and anti-inflammatories.
For non-surgical options in the treatment of osteoarthritis, multi-modal approaches for pain control and improved function are often the most effective. However, for those patients where weight management, response to oral analgesics, and anti-inflammatories are no longer effective, the use of intra-articular (IA) injections can be considered.
What is osteoarthritis?
Osteoarthritis is defined as a reduction or loss of viable articular cartilage. Once this tissue is damaged, it has a limited capacity for self-healing. Some of the pathological changes that occur result in a reduction in synovial fluid and its viscoelastic properties. This loss alters the fluid's viscosity and concentration, resulting in less lubrication and joint protection, and subsequent joint pain.
Hyaluronic acid (HA) is a component of the joint fluid that provides a form of viscosupplementation (i.e. joint lubrication), which reduces inflammation. Further, it is considered to have cartilage-repair properties. By binding to CD44 receptors on chondrocytes, HA induces cellular and extracellular matrix production, and is thought to inhibit mediators of inflammation. As a result, patients receiving intra-articular HA demonstrate improved function, reduced pain, and histologically, a reduction of cartilage pathology.
In our hospital, we use intra-articular high molecular-weight HA in dogs, most often given several weeks apart. In our experience, as well as reported findings, more than 80 per cent of dogs show improvement after six months of treatment.
We currently use HA by itself in mild OA cases and add autologous platelet-rich plasma (PRP) and/or corticosteroids IA for more severe cases or those that show a poor response to single-agent injectables.
Corticosteroids
Intra-articular corticosteroids have been widely used in humans and have been shown in many applications to have a positive effect on reducing pain, albeit short-lived. Corticosteroids act on the inflammatory cascade through a reduction of arachidonic acid release.
Intra-articular corticosteroids reduce inflammation and decrease pain, permitting improved range of motion and, in turn, facilitating rehabilitative exercises that result in faster recovery time. Their disadvantages may include joint infection, extra-articular injection (which causes systemic signs of corticosteroid use), and injection pain.
In our hospital, we commonly use triamcinolone acetonide for patients with mild to moderate OA and reduced function. This medication is typically effective for about two weeks, during which rehabilitation exercises can be efficiently provided to improve muscle tone and range of motion.
Longer-acting methylprednisolone can be used for more chronic and severe cases of end-stage joint disease. It typically results in pain relief in 12 to 24 hours, and can last for weeks to months. It is thought methylprednisolone IA could be detrimental to articular cartilage. However, corticosteroids are generally considered safe and effective for repeated use every several months, with no significant loss of articular space identified. Lack of treatment response is often a result of failure of IA space injection.
Platelet-rich plasma
PRP can be utilized by itself or in conjunction with HA in the treatment of osteoarthritis. It has been shown to have positive effects regarding angiogenesis and cartilage remodelling, as well as cytokine recruitment and chemotaxis. Further, it is a potent source of growth factors, including:
platelet-derived growth factor (PDGF);
epidermal growth factor (EGF);
vascular endothelial growth factor (VEGF);
transforming growth factor BETA; and
basic fibroblast growth factor (bFGF).
All are found in the alpha granules of platelets and have been reported to both promote healing directly and recruit stem cells to local sites, facilitating repair.
The concentrated platelets found in PRP contain reservoirs of bioactive proteins and growth factors that inhibit inflammatory mediators (resulting in reduced pain) and improve articular function in osteoarthritis. Approximately 15 ml of blood is collected and processed through a series of steps of centrifugation to obtain PRP. The concentration of platelets and growth factors is increased three to seven fold, with no red blood cells, no neutrophils, and low monocytes. For osteoarthritis, PRP can be injected IA, either guided by fluoroscopy or digital radiography, depending on the patient and treatment site.
The intra-articular injection of PRP is a potentially promising therapy for OA in dogs. The growth factors found in platelets have demonstrated enhanced regenerative processes in arthritic joints. Intra-articular injection of PRP is a generally low-cost, simple procedure requiring blood collection and platelet extraction, followed by injection into the affected joint.
Rehabilitation
Rehabilitation offers a range of modalities that can be beneficial to patients suffering from varying severities of OA to provide them with pain control, maintenance of muscular integrity, and continued functional lives.
Hydrotherapy is useful for multiple conditions and works to promote active range of motion with minimized weight-bearing. This therapy has the benefit of treating several areas at one time, which is helpful for patients affected by OA in multiple joints versus one focalized area. There are different forms of hydrotherapy that can be offered to patients, depending on their status. Underwater treadmills, whirlpools, and pools are the most common and provide the greatest control.
The combination of thermal effects, buoyancy, hydrostatic pressure, cohesion, and turbulence that water provides makes hydrotherapy a unique modality for treating OA. This allows the therapist to work in a controlled environment where resistance can be appropriately adjusted for each case. As the patient progresses through the disease process, hydrotherapy treatments can be easily altered to meet their needs and abilities.
Range of motion can be significantly affected in OA patients, and the combination of hydrotherapeutic elements listed in the previous paragraph can help improve it. Overall range of motion, and in particular flexion, is greater during swimming than when walking; however general extension is reduced with swimming.
Underwater treadmill walking:
Flexion — maximum 90 degrees
Extension ­— maximum 136 degrees
Swimming:
Flexion — maximum 44 degrees
Extension — maximum 106 degrees
In a human study done by Suomi and Lindauer, 1997, 17 women experiencing arthritis participated in three weekly 45-minute aquatic-training sessions over six weeks. The outcome resulted in greater increase in range of motion and strength versus the control group, which did not participate in any organized exercise.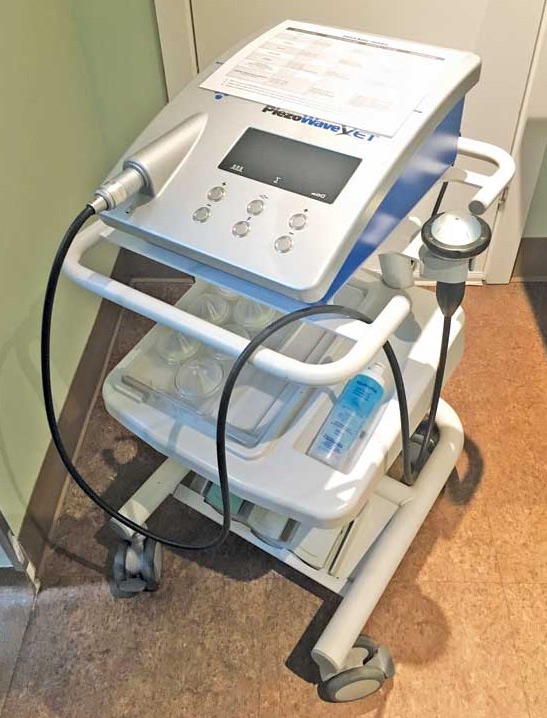 Through regular sessions, the quality of range of motion should continue to improve. Along with greater range of motion, muscle tone, lengthening, and strengthening will increase to help support weak joints on dry land and provide the patient with improved quality of life and function.
Extracorporeal shock wave therapy (ESWT) is a useful modality in treating chronic and acute conditions (e.g. inflammation, tendinopathies) in post-operative patients, and also has become increasingly popular in treating osteoarthritis. ESWT uses high-energy shock waves comprising acoustic waves of various frequencies. Shock waves can travel to various tissue depths and target specific areas at different densities, both deep and superficial, which can be helpful when treating smaller, more delicate areas and joints.
During the application of ESWT, there are multiple processes taking place within the targeted tissues and cells. As the shock waves are administered, cavitation bubbles begin to grow and eventually collapse, which leads to deviations and damage to the cell surface. This, in turn, makes the cell membrane more permeable, allowing treatment to reach and stimulate cells to aid in regeneration. During this process, affected cells release cytokines and growth factors that aid in decreasing inflammation and swelling, thereby providing short-term analgesia. When nociceptors residing within the cell are hyperstimulated by an outside source such as shock wave, they can release analgesic properties to help with pain management.
ESWT can be advantageous to patients who are unable to tolerate NSAIDs or have other health conditions that make pain management challenging. Due to its anti-inflammatory properties over time, ESWT can help improve range of motion and edema in patients with chronic OA. By applying therapy to the joint capsule of the targeted joint, ESWT can help relieve inflammation within the joint space and diminish effusion to allow healthy use and development of synovial fluid and chondrocytes. Further, it can break down scar tissue and reduce inflammation slowly to help achieve a greater range of motion.
ESWT differs from ultrasound therapy due to the lower frequency of the shock waves, lack of thermal effects, and minimal tissue absorption, allowing the targeted area to reap the benefits of treatment.
Conclusion
Many of our veterinary patients will suffer from some form of OA in their lifetime. We have come a long way from reaching for NSAIDS as our first and often only line of treatment. We should be conscientious about the negative effects these medications can have with long-term use. Also, they may not adequately provide relief of pain, while adjunctive therapies are often necessary. Surgical intervention may be the most appropriate choice in many cases, but conservative management of OA can often be very effective. Emerging new therapies targeting damaged tissues and aiding in the repair and restoration of function could provide veterinarians with options reducing both the need for invasive surgery and the use of pharmaceuticals that may cause long-term side effects.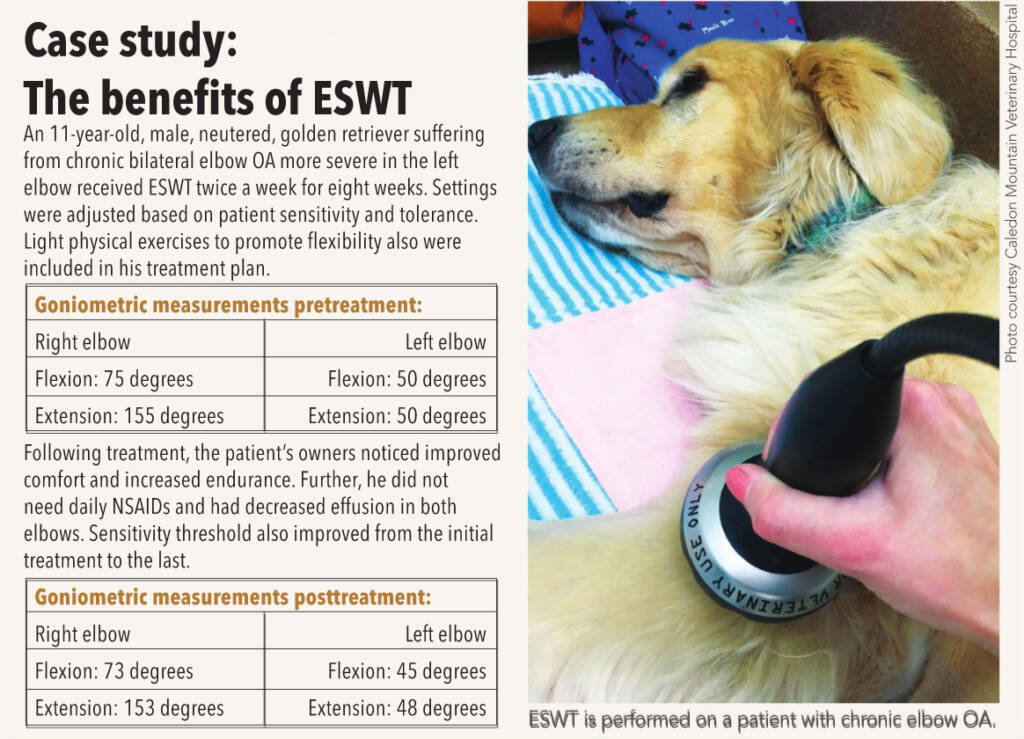 John Brajkovich, B.Sc., DVM, MACVSc (small animal surgery), holds a bachelor of science from the University of Guelph, and received his doctor of veterinary medicine degree from Ontario Veterinary College in 2000. Dr. Brajkovich has had extensive orthopedic training at Ohio State University and successfully completed and became a member of the Australian New Zealand College of Veterinary Scientists (ANZCVS) in small animal surgery in 2016. Brajkovich is owner of Caledon Mountain Veterinary Hospital, a surgical practice in Ontario, and has been an instructor for many orthopedic training courses for veterinarians across the province. He is currently working on several studies based on the technological advancements in veterinary orthopedic surgery.
Clarisse Terpstra, RVT, CCRP, received her veterinary technician diploma with honors from Seneca College in Ontario in 2016 and completed her certified canine rehabilitation practitioner education through the University of Tennessee in 2018. Terpstra has always had an interest in veterinary rehabilitation and orthopedic medicine, and began using extracorporeal shock wave therapy (ESWT) in early 2017. She has since educated colleagues and developed treatment programs for patients involving ESWT. Terpstra is currently working toward introducing rehabilitation services and protocols at the small animal practice where she works in Caledon, Ontario, which specializes in orthopedic conditions and procedures.
References
Brandt KD, Smith GN Jr, Simon LS. Intraarticular injection of hyaluronan as treatment for knee osteoarthritis: What is the evidence? Arthritis Rheum. 2000;43(6):1192–1203.
Hempfling H. Intra-articular hyaluronic acid after knee arthroscopy: a two-year study. Knee Surg Sports Traumatol Arthrosc. 2007;15:537–546.
Jean YH, Wen ZH, Chang YC, Lee HS, Hsieh SP, Wu CT, Yeh CC, Wong CS. Hyaluronic acid attenuates osteoarthritis development in the anterior cruciate ligament-transected knee: association with excitatory amino acid release in the joint dialysate. J Orthop Res. 2006;24(5):1052–1061.
Karatosun V, Unver B, Gocen Z, Sen A, Gunal I. Intra-articular hyaluronic acid compared with progressive knee exercises in osteoarthritis of the knee: A prospective randomized trial with long-term follow-up. Rheumatol Int. 2006;26(4):277–284.
Lussier A, Cividino AA, McFarlane CA, Olszynski WP, Potashner WJ, De Médicis R. Viscosupplementation with hylan for the treatment of osteoarthritis: Findings from clinical practice in Canada. J Rheumatol. 1996;23(9):1579–1585.
Mathies B. Effects of Viscoseal, a synovial fluid substitute, on recovery after arthroscopic partial meniscectomy and joint lavage. Knee Surg Sports Traumatol Arthrosc. 2006;14:32–39.
Millis, D. L., & Levine, D. (2014). Canine rehabilitation and physical therapy. St. Louis: Saunders.
Millis, D. L. (n.d.). Module V Therapeutic Exercises VC Aquatic Exercises. Lecture. In Canine Osteoarthritis Case Management(pp. 38-49). (2010). Blasius
Millis, D. L. (n.d.). Module VIC: Extracorporeal Shock Wave Therapy (ESWT) for the Treatment of OA. Lecture. In Canine Osteoarthritis Case Management(pp. 43-60). (2010). Blasius.
Pelletier JP, DiBattista JA, Raynauld JP, Wilhelm S, Martel-Pelletier J. The in vivo effects of intra-articular corticosteroid injections on cartilage lesions, stromelysin, interleukin-1, and oncogene protein synthesis in experimental osteoarthritis. Lab Invest. 1995;72(5):578–586.
Pelletier JP, Mineau F, Raynauld JP, Woessner JF Jr, Gunja-Smith Z, Martel-Pelletier J. Intraarticular injections with methylprednisolone acetate reduce osteoarthritic lesions in parallel with chondrocyte stromelysin synthesis in experimental osteoarthritis. Arthritis Rheum. 1994;37(3):414–423.
Schiavinato A, Lini E, Guidolin D, Pezzoli G, Botti P, Martelli M, Cortivo R, De Galateo A, Abatangelo G. Intraarticular sodium hyaluronate injections in the Pond-Nuki experimental model of osteoarthritis in dogs. II. Morphological findings. Clin Orthop Relat Res . 1989;241:286–299.
Smith GN Jr, Myers SL, Brandt KD, Mickler EA. Effect of intraarticular hyaluronan injection in experimental canine osteoarthritis. Arthritis Rheum . 1998;41(6):976–985.
Smith G Jr, Myers SL, Brandt KD, Mickler EA, Albrecht ME. Effect of intraarticular hyaluronan injection on vertical ground reaction force and progression of osteoarthritis after anterior cruciate ligament transection. J Rheumatol. 2005;32(2):325–334.
Suomi, R., & Lindauer, S. (1997). Effectiveness of Arthritis Foundation Aquatic Program on Strength and Range of Motion in Women with Arthritis. Human Kinetics Journals,5(4), 341-351. Retrieved July 9, 2019, from bit.ly/2JDsOfH.
Tulamo RM, Houttu J, Tupamäki A, Salonen M. Hyaluronate and large molecular weight proteoglycans in synovial fluid from horses with various arthritides. Am J Vet Res. 1996;57(6):932–937.