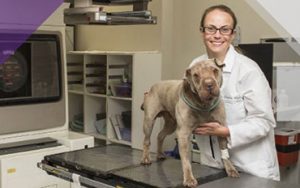 The Kansas State University College of Veterinary Medicine's new Center of Excellence for Translational and Comparative Oncology Research (CETCOR) focuses on improving the diagnosis, management, and treatment of both human and animal cancers.
CETCOR was established in late 2017 through start-up funding from the university's Johnson Cancer Research Center and support from the College of Veterinary Medicine.
"The overriding objective of CETCOR is to expedite the pre-clinical and clinical development, production and/or licensure of novel or improved medical interventions—drugs, immunotherapeutics and medical devices—for the treatment, diagnosis and monitoring of both human and animal cancers," said Raelene Wouda, BVSc, DACVIM (Oncology), MANZCVS (SAIM), assistant professor of oncology in the college's clinical sciences department.
One unique aspect of CETCOR is that it does not focus on a single type of cancer or the development of a single novel drug or technology, said Dr. Wouda.
"Our group aims to facilitate the advancement of all cancer-associated research taking place on campus and within the wider K-State community, whether that be at the basic physiologic and pharmacologic level or in the later stages of the therapeutic drug development pathway," Wouda said.
CETCOR's primary mission is to advance discoveries by university faculty and community toward clinical utility in a timely and cost-effective manner by providing study-design guidance, specifically through the application of appropriate models, according to KSU.
The center's secondary objective is to provide opportunities for education and networking as they pertain to translational and comparative oncologic research within the region, Wouda added.
The center will offer its inaugural continuing education symposium on March 17.
For more information, visit vet.k-state.edu/research/CETCOR/.