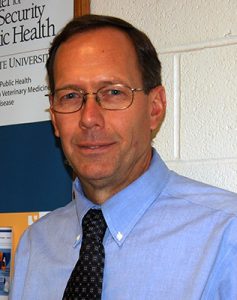 The Association of American Veterinary Medical Colleges (AAVMC) has named James A. Roth, DVM, Ph.D., DACVIM, the Clarence Hartley Covault Distinguished Professor in Iowa State University's (ISU) College of Veterinary Medicine, as the recipient of the 2018 Senator John Melcher DVM Leadership in Public Policy Award.
Dr. Roth directs the Institute for International Cooperation in Animal Biologics, developed an internationally recognized Veterinary Biologics Training Program that trains employees and government officials on the United States Department of Agriculture's regulatory process, and helped establish the Center for Food Security and Public Health at ISU with funding from the Centers for Disease Control and Prevention.
He also developed an online course on emerging and exotic diseases for veterinary students that is part of the USDA's initial accreditation process for new veterinarians. Since 2011, more than 30,000 people have taken the course. He is currently working on developing global online training about animal disease outbreaks.
Roth also is the recipient of the USDA APHIS Administrator's Award for contributions in Animal Health.
The award will be presented officially during the AAVMC's 2018 Annual Conference and Assembly, March 2-4, in Washington, D.C.