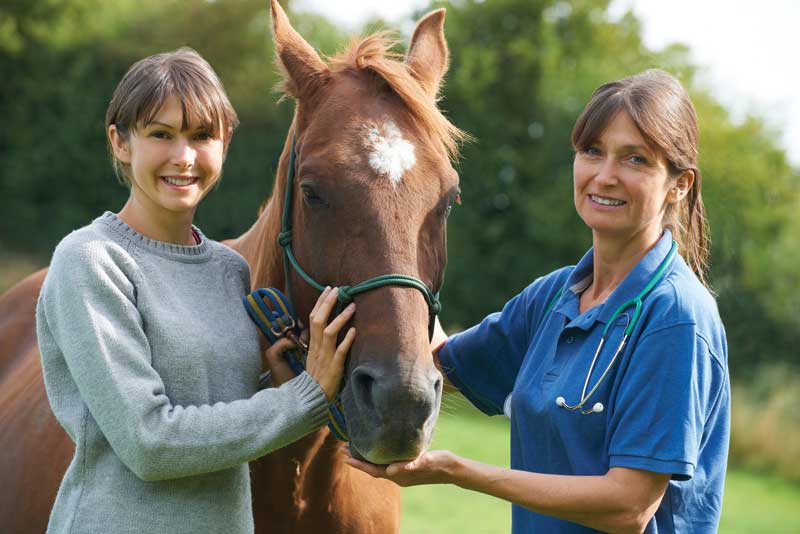 In human medicine, patient satisfaction surveys are commonly performed to improve patient care and experience. Although not necessarily related to improved patient outcomes, medical patient satisfaction surveys can provide useful insights into different aspects of a healthcare business, including personnel, facilities, and procedures, and identify areas that need improvement. At the American Association of Equine Practitioners Meeting in 2017, a survey of 8,069 horse owners was presented, which obtained information about veterinary clients and certain preferences that practitioners may find relevant to clinical equine veterinary practice.
Relatively few marketing/satisfaction surveys of horse owners appear to have been published. In 2012, the American Association of Equine Practitioners conducted a survey of 6,148 horse owners and trainers in response to concerns over the decreasing frequency equine veterinarian use.1 American Horse Publications has conducted three such surveys, with the most recent survey of 10,662 horse owners being completed in 2015.2
Results (ordered by survey question)
The sampled population of horse owners in this survey was overwhelmingly female adults (older than 21) who owned horses for more than five years. The majority were pleasure/trail riders and owned at least two horses, although many respondents used their horses for a variety of equestrian disciplines.
Only 1.24 percent of respondents said that they never saw a veterinarian about their horse(s). Those who saw a veterinarian once a year represented 28.05 percent of respondents, those who saw a veterinarian two to four times a year composed 58.87 percent of respondents, and 11.84 percent of respondents saw a veterinarian more than four times per year.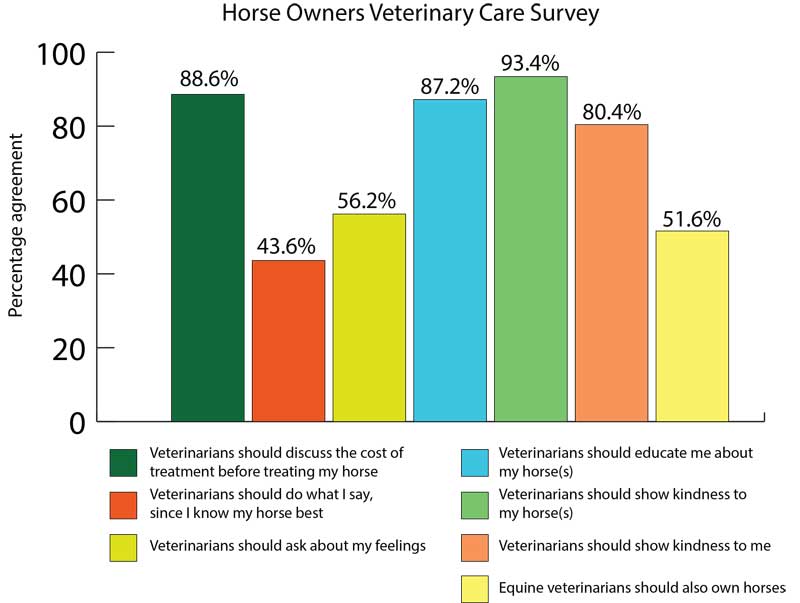 The two primary reasons for veterinary examination were vaccinations (79.43 percent) and dental work (77.19 percent). The next two most common reasons were lameness (45.21 percent) and acute illness, including colic, respiratory disease, and skin problems (39.43 percent). "Other" reasons, which came in at 23.01 percent, included examinations fulfilling requirements for interstate transport, choke, wound management, application of various "alternative" therapies, and breeding.
The treatment received by the horse was overwhelmingly the most satisfying part of the veterinary visit (64.91 percent), followed by the veterinarian's skill (50.16 percent), the veterinarian's bedside manner (38.12 percent), and value for treatment received (25.02 percent). "Other" reasons for satisfaction were selected as 7.17 percent of responses and included peace of mind and reassurance. A small number of individual respondents expressed dissatisfaction with their veterinarian(s).
When it came to areas of improvement, discussing financial costs of treatment was the most important consideration for 29.93 percent of respondents, followed by discussing treatment options (22.02 percent), improving communication about the horse's condition (17.96 percent), and arriving on time (17.75 percent). Discussing how the owner felt about the horse's health/condition was an area for improvement among only 12.34 percent of respondents.
An overwhelming majority of respondents found their veterinarian through a recommendation from a friend, a family member, or a relative (79.78 percent). Only 2.64 percent found their veterinarian through Internet research, and 0.72 percent found their veterinarian through advertising. "Other" ways respondents found their veterinarian (16.85 percent) included limited choices and referral by barn owners or trainers.
Most respondents appeared to be satisfied with how well their veterinarian listened to them, and most appeared to be satisfied with how well their veterinarian answered their questions. Respondents overwhelmingly agreed that veterinarians should discuss the cost of treatment before treating a client's horse.
Interestingly, a significant majority of respondents (43.6 percent) felt that veterinarians should do what they said, as they (the client) knew their horses the best. A slight majority strongly agreed that veterinarians should ask about the respondents' feelings. Client education was very important to respondents. Respondents felt that veterinarians should show kindness to their horse(s), even more than they felt that veterinarians should show kindness to the respondents themselves.
Veterinary care did not appear to be a huge cost for most of the 8,043 horse owners who responded. "Less than $250 per year" was spent by 11.69 percent of respondents, 28.72 percent of respondents spent $250 to 500 per year, 33.43 percent of respondents spent $500 to $1,000 per year, and 26.16 percent of respondents spent more than $1,000 per year on veterinary care.
Discussion
This survey identified some interesting areas of consideration for equine veterinarians, especially for those with practices covering the main demographic groups identified in this survey (primarily female, employed, 40 to 60 years of age, with one or more pleasure or performance horses competing in various disciplines).
For example:
Equine veterinarians who do not practice equine dental care might consider adding this expertise to their practice, as 77.19 percent of respondents visited veterinarians for equine dental work.
Clients appear to be more interested in veterinarians treating their horse(s) with kindness, as opposed to the clients themselves.
Clients value discussing the cost of treatment, as well as treatment options, prior to treatment.
Communication is important to most horse owners; most veterinarians appear to communicate fairly well.
Clients appreciate being educated about their horses by their veterinarians.
A majority of clients want the veterinarian to do what they think is best, even if the clients think they know what is best for their horses.
A significant number of clients (43.6 percent) feel that they know what is best for their horse and want their veterinarian to act accordingly.
The treatment received by the horse appears to be far more important than the value for treatment received.
Recommendations from friends, family, barn owners, and trainers are a far more important source of business than advertising or internet presence.
References
1 Horse Owner/Trainer Veterinary Services Survey Report of Findings. Element Market Research, Lexington, Ky. American Association of Equine Practitioners, 2013.
2 2015 American Horse Publications Industry Survey. americanhorsepubs.org/equine-survey/2015-equine-survey/. Accessed 3-12-17.
Dr. David W. Ramey is a Southern California equine practitioner who specializes in the care and treatment of pleasure horses. Visit his website at doctorramey.com.