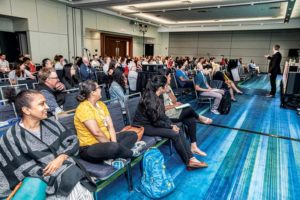 When you think about the One Health concept, chances are you envision a global initiative that affects a multitude of species in a monumental way.
But according to Jim Berry, DVM, CVPP, the Canadian Veterinary Medicine Association's (CVMA's) representative to the World Small Animal Veterinary Association (WSAVA), that's not always the case.
"Everyone thinks One Health is a great big global project, but it doesn't have to be. You can do very simple things on a smaller scale to create a massive impact on One Health," he tells Veterinary Practice News Canada from the floor of the WSAVA/CVMA 2019 Congress, held in Toronto in July.
The small-scale initiative Dr. Berry is referring to is Community Veterinary Outreach (CVO), a non-profit organization founded by Michelle Lem, DVM, M.Sc., MSW, RSW. CVO has programs in five communities in Ontario, Winnipeg, Vancouver, and Kelowna, and recently received non-profit status in the United States.
The initiative uses the One Health model of care to provide health services and education to the homeless alongside preventative veterinary care for their pets. CVO was the focus of a pre-conference outreach event, allowing attendees to participate in a One Health clinic for Toronto's homeless and their pets. In fact, Dr. Lem was honoured with the 2019 WSAVA Global One Health Award for her work.
"CVO is the epitome of a One Health concept," adds Dr. Berry, who also serves as chair of the local host committee for WSAVA. "Veterinarians talk about One Health constantly, but we rarely do it. CVO is a small-scale project that has really big implications and could be upscaled across major cities throughout the world."
Beyond our borders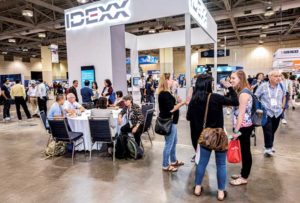 Held in conjunction with CVMA's yearly convention, the multi-species conference saw nearly 2,200 attendants from 80 countries converge on Toronto. It was the first time WSAVA Congress has been held in Canada, and offered attendees the opportunity to learn about how other communities and countries are working to solve similar veterinary health concerns.
"We tend to sit in our own little silos," Berry says. "[At Congress], you get to speak with people you've never had a chance to speak with before, and see that our problems here with people not wanting to vaccinate are the same as in England, in India, and in Australia. It's not a unique problem to Canada, but the difference is they have other solutions and approaches."
Every year, Congress is held in a different part of the world, rotating between the Americas, Europe/Africa, and Asia Pacific, says WSAVA president Shane Ryan, BVSc, MVS, CertVetAcupuncture, GradDipAnimChiro, MChiroSc, MRCVS.
"When in North America, we work very hard to differentiate our Congress, as there are many high-quality scientific meetings in Canada and the United States," says Dr. Ryan, adding CVMA members are automatically members of WSAVA. "We hope North American delegates enjoyed the CVMA's two tracks tailored to the needs of veterinarians in Canada and the United States, and also learned about the issues facing their colleagues around the world."
Sessions included everything from nutrition to dermatology to dental, delivered by more than 100 national and international speakers.
Tackling telemedicine
This year, CVMA's Global Issues Forum focused on the growing popularity of telemedicine with a focus on its benefits and the legal concerns it raises. Titled "Telehealth and Animal Welfare—Pros, Cons and Implications for Veterinary Patients," the session brought together three experts with differing perspectives:
Heather Bacon, B.Sc. (Hons), BVSc, CertZooMed MRCVS, veterinary welfare education and outreach manager at the Jeanne Marchig International Centre for Animal Welfare Education at the University of Edinburgh, outlined the U.K.'s experience of telemedicine, including areas of concern for the profession and the veterinary ethical and animal welfare implications;
Jan Robinson, registrar and CEO of the College of Veterinarians of Ontario (CVO), shared the history, expectations, and continuing challenges in relation to practice risks and necessary safeguards from a regulatory perspective; and
Lori Teller, DVM, DABVP (canine/feline), CVJ, of Texas A&M University, focused on how some veterinarians in small animal and food animal practices in the United States incorporate telehealth to deliver veterinary medical services.
Out in the exhibit hall, booth-side conversations with exhibitors found some concerned over attendance numbers.
"This year's exhibition was our most well-supported yet, and we are grateful to our industry partners," Ryan says. "There were some issues with attendance in the hall and we are working to address this for next year in discussions with our exhibitors and partners… We hope [attendees] left us with some great learnings to implement immediately in their clinics."
Next year, WSAVA Congress will be held in Warsaw, Poland, from Sept. 23 to 26, while the CVMA Convention takes place in Quebec City from July 9 to 12.