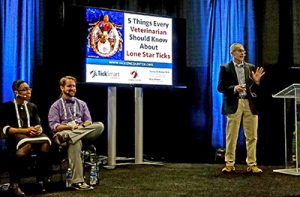 Three health professionals in human allergy, parasitology, and entomology brought new perspectives on the lone star tick issue during a panel discussion sponsored by Boehringer Ingelheim at VMX: Veterinary Meeting & Expo 2018 in Orlando, Fla.
Onyinye Iweala, MD, Ph.D., allergist and immunologist at the University of North Carolina-Chapel Hill; Brian Herrin, DVM, Ph.D., DACVM, assistant professor at Kansas State University College of Veterinary Medicine; and Thomas Mather, Ph.D., professor of entomology and director of the University of Rhode Island TickEncounter Resource Center, presented a review of the diseases transmitted by the Lone Star tick and its appearance in different parts of the U.S.
"National news coverage has already underscored the presence of the lone star tick in areas of the U.S. and Canada," said Zach Mills, DVM, executive director, U.S. Pet Vet Veterinary Professional Services at Boehringer Ingelheim. "This panel offered a timely discussion for veterinarians on the wide range of diseases this parasite can transmit, including a red meat allergy in humans."
Three perspectives on the lone star tick
Dr. Herrin led off the session with an overview of the diseases that can be transmitted by the lone star tick emphasizing that, as it expands into new territories across the country, more pet owners and their animals may be exposed to tick-borne illness.
"Ticks are more than just a hygiene problem," said Herrin, emphasizing that tick-borne diseases are a year-round danger. "People always ask me if ticks are going to be bad this year. And I say, 'ticks are bad every year.'"
Medical professionals now know that bites from these ticks can trigger an allergy to red meat in humans. Dr. Iweala is one of the health professionals researching the connection between the lone star tick and the alpha-gal allergy first described in 2011.
"Alpha-gal allergy challenges the current paradigm for food allergy," Iweala said.
She contrasted alpha-gal allergy with conventional food allergies, highlighting the unusual association of this food allergy with parasites like the lone star tick and the significant delay in symptom development after eating mammalian meat.
Dr. Mather, often referred to as the "Tick Guy," wrapped up the discussion with a presentation of "Five Things Every Veterinarian Should Know About Lone Star Ticks.
"Veterinarians need to keep in mind that lone star ticks move quickly, they are commonly misidentified, their range is expanding, they do not transmit Lyme disease, and their larvae are incredibly small," he said.
Boehringer Ingelheim will sponsor another lone star tick panel discussion on the on March 6, 2018 during the Western Veterinary Conference in Las Vegas.