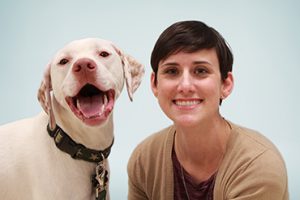 Do enough professionals among the veterinary profession treat companion animal nutrition with the significance it deserves? What's driving the US pet obesity epidemic? Are practitioners doing enough to address it?
Veterinary Practice News asked Martha G. Cline, DVM, DACVN, president, American Academy of Veterinary Nutrition, and a clinical veterinary nutritionist at AAHA-accredited Red Bank Veterinary Hospital in Tinton Falls, N.J., these questions and more about the topic of diet and nutrition. Here's what she had to share.
Why did you decide to specialize in veterinary nutrition?
During the summer between my first and second year of veterinary school, I worked with the nutrition department at the University of Tennessee College of Veterinary Medicine (UTCVM) through a summer research program. The focus of this research was canine obesity. This experience was the foundation of my interest, which solidified during my clinical year when I spent additional time rotating through the nutrition services at UTCVM, Oradell Animal Hospital in Paramus, N.J., and Angell Animal Medical Center in Boston. I had excellent mentorship at all of these facilities that helped guide me on my way (shout out to Drs. Angela Witzel, Joe Bartges, Claudia Kirk, Laura Eirmann, Rebecca Remillard, and Susan Lauten).
Is this category is underrepresented in the veterinary community?
The American College of Veterinary Nutrition is small but mighty! I would love to see boarded nutritionists at every veterinary school and more in private practice, but there are challenges along the way. This includes funding for positions in academia and creating a sustainable business in private practice (and academia). There is a demand from the pet-owning public and veterinarians for nutritional consults from educated individuals. In many areas of the country, these services are not within a reasonable driving distance. However, there are boarded diplomates who are able to consult remotely through veterinarians with a valid veterinary-client-patient relationship.
Do enough in the profession treat the subject with the significance it deserves? Is nutrition covered adequately in veterinary school?
Many veterinarians and veterinary professionals recognize the importance of nutritional recommendations, especially once they are out in practice and applying their recommendations clinically. I also believe that others do not regard it with the same significance as I do. This may stem from just a knowledge gap, or from what I hear often—the frustration with recommendations typically found online of from those with little to no veterinary or nutritional training.
In veterinary school, it's covered adequately; optimally, not everywhere. We have a large class of rotating interns at Red Bank, and it's evident that there are differences in their degree of nutrition education. But all of these new doctors have a foundation to grow. For those veterinarians who want to further their education, I would encourage them to seek out CE opportunities with a focus on nutrition.
What are the purpose and goals of the American Academy of Veterinary Nutrition? How does the academy's work translate into practice for everyday clinicians?
The AAVN objectives focus specifically on sharing information relating to animal nutrition, promoting interest and research in animal nutrition, and creating relationships between veterinary professionals and individuals in the fields of animal nutrition.
Part of the focus of AAVN is to provide opportunities for research and for new research to be presented at our annual symposium. Many great clinically applicable studies had their first public appearance here. Veterinary professionals with an interest in nutrition are encouraged to join AAVN where membership includes access to our listerserv and directory, where they can ask questions or find the right person to seek assistance. AAVN also helps provide CE opportunities to veterinary professionals by providing speakers and organizing lectures to various conferences, like WSAVA Congress or VMX. A growing focus of AAVN is our involvement with students through our student members and chapters, and we are working on ways to engage with them to provide learning and networking opportunities for their future.
What's driving the US pet obesity epidemic? Are practitioners doing enough to address it?
I think the perception of overweight and obese pets is skewed in the general population and even among veterinary professionals. This plays a big role in the epidemic because it's not always recognized as a problem. There are many pet owners who do not recognize a lean body weight dog or cat.
Some practitioners are addressing it much better than others. I think it is our job as veterinary professionals to first recognize and diagnose overweight and obese patients, and then effectively communicate this diagnosis and the health consequences to the pet owner. From there, the practitioner can work with the pet owner to help their animal achieve weight loss and, ultimately, a better quality of life.
What more could veterinarians do in everyday practice? What would you advise veterinarians to say to clients when giving dietary advice?
Talk about body condition score and feeding to an ideal body condition score early!
Give owners specific diet recommendations. Ensure calories from treats, table foods, supplements, and meds administration foods do not exceed 10 percent of total daily caloric intake.
Guide pet owners to reliable online resources like the Pet Nutrition Alliance (petnutritionalliance.org), WSAVA Nutrition Tool Kit Tools for Pet Owners (wsava.org/nutrition-toolkit), or handy client blogs like Petfoodology from the Tufts Nutrition Service (vetnutrition.tufts.edu/petfoodology).
How would you advise a veterinarian unsure about how to coach clients on pet diet and nutrition?
A nutritional assessment—diet history, body weight, body condition score, and muscle condition assessment—should be part of every physical exam. Take the time to calculate calories to give the owner specific feeding instructions. Many veterinarians have a limited window of time to discuss nutritional recommendations. Sometimes the conversation about diet can be long and possibly contentious if the owner has read or heard many nutrition myths or untruths. There are a growing number of reliable online resources I direct owners to if they would like further reading about pet nutrition or to address a particular topic about pet nutrition. And utilize veterinary nurses! They can be a tremendous help in educating clients and doing nutritional calculations.