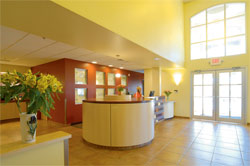 Years ago, it wasn't unusual to walk into a veterinary office to discover a dim, fluorescent-lighted waiting room, checkered tile halls that could have only been designed in the 80s and chain-link kennel runs that made its inhabitants look more like captive prisoners than beloved family pets.
But, throughout the years, as new equipment and fixtures are introduced to the market, clients' image of the "standard" veterinary practice has changed.
With clients' expectations growing, veterinary practices must decide between stepping up to the plate or getting left in the competition's dust.
And one of the best ways to set a clinic apart from the rest is by keeping up-to-date on the products and fixtures used in the practice, says John Eppes, national sales manager of LGL Animal Care Products Inc. in Bryan, Texas.
"When a practice is first starting out, they don't have a lot of money to spend on equipment so they buy what they can [afford]," he says.
But the products within their price range may not always be of the best quality.
"You get what you pay for," Eppes says. "A chain-link [kennel] run is still going to hold a dog, but could wear over time. They should look for something that's going to hold up."
If practice owners are still using the same kennel runs they've had since Ronald Reagan's presidency, it could be time for an upgrade.
Eppes recommends replacing chain-link fences with glass doors for durability and a cleaner appearance.
Some veterinarians invest a lot of money on making the outside of their facility look nice, but then skimp on the inside where it counts, Eppes says.
One of the most important decisions owners can make about their practices' interior is their floor selection since it will receive the most wear and tear, says John Rouse, national sales manager for Oscoda Plastics Inc. in Oscoda, Mich.
"It's one of the most important things because it has to last the longest," Rouse says. "A lot of veterinarians look for style, but a more important feature is thinking about how safe it is to walk on."
With veterinarians and staff walking and standing on it all day long, it's crucial that the floor is comfortable and won't create added stress for them, he says.
For comfort and durability, Rouse recommends flooring made out of recycled vinyl that is thick enough to provide both comfort and durability.
He adds that floors should also be waterproof and non-absorbent because "if a dog or cat goes to the bathroom on it, it can easily be cleaned up."
Sometimes, the biggest challenge for practice owners is not deciding what products will best suit their practices' needs, but deciding when, and if, they need to replace them.
Although certain fixtures may last a practice's lifetime, others need to be replaced on a regular basis to maintain a practice's quality of service.
"The quality of fluoresent light really goes downhill after about a year," says Larry Haake, marketing manager for Shor-line in Kansas City, Kan.
He says brightness in lighting is especially important to veterinarians as they get older and it becomes a safety issue.
"Lighting that may have worked for a veterinarian when they were 30 years old might not work for them at 50 years old," Haake says. "Even if it's a handheld light, it's important it's up-to-date because they think, 'We will get by with it for awhile,' but they're not really getting by."
Other fixtures might not need to be replaced as frequently, as long as they are well taken care of.
"Stainless steel lasts a lifetime if properly maintained and cleaned," Haake says. "We have vets who call us and say that they are selling their practice after 30 years and sold their cages for more than they paid for them years ago."
If customers purchase the right equipment and maintain the equipment properly, the only reason it should have to be replaced is if a new generation offers more convenience, says Jeff King, sales manager of TriStar Metals Inc. in Boyd, Texas.
To stretch their dollar as far as it will go, Haake advises practice owners and veterinarians to research products thoroughly before making an investment.
When replacing, updating or buying a new fixture, Jeanne Caples, director of operations at Forever Stainless Steel in Omaha, Neb., says that customers should personally examine products before ordering them online or through a catalog.
"Attend trade shows or visit the showroom," she says. "Actually look, touch and examine the equipment before you buy."
Asking the right questions will also determine whether the product's value is worth its price.
"If I was a veterinarian, I'm going to look for a company that has been around for a long time and whose products have withstood the test of time," Haake says.
He adds that it's important to ask how long a particular fixture or product has been on the market in its current design, what problems customers have reported and how these problems were corrected.
Updates should also be made when fixtures or equipment are ineffective cost-wise, no longer safe for use or show wear that compromises the quality of operation and the practice's overall appearance, Rouse says.
"If they are no longer easy to clean and disinfect, they are no longer functional and should be replaced," says Bruce Dietrich, DVM, president of Cedar River Laboratories in Mason City, Iowa. "Clients are not impressed with fixtures and equipment that look old and battered.
"Veterinarians should realize that the appearance of their equipment is a reflection on their practice and themselves."
Above all else, Eppes says that veterinarians and practice owners should always consider what's best for the clients, not just their wallets.
"They need to remember this is for the animals," Eppes says.