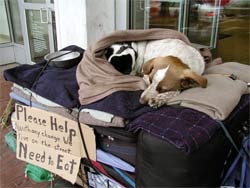 Walking along the busy city streets of Carson City, Nev., during wintertime, it's hard for Genevieve Frederick not to notice the many homeless people along the sidewalks, clinging tightly to their tattered jackets and worn-down blankets for warmth.
It's even more difficult for Frederick, an animal enthusiast, to ignore the homeless pets that lie loyally by their owners' sides, as hungry for affection as they are for food.
Between 5 percent and 10 percent of homeless people living outdoors have dogs and/or cats, according to research conducted by the National Coalition for the Homeless in 2004.
"The tragic part is, the pets of the homeless do not choose their owners," Frederick says.
Since Frederick couldn't rescue every homeless pet from the streets—without turning her home into a zoo—she decided to give them something they needed just as much as a roof over their heads: food.
Through her public relations work for Sierra Veterinary Hospital in Carson City, Frederick discovered the need for a plan that would not only help pet owners facing financial difficulties, but also help veterinarians publicize their practices.
"Working with [veterinarians] and their staff, I soon realized that vets are not trained to promote and market their hospitals," Frederick says. "In fact, most only put an ad in the yellow pages and hope that word of mouth will get their names out in the community."
Through a partnership with Gary Ailes, DVM, the staff at the Sierra Veterinary Hospital and Friends in Service Helping (a food, clothing and shelter provider for the disadvantaged in Nevada), Frederick launched "Feeding Pets of the Homeless," a how-to kit with step-by-step instructions on how to collect and promote food drives for homeless pets.
The kit includes detailed instructions on how to contact local organizations that distribute food to the homeless and how to find and contact local press. It also provides templates for press releases and public service announcements.
"Not everyone has the funds to feed their animals appropriately," Dr. Ailes says. "Now, hopefully, they will be able to take care of the animals that bring them emotional comfort."
Sierra Veterinary Hospital's staff launched the program on Dec. 1, setting up a collection station that will stay up year-round.
After the food is collected at the veterinary hospital, FISH volunteers will pick up the donations and distribute them to those in need.
"It's a groundbreaking approach," says Monte Fast, executive director of FISH's three locations in Lyon, Douglas and Carson County. "We see about 50 families a day and a lot of them have pets."
Although previously an aid for disadvantaged people, FISH now takes homeless pets into consideration.
In their initial interview with homeless people, FISH volunteers now ask if they have a pet they need help feeding.
The willingness to help has always been there, although many people are just not sure where to start, Frederick says.
"My community is very generous, and they readily get food for the disadvantaged, but what about the pets of those families and individuals?" she asks. "I took an idea and developed it into a program that will help vets, food banks, the disadvantaged and homeless and—mostly—their pets."
By participating in and promoting pet food drives for the needy, veterinarians get their clinics' name out in the community and make a good impression on possible future clients.
Frederick says the kit also helps create a sense of unity among staff members by teaching them how to brainstorm ideas together.
Ailes has already seen improvement in teamwork and communication among staff members through their involvement in the project.
"Helping others is a huge part of what makes us human beings," he says. "The staff is pleased to be able to help out."
Helping a good cause also shows veterinarians' current clients that they care about more than just getting their business.
"I think [the program] builds a much needed bridge over the gap between the haves and the have-nots," says Michael Stoops, executive director of the National Coalition for the Homeless in Washington, D.C.
Ailes agrees.
"Once you are successful, you owe it to the community to give something back," he says. "This gives us the opportunity to contribute in our own field."
The food drive will also help homeless pet owners, both indirectly and directly.
"Homeless people love their animals the same way we do and they want to be able to take care of them," Stoops says.
Although most people who experience homelessness are only homeless for six to eight months, those with pets find it more difficult to find housing because many shelters don't allow pets, Stoops says.
When forced to choose between keeping a pet and having a roof over their heads, many homeless animal owners are unwilling to leave their faithful four-legged friends behind.
"If I had my way, every shelter in the country would build an adjacent animal shelter right next to their facility for homeless people," Stoops says. "[They] would be more likely to go inside if they knew their pets were in walking distance."
Pets provide the homeless with warmth and protection, Frederick says. But mostly, she adds, pets provide them with companionship and an irreplaceable bond.
In addition to helping the homeless take care of their pets, FISH's staff also provides them with resources to get them back on their feet, whether through medical assistance or employment.
"It's a handup, not a handout," Ailes says.