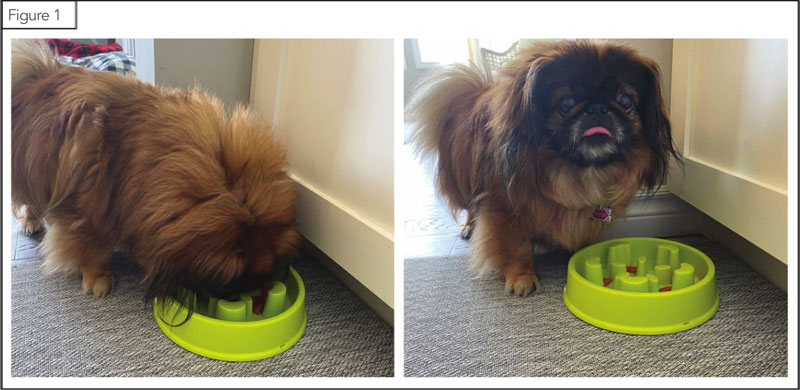 Nearly 60 per cent of pet dogs and cats in the United States were overweight or obese in 2018, says the Association for Pet Obesity Prevention (APOP).  Numbers in Canada are likely very similar; they may, in fact, be even higher now as a result of the pandemic. This correlation largely stems from owners not being able to go out as frequently, whether due to lockdown restrictions, stay-at-home orders, or simply working from home. Being cooped up at home can result in pets being fed more frequently throughout the day, and potentially being overfed. Likewise, activity may decrease if pet owners are under quarantine or a stay-at-home order. Increased calorie intake combined with decreased activity is the formula for weight gain.
The upward tick in pet obesity is concerning. We know obesity increases the risk of several other diseases, including diabetes, urinary disorders, osteoarthritis, and cancer.1 In fact, there has recently been support from members of the veterinary community to officially define obesity as a disease.2
Planning for success
Weight loss plans require strong communication skills on the part of the veterinary healthcare team, as well as commitment and dedication from pet owners. One particular challenge often raised during weight loss consultations is a discussion about diet: is a weight loss diet really indicated? What is the difference between weight loss diets and over-the-counter diets? Can the pet just stay on its current diet and be fed less?
These are all great questions. To address them, consider eight reasons why a weight loss diet is preferred for a weight loss plan.
1) Delivery of essential nutrients
Dogs and cats (like humans) have requirements for several essential nutrients, including protein and amino acids, fatty acids, and vitamins and minerals. Animals get these nutrients from the food they eat.
If given the right proportion of calories required for maintenance, pets that are fed a commercial food with a nutritional adequacy statement will consume the correct amount of all essential nutrients. Pet food is formulated to have a certain concentration of nutrients, assuming the pet eating the food is healthy and consuming the recommended amount daily, as indicated on the label.
While many dogs and cats have energy requirements lesser than what is indicated on a food's packaging, if a portion size is decreased, so, too, is a pet's intake of essential nutrients. There is some wiggle room with formulations, which means a slight restriction may be okay (depending on the food); however, limiting calories to induce weight loss is very likely to result in an intake of nutrients below a dog or cat's requirement.3,4
Veterinary therapeutic weight loss diets have been formulated with an enhanced concentration of essential nutrients. This means portion size can be reduced and fewer calories can be fed, but the intake of nutrients will still be within the required amounts. Of course, this still depends on the degree of restriction—even some veterinary weight loss foods can result in an intake of essential nutrients below recommendations.4,5
2) Energy density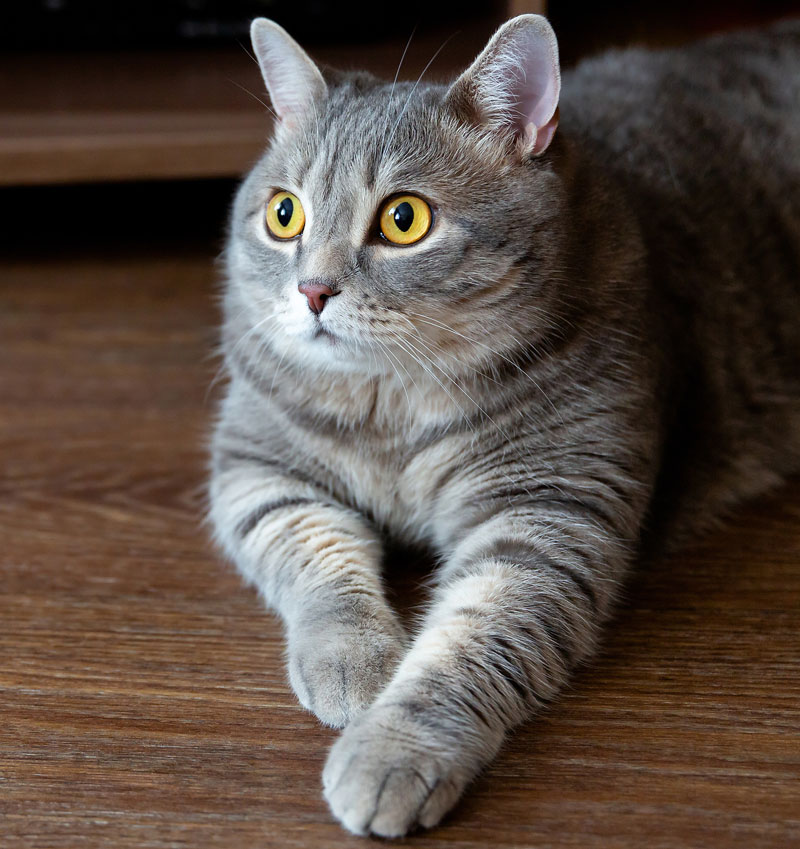 The number of calories per serving (per 100 grams/per cup/per can) is referred to as 'energy density.' This can vary greatly between foods (Figure 2). Energy density is one of the most important pieces of information on a pet food label (aside from the nutritional adequacy statement) because it guides owners on how much a pet should be fed.
Why is this important for weight loss? Pets needing to lose weight must be restricted in calories—they must consume fewer calories than they expend in order to be in a negative energy balance. This can result in a reduction of portion size, which, for some food-motivated pets, can be a disappointment. Pets may be more prone to begging behaviours if they feel less full after a meal, which can happen if their portion size has been reduced. Veterinary weight loss diets tend to have a much lower energy density compared to maintenance diets, which means pets can be fed a larger volume of food but receive fewer calories.
3) Nutrient profile
To help with weight reduction, specific nutrients are included in different amounts in veterinary weight loss diets as compared to maintenance diets. Notably, most veterinary weight loss diets have higher amounts of protein and fibre. Protein is important for weight loss, as it prevents the loss of lean muscle, while also improving satiety (i.e. the feeling of fullness). Likewise, fibre decreases energy density (see above) by adding bulk with fewer calories and also promotes satiety.
There are several other nutrients important in weight loss which are included in these diet formulas. L-carnitine, for example, is essential for the entrance of fatty acids into the mitochondria (the site of oxidation in the cell). Supplementation of L-carnitine has been shown to have a metabolic effect in obese cats undergoing rapid weight loss.6
4) Diets for multiple conditions
As mentioned, many overweight or obese pets have other pre-existing conditions, which, like weight loss, may also require a specially formulated veterinary diet. Most manufacturers of veterinary diets take this overlap into consideration and offer options intended for multiple conditions.
Some examples of specialty diets that also include a weight loss element include hydrolyzed diets or novel protein diets for pets with food hypersensitivities; diets indicated for pets with urinary disorders that will prevent crystal formation; and food designed for pets with arthritis (but can also be restricted for weight loss). This variety of diets for multiple conditions allows a veterinary team to consider the whole patient and avoid needing to prioritize conditions.
5) Variety of shapes/flavours/textures
In may be difficult to believe an obese pet is a picky eater, but more often than not, this is how they are described by their owners! Fortunately, a wide variety of veterinary weight loss diets are available to please even the pickiest palates.
Taking a thorough diet history is an important step in the nutritional assessment, as this will provide a lot of information. Among the data gathered will be the foods the pet has eaten and liked (or not liked) in the past. This can help guide the veterinary team with their recommendation of a veterinary weight loss diet and may help them find a product similar to a food the pet already likes. There exists a variety of kibble shapes, sizes, and flavours for dry food, as well as several textures and flavours for wet food. Most products also come in a dry and wet form in case a pet prefers a combination of both.
6) Palatability guarantee
For pets that are truly picky, it is worth noting most companies that sell veterinary weight loss diets have a palatability guarantee on their products. This means if a pet owner purchases a weight loss food and their pet refuses it, the client can return the food for a full refund and try something else. To confirm which products are covered by this palatability guarantee, check with your pet food reps.
7) Follow up with veterinary team
In addition to helping control weight, recommending a veterinary diet opens the door to patient follow-up. Veterinary weight loss diets are prescription and, thus, purchased at the clinic. This provides a great opportunity for the veterinary health care team to monitor pets on a weight loss plan. If a pet owner purchases a bag of food from the clinic because it has been prescribed for their pet's weight loss plan, the hope is they will then see the veterinary team as their first resource of choice when they have questions or run into any roadblocks.
Additionally, if the pet owner comes in once a month to purchase food, this presents is an opportunity for the team to check in and ask how the weight loss plan is going. One option would be to allow the owner to bring in the pet for a weight and body condition score check each time they come in to buy a new bag or case of food. It can be easy to overlook follow-up appointments for weight loss patients and, by extension, for owners to get discouraged. Seeing clients coming to the clinic to buy food as an opportunity for additional patient monitoring can help with this.
8) Evidence
Last but certainly not least, when it comes to recommending weight loss plans for obese or overweight patients, it is important to remember the evidence speaks for itself. These diets have undergone careful formulation and testing and have been purposely designed to be fed to pets in need of losing weight. Most pet food companies are happy to share their research; if you are interested in learning more about the studies conducted with veterinary weight loss diets, all you have to do is inquire.
The right call
Taking these reasons into consideration, you may still wonder when a weight loss diet is indicated. Further, you might encounter some pet owners who are resistant to a diet change or who volunteer to make some other modifications first (e.g. increasing exercise, decreasing treats). This willingness to try new things and address the issues can play an important role in developing a successful weight loss plan.
Some owners might be more receptive if small changes are made in increments. If you have a patient in need of losing weight and its owners are willing to make a few changes, you can suggest they do these things for a few weeks and then come back for a weight check. If the pet's weight has improved, you can continue with the plan, but monitor closely in case the weight loss stops. If the pet has not lost weight, you have more evidence a diet change is indicated, and the owners might be convinced this is the best next step.
While some over-the-counter diets are labelled 'light' or 'low-calorie,' it is important to note these are not veterinary weight loss diets and are not meant to be restricted. Indeed, these diets are less energy dense compared to regular adult maintenance versions of the products, but they are not as low energy as veterinary weight loss foods. Products in this category are suitable for pets already in ideal body condition, but with a slightly lower energy requirement to maintain the ideal body weight (or for pets that really enjoy their food and need a larger volume to feel full).
The journey to achieve ideal weight can be a long one and there are plenty of important elements required to set up a successful weight loss plan. Selecting the right diet is an integral step, but convincing owners of its importance can be challenging. Knowledge of the reasons listed above in supporting the recommendation of using a veterinary therapeutic weight loss diet can help to equip veterinary health care team members with more information in their tool kit. This can help to facilitate better communication with pet owners and improve the overall health of more pets!

Caitlin Grant, BSc., DVM, DVSc., graduated with honours from the Ontario Veterinary College (OVC) in 2014. After graduation, she worked as an associate veterinarian in a private, mixed animal practice. In 2017, Dr. Grant returned to OVC and completed a nutrition residency through the European College of Veterinary and Comparative Nutrition (ECVCN) and earned a Doctor of Veterinary Science (DVSc.) degree in September 2020. She recently joined OVC as assistant professor and holds the Nestlé Purina Professorship in Companion Animal Nutrition.
References
1 German AJ. The Growing Problem of Obesity in Dogs and Cats. Nutr J. 2006;136:1940-1946.
2 Association for Pet Obesity Prevention. The global pet obesity initiative position statement. 2010. https://petobesityprevention.org/about/#GPOI. (accessed July 5, 2021).
3 Linder DE, Freeman LM, Morris P, German AJ, Biourge V, Heinze C, et al. Theoretical evaluation of risk for nutritional deficiency with caloric restriction in dogs. Vet Quart. 2012;32:123-129.
4 Grant CE, Shoveller AK, Blois S, Bakovic M, Montheith G, Verbrugghe A. Dietary intake of amino acids and vitamins compared to NRC requirements in obese cats undergoing energy restriction for weight loss. BMC Vet Res. 2020;16:426.
5 German AJ, Holden SL, Sersier S, Queau Y, Biourge V. Assessing the adequacy of essential nutrient intake in obese dogs undergoing energy restriction for weight loss: a cohort study. BMC Vet Res. 2015;11:253.
6 Center SA, Warner KL, Randolph JF, Sunvold GG, Vickers JR. Influence of dietary supplementation with L-carnitine on metabolic rate, fatty acid oxidation, body condition and weight loss in overweight cats. Am J Vet Res. 2012;73:1002-1015.