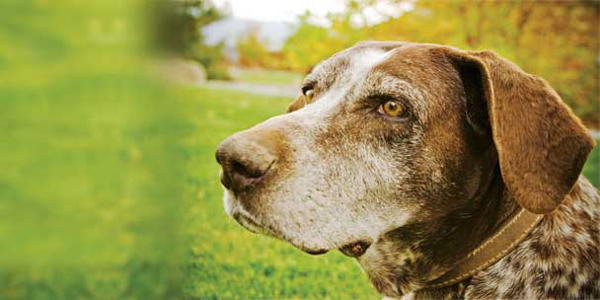 Many of us started out as a starry-eyed, passionate, aspiring veterinarian-to-be. Through hard work and determination, we enthusiastically joined this unique, challenging, and distinctive profession. We were impatient to get out into the real world and experience what it was actually like to be a doctor, saving lives and working with animals all day.
Unbeknownst to us were the emotional challenges and taxing schedules that come along with being a veterinarian, all of which could knock us into a whole new and daunting reality. For many of us, the immediate excitement and sense of pride and accomplishment of being a veterinarian has faded over time, resulting is us feeling worn down, discouraged, and drained. I've termed this the 'Upside Down' world in veterinary medicine, a reference to Stranger Things' parallel universe.
Veterinary teams share a very special reality. We are intimate witnesses to the extremely precious human-animal bond. Owners trust us with the care of their beloved companions and we have the privilege of sharing in their joy when their pets are healthy and thriving. At the same time, we also share their distress when a pet is unwell and their grief when it is time to say goodbye.
Continually helping our clients requires us to open our hearts and minds to them and their pets. Yet, empathy is what makes us vulnerable to being profoundly affected and even possibly damaged by our work. Such is the definition of compassion fatigue and burnout.1
Turning compassion fatigue around
Otherwise referred to as the 'cost of caring,' compassion fatigue is the profound physical and mental erosion caregivers face when they are unable to refuel and regenerate. It is thought by many to be the greatest threat to the personal, financial, and professional success of those providing compassionate care.2
The following cumulative factors contribute to compassion fatigue:
professional stress, including high work expectations, long hours, tension within our teams;
personal stress, such as family issues, health problems, and financial hardship, including student loans; and
euthanasia, which can significantly cause deterioration of our mental health.
Euthanasia's impact on the well-being of veterinary professionals is undeniable. Veterinary team members are often not as psychologically prepared as they could be for dealing with the emotional tolls euthanasia has on both clients and themselves. This is due to a lack of focus and education on the subject in veterinary schools.
Even after performing thousands of euthanasias, there are still things we can learn to ensure helping escort an animal across the Rainbow Bridge leaves us feeling fulfilled, rather than saddened or guilty.
The following are ways in which you can help improve the euthanasia experience for you, your client, and the practice environment, as well as focus on the team's well-being.
Prepare your clients well for euthanasia: It is difficult to remember something you don't know. This may seem obvious, but according to grief counsellors, many clients report leaving their pet's euthanasia with a sense of distress, confusion, and frustration. On our end, we may feel a euthanasia went technically smoothly, but a client may be leaving with a completely different perception.3
A large proportion of complaints to veterinary medical boards are related to euthanasia. According to Ordre des médicines vétérinaire du Québec (OMVQ) and the Ontario Veterinary College (OVC), these complaints are often attributed to clients feeling a lack of preparation by veterinary staff, not having enough time to spend with their pet, and that the procedure was rushed or was over too quickly. Even if a client has witnessed a euthanasia before, it's important we still explain that every experience and animal is different.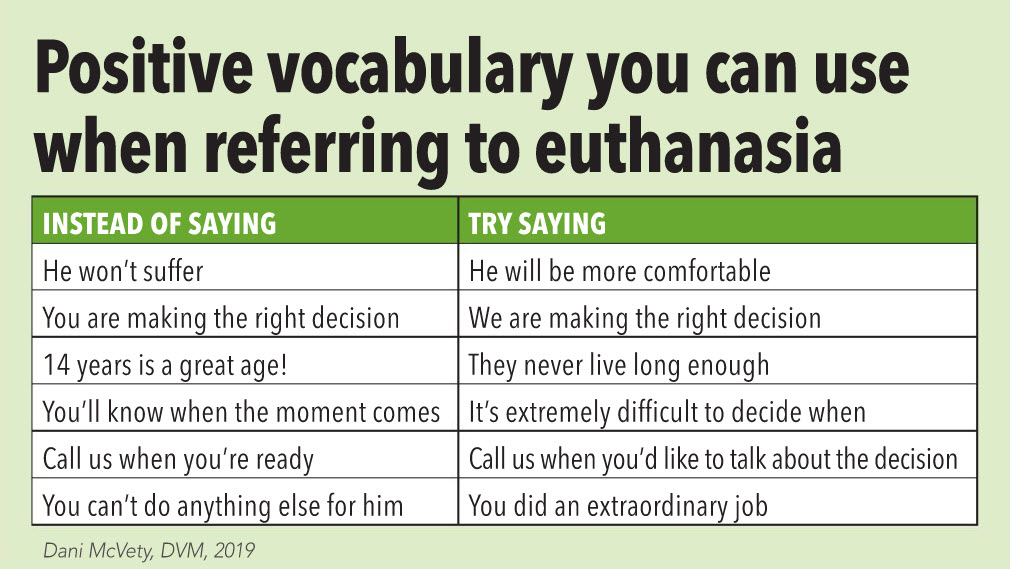 Group or divide your euthanasia appointments: Grouping euthanasias together in the morning, afternoon, or evening can help you to focus on your clients, rather than skipping from a euthanasia to a puppy vaccine appointment (while waiting for sedation) and back to the euthanasia, which can be an emotional rollercoaster. Additionally, scheduling these appointments in the evening will help families avoid facing other clients. Also, if you dread performing euthanasias, speak to your hospital manager or supervisor to see if these appointments can be divided more evenly amongst the team. Every veterinarian has their preference—some see it as a noble calling, while others may be more inclined toward surgery. Telling your employer what your preferences are can ultimately help make your job less stressful.
Visit the crematorium your clinic uses: The American Veterinary Medical Association's (AVMA's) Companion Animal Aftercare guidelines state, "Veterinarians must understand that they may be responsible, and may be held accountable, for the aftercare provider they recommend." Families worry about where their pets go after euthanasia. Feeling comfortable with the crematorium you use and agreeing with the way it runs its service allows you to relay this confidence to your clients.
You could also recommend your client visit the crematorium. These are after-life specialists whose job it is to help families deal with the loss of their pet. This can also work toward removing the negative stigma attached to cremation. Assisting your clients in feeling better will in turn help you feel you've done your job well and that there is nothing to hide.
Send sympathy cards within three to five days: According to grief counsellors, some clients report that receiving sympathy cards from a veterinarian after more than five days have passed creates the impression they don't care or allows painful memories to resurface as families are trying to heal. To avoid this, have your team sign the cards in advance to eliminate unnecessary delays.
Call your client a couple of days after the euthanasia to see how they are doing: Approximately 20 per cent of clients report they will not return to the clinic where their pet was euthanized.5 This is due to the negative association of the euthanasia, as no matter how much they may like and value your team, it may simply hurt too much. Calling a client to simply see how they are doing can go beyond just helping them feel better—it shows how much you really do care. Reaching out in this manner can also lead to positive recommendations on social media and good reviews. It might also discourage a client who may be tempted to post a complaint, as many of them are related to the euthanasia experience.
Place pets in something respectful and dignified when being transported or stored afterward: AVMA's Companion Animal Aftercare guidelines state that, "Companion animal veterinarians should handle animal remains in a sensitive manner, such that it is not unnecessarily disturbing to the owner or any other person with a valid reason to see the remains." This can have a significant impact on the client's experience and improve the veterinary staff's well-being.
Offer clients grieving resources, such as local support groups or counsellors: Even if they are not used, your concern and understanding of the client's pain will be apparent. An online search will likely present numerous options in your area you can pass on to pet owners.
Introduce the topic of compassion fatigue at a staff meeting: Discuss this aspect of veterinary medicine as an occupational hazard, something normal that happens to those who are doing their jobs well. Explain what it can feel like: intense emotional fatigue, feeling overwhelmed, or an absence of a feeling of accomplishment.
Have a group discussion about ways to deal with it around the workplace. Your staff may have some great suggestions of their own, but don't be surprised if their main focus is on reducing workload and scheduling flexibility. Recent research shows those are the two main areas of work that most significantly contribute to employee stress and illness.6
Stay in your lane and focus on yourself: Stop worrying about everyone else—do what you have to do. You don't need to fix everything and everybody all the time—you are doing your best. And don't be afraid to say no or set boundaries. You'll be saying no to them, but yes to your life. If you still want to help, but cannot do everything, say "Yes, I can do that, but I need XYZ." We have a habit of adding more weight to our shoulders unnecessarily. You can either ask for help or be in danger of experiencing a decline in your well-being.
Visit the Canadian Veterinary Medical Association's (CVMA's) website for a list of mental health support services across Canada (bit.ly/3ehakxE). Consider printing a copy of the association's "Who Ya' Gonna' Call" flyer to place next to your controlled substances box.
If you feel depressed, hopeless, or are just having a difficult time in your life, please share it with someone. Telling just one person can help you if/when it's needed. Once you've started down the path of depression, the odds of you reaching out for help decrease significantly and you may never recover.
SIGNS OF COMPASSION FATIGUE9
Emotional symptoms
Feeling overwhelmed or hopeless when hearing of others' suffering
Feelings of anger, irritability, sadness, and anxiety
Feeling emotionally, psychologically, or physically exhausted; burnt out; or numb
Reduced empathy
Cognitive symptoms
Constant thinking or dwelling on an animal's or client's suffering
Constant self-blame or thoughts of, "I should or could have done more"
Physical symptoms
Difficulty sleeping and nightmares
Being tense, agitated, and on edge
Behavioural symptoms
Self-isolation and withdrawn
Coping poorly through self-medicating and/or substance abuse
Jocelyn Anne Mason, DVM, is a companion animal veterinarian currently working for Euthabag, whose mission is to provide respect and professionalism to our beloved animals, their families, and the veterinary team. This is a concept she deeply believes in after suffering from compassion fatigue early on in her career. Dr. Mason brings a strong sense of understanding of the difficulties surrounding the euthanasia process, as well as a passion in educating others on compassion fatigue. She has lectured at various veterinary universities and veterinary conferences on the topics of compassion fatigue and improving the euthanasia experience.
References
1 Aja, Daniel, DVM Supporting Emotional and Mental Health in the Veterinary Profession, TVP
2 Mathieu, F., What is Compassion Fatigue? TEND, 2019
3 Céline Leheurteux, DVM, Montreal, Québec
4 AVMA 2020 Companion Animal Aftercare guidelines:
bit.ly/308ZvZt
5 Dani McVety, DVM, Lap of Love VMX 2020
6 Mathieu, F., What is Compassion Fatigue? TEND, 2019
7 4MedPlus Online CE Courses: bit.ly/2CdeY2G
8 CAETA Companion Animal Euthanasia Training Academy, Kathleen Cooney, DVM: caetainternational.com
9 Kamkar, Katy, PhD 20 warning signs of compassion fatigue, Canadian Occupational Safety
ADDITIONAL RESOURCES
Not One More Vet (nomv.org) is an organization providing support to veterinary professionals who are struggling with maintaining mental well-being or are considering suicide
Love Your Pet, Love Your Vet Organization (loveyourpetloveyourvet.com.au) works to increase well-being in the veterinary industry