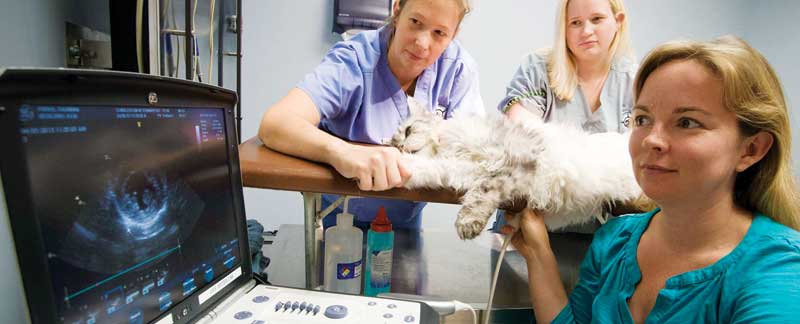 What's one of the most frequent questions associated with a patient in respiratory distress? More often than not, it's whether the issue is cardiopathic, according to Eric Lindquist, DMV, DABVP, Cert. IVUSS.
"From a practical standpoint, nothing beats a solid echocardiogram to assess the heart to decide whether the veterinarian grabs the cardiac medications or the respiratory ones to address respiratory distress patients," said Dr. Lindquist, CEO of SonoPath.com.
This is why Lindquist and others believe the use of ultrasound and the development of other new diagnostic tools to examine heart health are among the most important developments in veterinary medicine.
"For example, teleconsultation by cardiologists and other capable specialists of echocardiograms performed remotely gives a nice point-of-care approach to differentiate cariogenic disease from respiratory disease," Lindquist said.
Determining whether cardiac care is necessary and nailing down the steps that come after diagnosis are becoming clearer faster thanks to the availability of specialist consultations and more affordable in-clinic diagnostic equipment.
Today, a new generation of high-quality digital ultrasound systems with solid cardiac software packages populate the market, selling at about half the price of similar systems just a few years ago, said J.K.Waldsmith, DVM, president of Vetel Diagnostics in San Luis Obispo, Calif.
"The practitioner's diagnostic success is also now enhanced with the ability of specialists to log onto the ultrasound via internet connection and give live diagnostic assistance to the practitioner," Dr. Waldsmith said. "What is good is that practitioners interested in developing their cardiac diagnostic skills further can now acquire appropriate diagnostic ultrasound systems at much lower cost, and also get high-quality remote assistance from specialists."
Not all echocardiograms are equal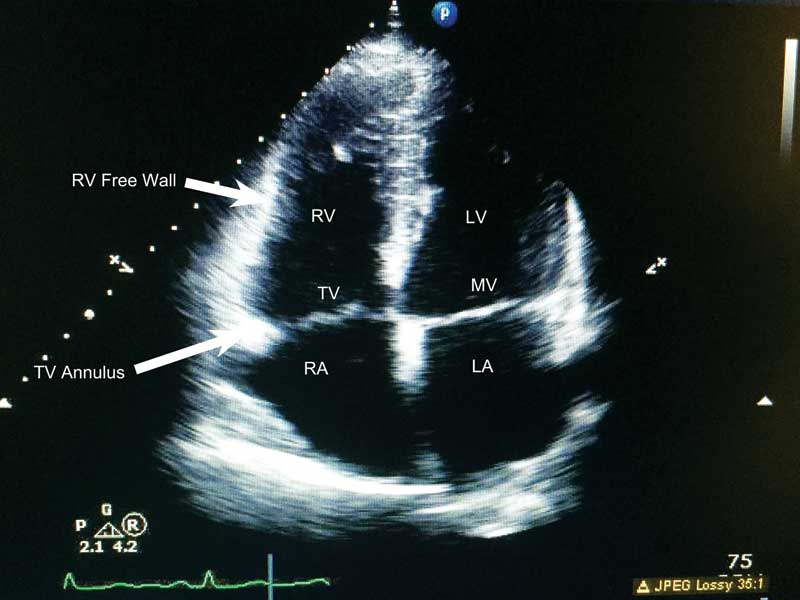 Lindquist said the type and quality of the echocardiogram are paramount.
"Those performed by a boarded cardiologist or other capable well-trained specialist can differ greatly from those performing them at different levels of the learning curve," he said. "It's essential that the sonographer knows his/her limitations, but with current developments in protocols, acquired cardiac disease can be well imaged in full fashion with remote interpretation if the sonographer is willing to focus and work on scanning technique efficiently and rapidly."
Congenital disease, for example, can be extremely tricky, he said. However, most cases of cardiac disease that walk through the clinic door are acquired, so the vast majority of those can be easily imaged in practices without a cardiologist present—as long as the sonographer is well trained in echocardiography, he added.
Two phases comprise the formula for success in dealing with such routine cases, according to Lindquist. The first is to ensure imaging is done completely according to protocol; the second is to ensure the ability to adequately interpret the image set.
"Boarded and experienced cardiologists are best at both phases," Lindquist said. "But the scanning part can be taught pretty rapidly with newer protocols."
Interpretation should be left to experienced interpreters, whether they are on site or it's done remotely, because "grave misinterpretations" can occur with subtle errors in scanning, he said.
"Those specialists who are used to reading remote echocardiograms know the ins and outs of how to work around imperfect scans and help the sonographer improve along the way while ensuring the patient can get the direction of treatment necessary," he said. "Nothing beats a cardiologist with hands on the patient with a probe, but from a practical standpoint, this is impossible for all the patients that need an echocardiogram. Hence, telemedicine with newer efficient protocols helps bridge this gap."
Improving, increasing workflow
One practical side of cardiac imaging of increasing importance for clinics is workflow, according to Chris King, product manager in animal health for Versailles, Ohio-based Midmark Animal Health.
"They are looking for more automation and more ways to increase workflow," King said.
Smart Flow, a workflow optimization system designed to boost communications and efficiency, is one such way.
Using the software integrated into the Cardell Touch Monitor, blood pressure checks are done automatically in programmable increments so the veterinary technician can record vitals when they are taken and can perform other tasks in between.
"You don't have to worry about constantly recording the vitals," King said.
Workflow and improved efficiency are helping to improve veterinary medicine by freeing veterinarians and their staff to focus on other tasks, such as diagnosing and attending to patients, according to John Buerger, president of Vmed Technology.
That's why interest in new smaller, wireless ECG, and surgical monitoring equipment, such as Vmed's battery operated VetChek ECG monitor, is on the rise, Buerger said.
"The device links to a Windows tablet, laptop, or desktop computer to display ECG waveform and heart rate," Buerger said. "The Vmed ECG Interpreter is included with each VetChek. This software helps diagnose ECG abnormalities detected during routine exams, presurgical screens or for patients presenting with indications of cardiac and other abnormalities."
Strain/Strain rate imaging is the hot topic in echocardiography, Steven C. Rollins, a director of sales in North America for Loveland, Colo.-based Heska Corp. (Strain/Strain rate measures myocardial fiber deformation, velocity, and cardiac synchronicity.)
"Strain/strain rate quantifies cardiac fiber deformation by tracking the endocardial border, which is much more accurate because the endocardium fibers are 70 percent longitudinal—today, longitudinal strain is the most clinically accepted measurement for cardiac deformation," Rollins said. "Strain/Strain rate is angle-independent—unlike Tissue Doppler technique—and is able to differentiate active from passive movements of myocardial segments."
Support and training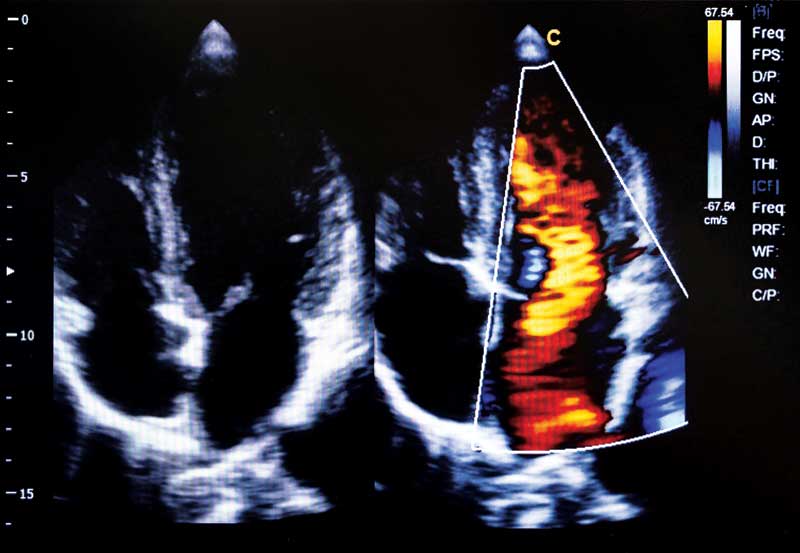 New and improving equipment is great, but it isn't much good with without proper training and good support, Lindquist said. Aside from a cardiology residency, which is practical to only a few professionals, a well-run clinical sonography course is the next step, he added.
"Ideally, these courses have a cardiologist and experienced specialists discussing pathology pitfalls to avoid in the scanning process are available for those that wish to focus and practice and excel," Lindquist said. "It's really more about effort, dedication, focus, and persistency in the educational process just like learning every other skill."
Most vendors offer some formal training, and online learning has become increasingly more popular, Waldsmith said.
"The best long-term sources of education are web based, so you can go back and review specific topics as your caseload requires," he said. "Live classes with wet labs are certainly good, but generally it's a lot to digest in just one to two days, and frequently only one person in the practice can attend. The web-based programs are available to the entire practice 24/7, 365 days a year."
Practices should establish relationships with specialists for both on-site and telemedicine consulting, he added.
In fact, Buerger believes all buyers of cardiac diagnostic equipment should put place an emphasis on doing business with sellers who provide adequate training and hands-on experience for any new product.
"It is also important to check out a company's tech support assistance line before buying anything new," Buerger said. "Many service problems are associated with damage due to improper handling.
 CARDIAC IMAGING TIPS
There are numerous components to consider when performing cardiac diagnostics, and when done right, proper images may save a life, experts say.

Veterinary Practice News asked five industry professionals for their best-practice advice.

Eric Lindquist DMV, DABVP, Cert. IVUSS, CEO, SonoPath.com
When reading rads, forget the heart but look at the pulmonary vasculature. It tells the whole story. Well-defined, curvilinear, non-congested arteries and veins mean it's likely not a heart problem. Fuzzy and tortuous vessels? Likely a heart problem.

Put an ultrasound probe on the heart. For left heart failure to occur, the LA/AO ratio must be excessive. If it isn't, it's not a left-sided heart problem. This should be an immediate point-of-care approach that takes you to one set of meds versus the other set of meds to treat the patient initially.

When evaluating cardiomegaly, know the body score of the patient first and look at the dorsal fat above the T-spine in the radiograph as a body score reference. Cardiomegaly from overlying thoracic fat is a common occurrence that leads to a normal echocardiogram. Overweight patients have overweight hearts masking as cardiomegaly. Go back to my vascular tip to confirm the theory.

J.K.Waldsmith, DVM, president, Vetel Diagnostics
Have a high-quality digital radiography system and take three properly positioned chest radiographs. Some specialists now advocate for the lateral radiographs to be taken with the animal standing as it represents the normal physiologic state.

Use a high-quality diagnostic ultrasound. If you are not confident in the image, you won't feel good about the diagnosis.

Get educated with as much hands-on practice as possible. Take advantage of the many ways that the Internet and telemedicine can enhance the precision and efficiency of diagnostic activities.

John Buerger, president, Vmed Technology
Perform ECGs on all geriatric patients, all patients prior to surgery, and during routine exams.

Chris King, product manager, animal health,
Midmark Animal Health
To ensure accurate and reliable blood pressure readings, the cuff should be maintained as close to the level of the right atrium as possible. Because of gravity, placing it higher than this will produce a lower reading, and placing it lower will produce a higher reading. Thus, lateral recumbence is the ideal position.

When wrapping the cuff, make sure it's not too tight or too loose. If it's too tight, the cuff itself will occlude venous return, rather than the inflation of the cuff, and it will result in a false low reading. A cuff that is too loose will give a false high reading or will it will come apart at the Velcro as it is inflated.

Although the blood pressure technology is designed to operate with some artifact, take care to keep the animal warm and calm to prevent shivering.

Finally, consistency is very important, so be sure to record not only the BP values that are derived, but keep records of who took the reading, cuff placement and size, coinciding health factors of the animal and the animal's temperament.

Steven C. Rollins, a director of sales in North America, Heska Corp.
Strain/strain rate detects wall abnormalities in early stages. It's proven that patients under chemotherapy are likely to have cardiac complications due to cardiac toxicity. XStrain is the gold standard in echocardiography to detect abnormalities due to cardiotoxicity. Strain/strain rate complement stress-echo exams for a complete LV function assessment.