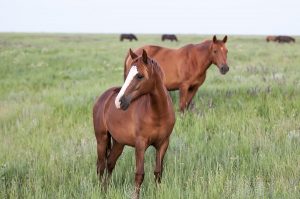 Two horses in British Columbia have been found to be carrying an infectious and potentially fatal viral disease.
In early December, the Canadian Food Inspection Agency's (CFIA's) national reference confirmed the animals had contracted equine infectious anemia (EIA) in B.C.'s Cariboo area.
The horses had been sampled by an accredited veterinarian at the owner's request as exposure to EIA was suspected. No clinical signs of disease were noted at the time of sampling.
According to the agency, most EIA-infected horses remain carriers of the virus for life and can be a source of infection for susceptible animals.
CFIA protocol is to inform relevant provincial veterinary services of any newly affected premises, update its monthly Federally Reportable Disease table online, and communicate with the owners or persons directly involved in the case.
The agency is currently investigating further and quarantine has been placed on the infected horses and surrounding animals.
The separation will continue until all disease response activities have been completed, including follow-up testing and ordering the destruction of positive cases.