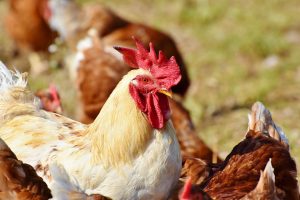 An appeal to change Calgary's Responsible Pet Ownership bylaw to authorize livestock as emotional support animals has been approved by a city council committee.
According to an article by CBC News, the request came following a complaint against Nikki Pike, a Calgary resident accused of neglecting three chickens living in her house.
Pike said she finds comfort in the company of her hens after having been a victim of sexual assault and abuse earlier in her life.
"I have regained the joy and the things in my life that I had previously lost interest in. This is all because I have three fluffy ladies that I can rely on to be there when my anxiety starts to creep back in," Pike told CBC News.
Though the investigation regarding neglect was found to be without merit, pet chickens still aren't allowed in Calgary.
"I don't think everybody with anxiety will benefit from chickens but I do know those of us who have suffered trauma and do have a history with these animals could, can, and should have the opportunity to," said Pike.
If city council approves the bylaw change, certain criteria could be set in place to ensure proper regulation.
Applicants would require a letter from a mental health professional explaining the need for an emotional support animal, a $64 permit (which the chief bylaw enforcement officer could impose conditions on the keeping of the animal), a suitable outdoor space for the animal, and a veterinarian willing to care for the animal's health needs.
The permit would also relate to a specific animal and certain types of animals would not be eligible. Chickens, Vietnamese pot-bellied pigs, and miniature horses would qualify, but exotic animals prohibited by the province would not.
If permitted, the new program would be implemented early in 2019.