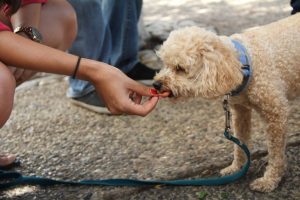 The Canadian Animal Health Institute (CAHI) is warning veterinarians and owners about the dangers of obesity and giving pets too many treats for positive reinforcement and training purposes.
According to a recent clinical survey by the Association for Pet Obesity Prevention (APOP), 56 per cent of dogs and 60 per cent of cats were diagnosed as overweight or obese. Many pet owners are unaware of the excessive amounts of calories that some snacks provide. Obesity can lead to chronic diseases, such as osteoarthritis and a decreased lifespan.
Excessive intake of treats can unbalance a complete and balanced diet, leading to nutritional deficiencies and/or toxicities. In addition, tough, rigid treats can cause periodontal damage and fractured teeth, while large, poorly digestible items, such as rawhide bones can result in intestinal blockages.
CAHI is offering the following tips for rewarding pets without harm:
Limit the intake of treats to less than 10 per cent of the pet's total energy intake for the day.
Avoid treats prone to fragmenting, such as bones.
Suggest low-calorie options, such as carrots, green beans, or cucumbers.
If a pet is begging, consider a healthier alternative, such as a play session or cuddle time.
Other health concerns associated with treats are Salmonella outbreaks from dehydrated food items derived from animals (e.g. pig ears). This poses a public health risk for both pets and people.