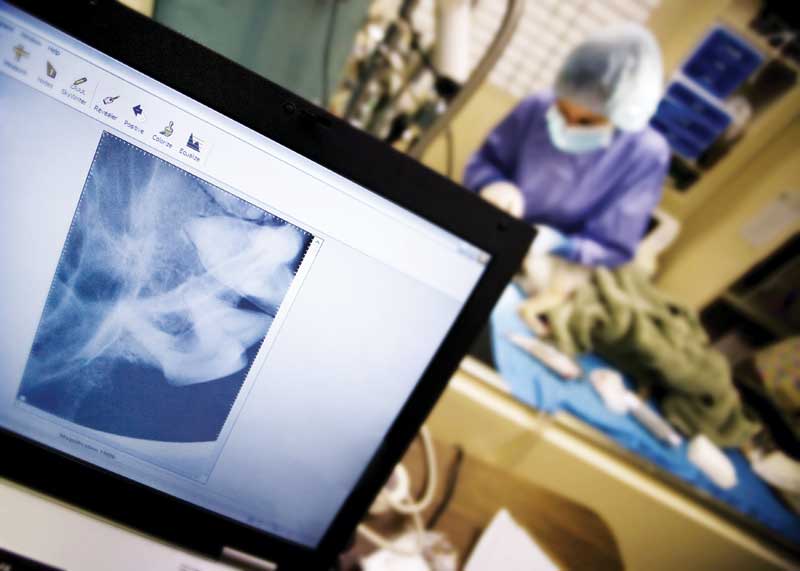 January may be the youngest month of the year but, sadly, it evokes adulthood as much as December does kid-dom. It's time to do adult. And that's not always so fun.
Thankfully, being a grownup in January does have its perks. Sure, you have to find creative ways to manage capital in the wake of December's devastation … and you have to get the holiday slackers in your life back into the swing of things … but you also get to think about the toys you might just deserve now that everyone else's holiday appetites have been satisfied.
The timing is right. Because in case you hadn't noticed, the entire veterinary tech landscape has changed pretty dramatically over the past couple of years. Which means that you should be thinking about all the fun new gadgets, gizmos, tools, and toys our industry now has on offer.
That is, if you want to stay ahead of the curve on everything from telemedicine, surgical technique, and anesthesia monitoring to marketing, social media management, and client communication. And if you want to keep your mind and body engaged in the practice of veterinary medicine in a meaningful, fulfilling way that benefits team and patient alike.
What's more, 'tis the season for conferences, at which you can get up close and personal with all the trinkets and knickknacks your heart desires, some of which might just shake up your skill set and give your clinical practice a much-needed makeover. After all, there's nothing like a new medical device to get you thinking more deeply about physiology and pathology.
Oh, and if you're thinking you're just an associate, practice manager, receptionist, or technician and you're not in the market for any of this stuff … think again. The gear you request will get logged in your practice owner's brain somewhere. And if it doesn't lead to some purchases every year or so you might just want to start thinking about finding another job. After all, this is personal; tech directly affects how well you perform and consequently how engaged and satisfied you are with your career.
Moreover, some of this stuff is either super-cheap or even free. Some of it may represent a savings to your practice given that it's less expensive than what your practice is currently spending for outdated versions of the same technology. So whether you're a practice owner, an associate, or an invested employee, this column––along with your next conference's exhibition hall––are for you.
Here are my picks for this year's must consider vet practice tech:
Cloud-based practice management software
Got stable access to the Internet? Start thinking about cloud-based software. You'll save on server costs and spend less on that Geek Squad tech who charges $100 just to walk in the door. If you have the power to make cloud-based computing happen, everyone who likes to work on their tablets, smartphones, or from home will thank you. So will your clients, who'll be able to access their records online anytime they want/need to. Nothing beats it for flexibility. And it may just be less expensive than your server-based software.
Interested? Excited? Just be cautious. You'll want to make sure you go with a company that offers everything you think you'll need (ease of use, quality inventory features, website integration, lab communication) and doesn't charge and arm and a leg for existing data conversion or any other "unforseeables." You'll also want to get the most invested parties in your practice to buy in. Luckily, most companies make it easy to compare by offering free online trials to multiple users. We test drove three before pulling the trigger.
App-based software
But what if you're happy with your basic software except for a few bells and whistles you wish you had? Consider adding some functionality via app-based software you can attach to your website or implement as a standalone solution.
In particular, client communication functionality is popular in the veterinary app marketplace. For example, some apps make it easier for general practices to share records with clients and specialists. Others will help you send text alerts and emails to augment or replace your outdated reminder system.
Voice recognition software
Sick of typing? Think you'd rather speak your chart notes? Go ahead. Medical software that translates speech to text has made so much progress it's now a feature plenty of veterinary software platforms have made available to its users. Gimme!
Anesthesia monitoring
When was the last time you updated your monitoring tools? If it's been more than five years you might just want to take a look at what's out there now. The capnometer features, in particular, have come down in price, are more reliable, and are absolutely worth their weight in gold when it comes to identifying problems early, thereby preventing or limiting the severity of adverse anesthetic events.
Newest on the market, however, are the portable handheld solutions—pulse ox- and EKG-combo devices, primarily—that work so well for patients recovering from anesthesia. Given their increasing affordability, cage-side monitoring isn't just for specialty hospitals anymore.
Ultrasound
OK, so here's where I confess that my ultrasound skills are embarrassingly nominal. Knowing that the learning curve is steep and my access to specialists near effortless, I've been biding my time. I'll buy one of those awesome new rugged, portable units one of these days. But only once I'm able to readily access telemedicine services that'll read my modestly capable studies well—preferably in real time at an affordable price-point.
Now that the hardware is actually within my financial grasp and the telemedicine services more competitively priced, Macy's-style practices like mine might just be able to start practicing more Nordstrom(-ish) medicine in the near future. I hope.
Website
I can't finish this post without a mention of the lowly website, a fundamental feature for all our practices. This obvious bit of technology might have gone unmentioned if not for the changes brought about by Google. Its new indexing features have made some of our websites almost obsolete with respect to local search rankings.
To that point: When was the last time you checked your local rankings (on a naive machine, please)? Do so. You may be unpleasantly surprised. Enter new technology. Here's where you may just want to contact an SEO specialist for professional support.
Technical education
None of these technical solutions would be possible without real-life human skills. Which is why investing in education matters so much. Again, the time is right: Even if you're not in the market for fancy new tech, the expertise you and your fellow teammates can acquire during this busy upcoming conference season is almost mandatory. Dental radiography is on our team's list.
OK, so I haven't even mentioned the smaller items on my list—additional pumps, extra warming devices, and upgraded digital radiography software, but I chalk those up to basic infrastructure. How about you? What are you working on?
Dr. Patty Khuly owns a small animal practice in Miami and is a passionate blogger at drpattykhuly.com. Columnists' opinions do not necessarily reflect those of Veterinary Practice News.