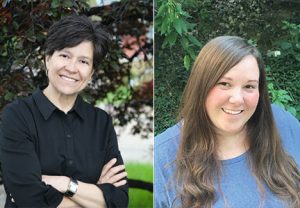 During the seventh annual American Humane Hero Dog Awards, American Humane honored two individuals with the American Humane Hero Veterinarian and Hero Veterinary Technician awards, presented by Zoetis.
After a nationwide search and tens of thousands of public votes, Patricia Canchola, DVM, from Pueblo, Colo., who performs thousands of spay and neuter surgeries every year, helps abused and neglected animals, and runs a low-cost pet health clinic and a pet food bank, was named 2017's American Hero Veterinarian. Jeni Hudson, a certified veterinary technician from Decatur, Ill., who founded a rescue organization that takes in pups with cleft palates and other disabilities, was declared 2017's American Hero Veterinary Technician. They received their awards during a special ceremony onstage on Sept. 16 at the Beverly Hilton in Beverly Hills, Calif., during the Hero Dog Awards gala.
The awards emerged from the idea that behind almost every hero pet (and millions more animals) is a hero veterinarian or hero veterinary technician. Hundreds of worthy nominees were considered by a special blue-ribbon panel of celebrities and renowned veterinary and animal care professionals. After narrowing the field to the top five in each category, the American public was asked to make the final determination.
"Behind all hero dogs there are hero veterinarians and veterinary technicians providing vital healthcare services, and Zoetis is again proud to sponsor these special awards recognizing outstanding veterinary professionals," said Michael McFarland DVM, DABVP, executive director, U.S. Companion Animal Marketing at Zoetis. "Dr. Canchola and Jennifer are both dedicated to excellence and providing compassionate care to every animal they see in their clinics, helping cement the human-animal bond between owners and their pets."
"To us, all vets and vet techs are heroes and this is why we want to honor the best of the best in their fields," said Robin Ganzert, Ph.D., American Humane president and CEO. "Dr. Canchola and Ms. Hudson are tremendous animal welfare advocates and we are so proud to learn of their laudable accomplishments aiding the animals in need in their communities and beyond. And our thanks go out to our friends at Zoetis for sponsoring this special national campaign because we know how committed they are to recognizing the achievements of the veterinary community."
The American Humane Hero Dog Awards are presented by the Lois Pope LIFE Foundation and will be broadcast nationally on Hallmark Channel on Oct. 26 at 8 pm/7 Central.