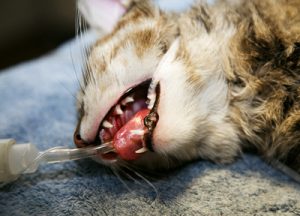 The American Association of Feline Practitioners (AAFP) released the first feline-specific anesthesia guidelines to the veterinary community, which are published in the Journal of Feline Medicine and Surgery.
General anesthesia is an essential component of feline practice, without which surgery and certain other treatment modalities and diagnostic procedures would be impossible, the AAFP stated. Due to their unique physiology and small size, cats undergoing anesthesia are at a relatively greater risk of complications and mortality than many other species; empirical evidence shows that cats undergoing anesthesia have a higher mortality rate compared with dogs.1,2
The new guidelines address specific causes of disparities and ways of avoiding perioperative complications associated with monitoring, airway management, fluid therapy, recovery, perianesthetic anxiety and stress, perianesthetic monitoring by physical and electronic means, the role of underlying diseases such as hypertrophic cardiomyopathy, the correct use of anesthesia equipment, and total injectable anesthesia.
An associated client brochure provides cat caregivers with digestible information that enables them to understand anesthesia, what to expect, properly prepare their cat for a procedure, and care for them during recovery (catfriendly.com/anesthesia).
"By proactively developing an individualized anesthetic plan that considers the uniqueness of each feline patient and recognizing that 'one size does not fit all,' the experience for the cat can be improved and the outcome successful. It is our hope that these guidelines will become the practice's go-to resource and each team member will have a new awareness of all the tools and techniques available to them," said guidelines co-chairs Susan M. Gogolski, DVM, PMP, DABVP (Canine/Feline), and Sheilah A. Robertson, BVMS (Hons), Ph.D., DACVAA, DECVAA, DACAW, DECAWBM (WSEL), MRCVS.
The AAFP recommends that these guidelines, which are endorsed by the International Society of Feline Medicine, be used in conjunction with other previously published guidelines (catvets.com/guidelines), such as those on feline-friendly handling, feline-friendly nursing care, senior care, pain management, and fluid therapy, as they each contain specific information that should be considered when sedating and/or anesthetizing cats. The guidelines and associated supplemental resources are available for download at catvets.com/anesthesia.