Once he got over the shock that his cancer was terminal, Joel Pasco, DVM, realized that he had two choices.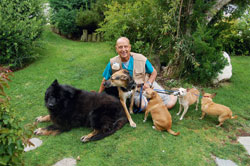 Dr. Joel Pasco with his five dogs at home.
He could get depressed, feel sorry for himself and wait to die. Or he could stay positive and pack as much life as possible into each remaining day.
To the California veterinarian, it was no contest.
Told last year that he had as little as 12 months to live, Dr. Pasco, 62, decided to surround himself with family and friends. He would continue to pursue hobbies that brought him joy, like painting, sculpting, fishing and bonsai gardening. And, as long as he could, he would continue to practice veterinary medicine, the profession he'd loved for more than 30 years.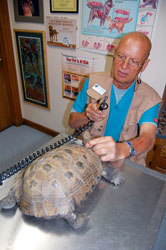 Dr. Pasco with a tortoise patient.
"People ask me, 'Why are you working? You should be retired,' " Pasco says. "But my answer is, 'I love what I do. I love my animal patients and I love my human clients, and my life would be very empty if I could not continue to do this.' "
Life-Changing Moment
The diagnosis came late last summer. A cancerous tumor that Pasco successfully battled a couple of years earlier had recurred. Surgery was not an option. And this type of cancer, esophageal adenocarcinoma, is particularly deadly, with a five-year survival rate of less than 5 percent.
"When you hear that, your whole life kind of flashes before your eyes," Pasco says.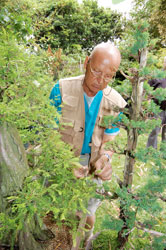 Dr. Pasco in his bonsai nursery.
Luckily, he liked what flashed by. A native of Ohio, Pasco graduated from the University of Illinois veterinary school in 1972 and moved to California. He built a thriving practice, All Creatures Care Cottage in Costa Mesa, Calif. He raised two children with his wife, Jean. He became active in wildlife organizations, eventually helping to establish the non-profit Wetlands and Wildlife Care Center in Huntington Beach, Calif. He also became an ardent bonsai artist, with a collection of more than 3,000 miniature living sculptures.
As he embarked up-on alternating rounds of chemotherapy and radiation treatment, Pasco made the most of his days. He asked that his daughter, her husband and their baby move in with him, his wife and his son so the whole family could be together. He not only continued crafting his bonsai, but he began teaching the art and set up a website, sharibonsai.com, to explore selling his work, possibly to other collectors.
And he continued to see clients, both at the wildlife center and in private practice. Perhaps presciently, he had sold his practice several years earlier, foreseeing that it was better to give up control at a time he chose rather than when his hand was forced by age or illness. The pressures of running a hospital over, he could do what he really loved anyway: Care for animals.
Positive Changes
Pasco says he became a better vet. Battling illness himself gave him more patience and helped him become a better listener.
"It's changed my bedside manner for the better," he says. "I think it's because I have so much more respect for life, and I have so much more appreciation for how emotionally invested people can be in their own pets."
Keeping an active schedule was not easy. At times, chemotherapy made Pasco so ill that he could barely function. He lost his hair and his appetite. He dropped more than 60 pounds, shrinking to 160.
But somehow, he kept going, says Debbie McGuire, an administrator at All Creatures and the wildlife center.
"He just didn't look at the negative," McGuire says. "You know those pearls of wisdom that you want to file away? I'm getting those from him every day and learning how to deal with things in a positive way."
This, Pasco says, was part of his master plan.
"I've learned that the more weapons we throw against cancer, including a positive mental attitude, the better," he says. "The people who give up, their immune system gives up, and then they're toast."
Another Surprise
As the months went by, Pasco noticed something unusual: He was feeling pretty good.
Seeing his animal patients and working in his bonsai nursery seemed to energize him rather than drain him. He realized that he was more productive than ever.
At the end of May, Pasco got another shock. Three tests failed to find any cancer. He was released from chemo and radiation. Doctors stopped short of saying his cancer was in remission, but the implication was there.
Pasco tries not to be overly optimistic. He knows the cancer could return at any time.
Shortly after receiving his diagnosis, Pasco had read "The Last Lecture," in which terminally ill professor Randy Pausch challenged his audience to live life to the fullest and enjoy each day. Pasco says that lesson helped him as he faced death, but it's also a good blueprint for facing life.
"Why wait till you find out you're going to die before you learn … how you should be living your life?" he asks. "I don't know what's coming next, but I'm looking forward to using what I've learned, not just to enjoy my own life, but to share with others."