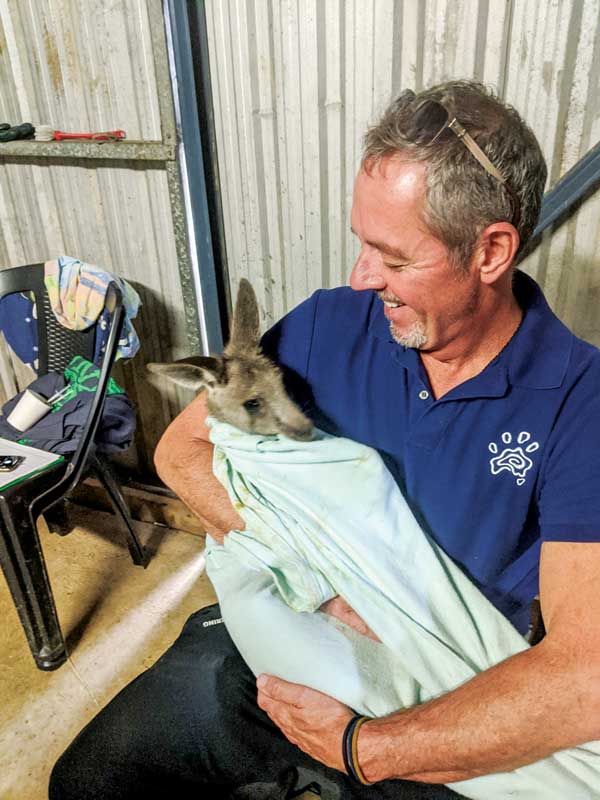 Earlier this year, as the Australian wildfires peaked in their devastation, Scott Bainbridge, DVM, owner of Dundas West Animal Hospital in Toronto, happened to be adjacent to the action.
Since 2012, he and his wife, Andra, have operated Future Vet Kids Camp in Sydney, Australia. The two were down there for a post-camp working vacation, along with Dr. Bainbridge's classmate from the Ontario Veterinary College (OVC), Jason Steinman, DVM, and his wife, Cheryl. When the opportunity arose to volunteer in the bush, Dr. Bainbridge grabbed it.
"For me, there was no question," he says. "I was really hoping there would be a chance to help out while I was down there. There were very few people who were available. I had the training and I knew it would be a great experience."
The opportunity brought him to Shoalhaven in the state of New South Wales. For two days, Drs. Bainbridge and Steinman worked in a makeshift clinic alongside a team of veterinarians and volunteers, taking care of kangaroos, wallabies, and even a big goanna, Australia's version of a monitor lizard.
Veterinary Practice News Canada caught up with Dr. Bainbridge soon after he returned from Australia in January to find out more about his experience working Down Under, and hear why joeys and puppies aren't so different after all.
1) What ultimately influenced your decision to volunteer on the front line of the bush fires?
Jason and I had an opportunity the weekend before to volunteer in Shoalhaven, but because the fires are so unpredictable, the area was deemed unsafe at the last minute and the trip was pulled.
When the chance came up the following weekend, I jumped at it. It was also in Shoalhaven, and came about through one of the wildlife groups. I was invited to go along and help out by Audrey and Alison Shen, two Australian veterinarians and twin sisters who are partners with the camp, and I asked Jason to come with us, too.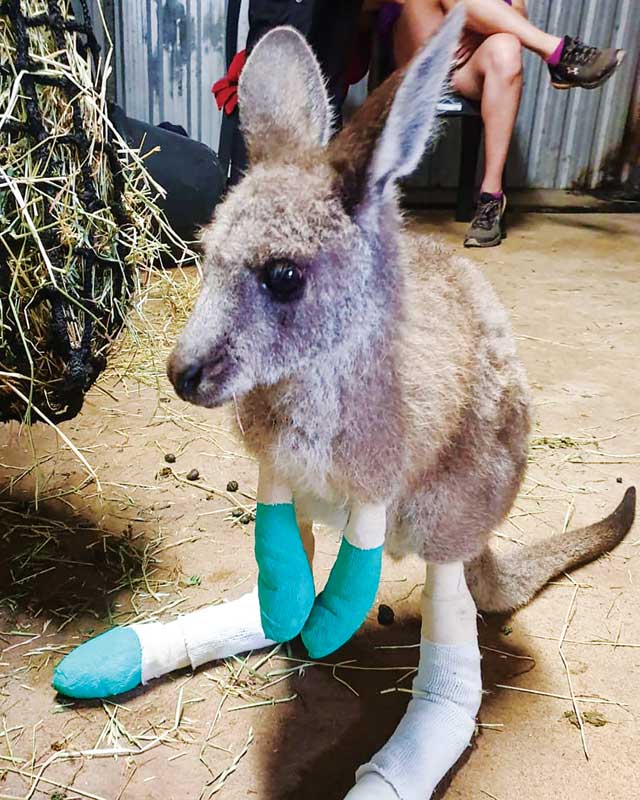 Our convoy left Sydney at around 6 a.m. on Jan. 18—Jason and I were in one vehicle, along with Charlene Lee, a veterinarian from Sydney, and Bao Chau Vuong, a veterinary technician. The twins took their fully equipped mobile unit, Aussie Mobile Vet. Also with us, believe it or not, were a human chiropractor, Matt Breeds, and a human osteopath, Rhys Donovan. They brought along their Class IV laser.
2) Tell me about your experience. Were you surprised by the scope of the devastation and its impact? What types of animals did you see and how would you classify their injuries?
It was a two-and-a-half hour drive from Sydney to Shoalhaven. As soon as we got into the fire-affected area, it felt like Armageddon. It was very eerie. All of the tall trees were blackened with no branches or greenery, and the earth was scorched black—it was really post-apocalyptic. Plus, because there were no leaves on anything, you could see for miles, which was an unusual experience.
Local wildlife experts were searching for and darting adult kangaroos in the area. A lot of these animals were injured, but they were still hopping around. Once the kangeroos were sedated, veterinarians were able to look at them closely to determine the extent of their injuries and see if they had a joey in their pouch. In cases where the animal was severely injured, the joeys were removed and the adult kangaroo was humanely put down.
To that end, our team was dealing with wallabies and orphaned joeys. We were working out of a hot barn alongside Sarah Barry, a veterinarian from Ireland who had already been working on-site for a month, and her team of volunteers.
Most of the joeys we saw had burnt feet and hands, but there were other injuries, too. One of the joeys, Barbie, had tried to escape the fire and got hooked up on a fence. She didn't get burned, but she hung there for a couple days until someone found her. Barbie didn't have any use of her back legs when she was brought in, but treatments from the laser we brought helped to get her back on her feet.
We also had a big goanna, but, unfortunately, it had to be euthanized because it was so badly burned. The region's slow-moving animals—the koalas, the reptiles—didn't fare well in the fires. The kangaroos did better just because they could get away.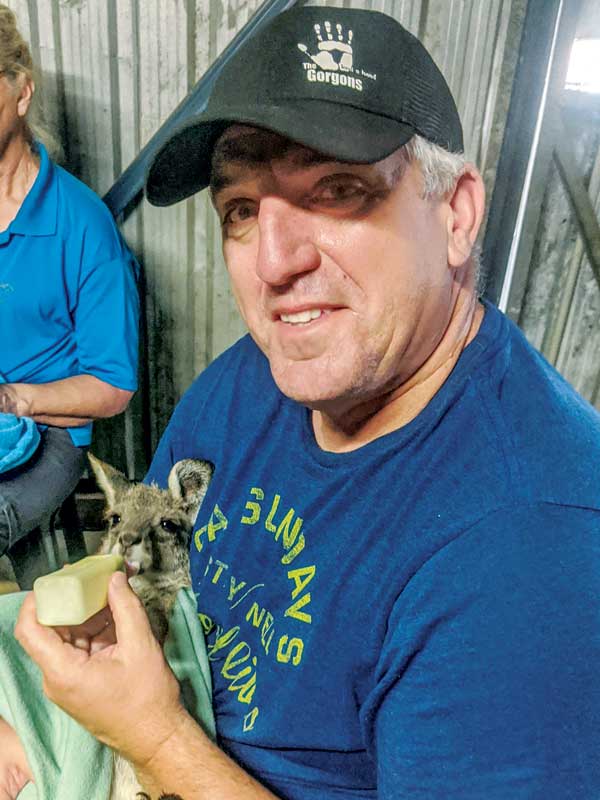 The majority of injuries we saw were burns. We were tasked with looking at the wounds, commenting on what percentage of the body was burned, how severe the burns were, and whether or not we thought it was worthwhile to try to treat them. There were some tough decisions, but in most cases we opted to treat the wounds.
Most of the wallabies at the barn weren't burned or injured, but, because we were feeding them, they didn't want to leave. In total, we had between 30 and 40 animals.
I was surprised to learn that, even if you're working with a species you're not familiar with, all the basics are the same, I'd say to myself, 'I'm going to pretend this joey is a dog that hops.' In the end, it really was no different.
3) This opportunity allowed you to provide pain relief and comfort to many animals. How do you think this experience might affect you in the long run?
It's not easy, but it's good to think about the animals you saved, as well as those you saved from further misery and painful deaths.
When we first arrived and met Sarah, she had the biggest smile on her face. She was the most pleasant person. When I found out she'd been there for an entire month and still had this positive attitude, I was shocked. It put the world into perspective for me.
I didn't know what to expect when I got down there, but being in that situation makes you realize there's a lot more to being a veterinarian than running a business. Sometimes you just need to drop everything and do what you can in emergency situations.
4) Tell me about the veterinary work required now in regard to rehabilitating injured animals and helping nurture Australia's unique species. What would you say are the most significant long-term challenges regarding regrowth and repopulation?
At this point, the land is scorched—there's no food for acres around. These animals are extremely territorial, so now the real problem begins. The ones that survived the fires are now returning to the area because that's all they know, and there's nothing for them to eat. What's more, the fruit bats that live in the region are very sensitive to heat and there's no shade. They'll likely die when the temperature heats up.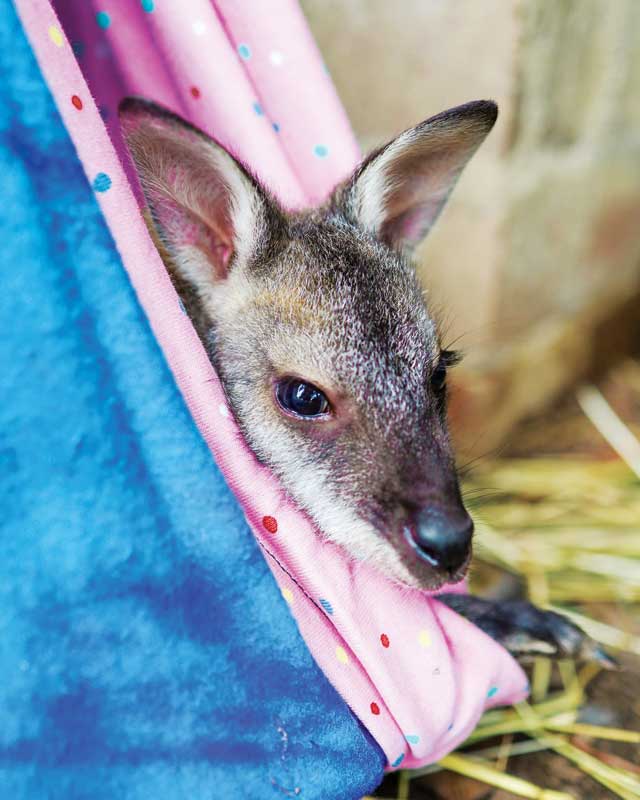 Australia lost more than a billion animals from the fires, and my big worry now is it's going to lose a million more from starvation.
5) What can animal health-care professionals working in Canada do to support their Australian colleagues?
Vets Beyond Borders has set up a system called 'Alert.' It's a registry for veterinarians who are interested and able to volunteer. Once you register online, you're put on a list and Vets Beyond Borders disperses that list of willing veterinarians to different wildlife organizations. Those organizations will, in turn, contact volunteers based on their specific skills and specialities.
Above and beyond that, donations are greatly appreciated. Taking care of this current situation is going to take a lot of money, as is preparing for next year's fire season. The New South Wales Wildlife Council is a good organization to support. It represents 25 smaller wildlife groups currently on the front line, so that helps ensure donations are going to the right place. What the region's dealing with now is just the tip of the iceberg.