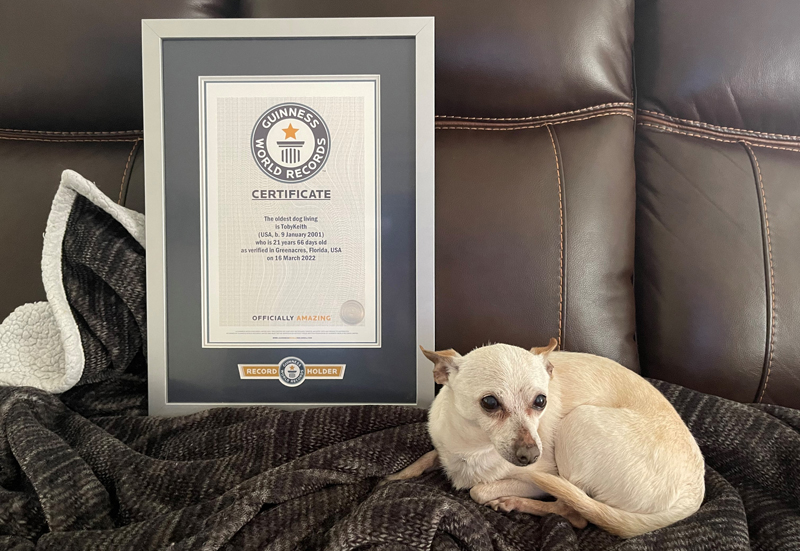 A Chihuahua named TobyKeith has achieved the Guinness World Record for oldest living dog.
Born Jan. 9, 2001, TobyKeith had his record verified on March 16 at the age of 21 years, 66 days. The pooch lives in Greenacres, Fla., with his owner, Gisela Shore, who adopted him from an animal shelter when he was a few months old.
"I was a volunteer at Peggy Adams Animal Rescue and one of the employees told me about an elderly couple trying to surrender a puppy because they could not take care of him any longer," she says. "I met with the couple and was introduced to a tiny tan Chihuahua."
Shore credits TobyKeith's longevity to a good diet, regular exercise, and 'healthy genetics.' On an average day, he wakes at 6:30 a.m. and takes a trip outside before getting his morning snack. The rest of his day typically consists of short walks and, when his owner is working at home, hanging out next to her workstation.
The usual life expectancy of a Chihuahua ranges from 12 to 18 years, Guinness reports.
"The thought that my little guy has reached such a milestone is fantastic!" Shore says. "I am thrilled."
In celebration of the achievement, TobyKeith was treated to a bath, a nail-trim, and a car ride.
For more, click here.