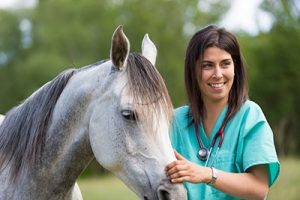 The Zoetis #MyVetIsCore Sweepstakes invites horse owners to express their appreciation for their veterinarian. Until May 22, 2018, horse owners can visit MyVetIsCore.com to enter for a chance to win weekly prizes as well as a grand prize.
Eligible participants can upload a photo of their horse and veterinarian, and share why their veterinarian is "core" to their horse's health and wellness. Once a photo is uploaded, horse owners may share the graphic via their Facebook, Instagram, or Twitter account.
"We launched the #MyVetIsCore Sweepstakes as a platform of encouragement—to showcase the many ways veterinarians improve the health of horses and the lives of horse owners," said Adrienne McAleer, equine marketing innovation manager for the company. "Equine wellness requires a dedicated team, from efficacious products to the trusted bond between horse owners and their veterinarians, to help protect horses."
"It's vital that horse owners work closely with their veterinarian to help protect their horse from grave disease risks," said Kevin Hankins, DVM, senior equine technical services veterinarian for Zoetis. "Providing this level of protection begins with annual vaccination against the five core diseases. More than diseases, they can be a death sentence, and this is a threat we do not take lightly."
The grand-prize winner of the #MyVetIsCore Sweepstakes will receive a $1,000 gift card to the equine veterinarian or tack store of their choice. The grand-prize winning horse owner can nominate a veterinarian to be awarded a one-year American Association of Equine Practitioners membership. Additionally, four weekly #MyVetIsCore Sweepstakes winners will receive a $100 Amazon.com gift card. Winners will be randomly selected and personally notified. Track winners and view weekly announcements on the EQStable from Zoetis Facebook page.
To learn more and to enter the #MyVetIsCore sweepstakes, visit MyVetIsCore.com.