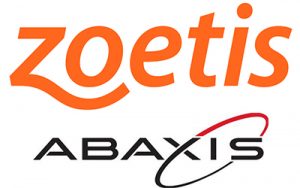 In an effort to gain a greater foothold in the veterinary diagnostics category, Zoetis veterinary drug corporation will acquire Abaxis diagnostic equipment manufacturer in a $1.9 billion deal, which was announced Wednesday.
The acquisition is expected to close before the end of the year.
According to MarketsandMarkets research firm, the worldwide veterinary diagnostics market is expected grow from $2.3 billion in 2017 to $3.6 billion in 2022.
Zoetis, whose diagnostics business accounts for less than 1 percent of its overall annual revenue of $5.3 billion for 2017, seeks to leverage that expanding category. In a statement, the company reported it expects the sector to "continue to grow faster than the animal health industry, with growth in the mid to high single digits, driven by international adoption of point-of-care diagnostic instruments due to rising medicalization rates, increasing standard of veterinary care, and the convenience of in-clinic testing."
Abaxis, headquartered in Union City, Calif., reported revenue of $227 million in 2017. The company manufactures chemistry and hematology diagnostic instruments and consumable discs, kits, and cartridges for the animal health industry. It recently launched its VetScan FLEX4 Rapid Test to detect heartworm, Lyme, Ehrlichia, and Anaplasma in dogs, as well as its VetScan Canine Pancreatic Lipase Rapid Test, its UA urine chemistry instrument and the Urine Sediment Analyzer.
"This acquisition brings Zoetis a company that has a proven, competitive diagnostic platform for growth that we can help to accelerate in the U.S. and worldwide with our global scale and direct customer relationships in approximately 45 countries," said Juan Ramón Alaix, CEO for Parsippany, N.J.-based Zoetis. "Together we can bring more veterinarian customers a broader range of products that fit into our comprehensive solutions and innovations, from prediction and early detection of disease in animals to prevention and treatment."
"We recently invested in expanding operations in Europe, Latin America, and the Asia Pacific Region, with 20 percent of revenue in fiscal year 2018 coming from our international operations," said Clint Severson, chairman and CEO of Abaxis. "Zoetis has the global presence and direct veterinary customer relationships to deliver greater value to more customers around the world and accelerate the growth of our international operations."