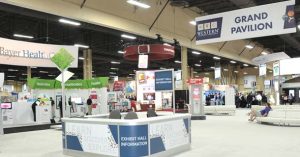 Western Veterinary Conference (WVC) has announced that registration is open for its 91st Annual Conference, scheduled for Feb. 17-20 in Las Vegas at the Mandalay Bay Convention Center.
WVC's educational lineup will highlight scientific advancements in veterinary medicine through speaking sessions and interactive learning. Participants also will have the opportunity to earn annual required continuing education; hands-on labs at the Oquendo Center will give participants opportunity to practice new procedures and techniques.
"We know that where you turn for education matters," said Anthony Pease, DVM, MS, DACVR, WVC's chief veterinary medical officer. "It's WVC's mission to provide solutions-based learning and practical knowledge that can be immediately applied to your practice. The annual conference is your opportunity to stay competitive and gain expert insight and hands-on experience. Most importantly, it's also the perfect chance to remind yourself of why your work truly matters."
To compliment this year's educational offerings, exhibit hall, and networking opportunities, Grammy Award-winning country artist Keith Urban, Big Bang Theory actress Mayim Bialik, and motivational speaker Mel Robbins will headline the event's entertainment.
Featured speakers for the 2019 conference (for a complete speaker list, visit wvc.org):
Sue Ettinger, DVM, DACVIM (Oncology), will discuss her passion for raising cancer awareness in small animals
Jean-Marie Denoix, DVM, PhD, will share insights on clinical examination and imaging of equine locomotor problems.
Goeffrey Smith, DVM, MS, PhD, DACVIM, will speak on food animals including dairy and animal science
Candice Hoerner, CVT, VTS (Dentistry), will highlight trends in animal dentistry
Visit  wvc.org/conference for more information and to register.