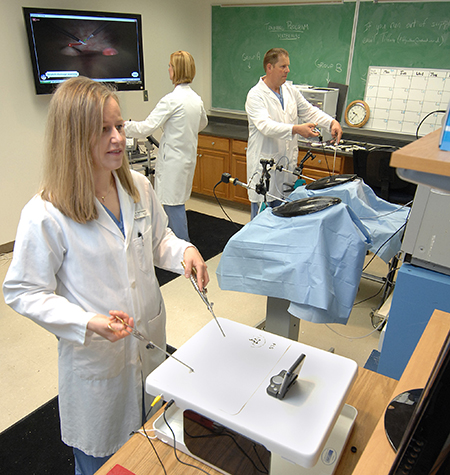 Are you a veterinary surgeon interested in learning more about laparoscopy for pets? Washington State University is now offering training for veterinarian surgeons in laparoscopy, with the chance to earn a certification too.
The Veterinary Assessment Laparoscopic Skills (VALS) training program was created by Boel Fransson, DVM, a WSU researcher and board-certified veterinary surgeon. She had an interest in laparoscopy, but there was no way to learn the challenging technical procedure besides practicing on cadaver dogs or through self-teaching. Contrast that to human medicine, where physicians are required to take simulation courses and become board-certified to practice laparoscopy surgery.
That motivated Dr. Fransson to create VALS. Working with the Office of Commercialization at WSU, Fransson first established a licensing deal with the Limbs & Things, a Savannah, Ga.-based company that creates simulation laparoscopy tools. Once that relationship was established, Fransson developed training videos and a website, and established training centers around the country.
The training program takes about 10 hours, according to WSU, part of which is done at home and part at the training centers. Once veterinarian surgeons complete the training, they take a test which is evaluated by an international board of veterinarians Fransson convened. Those who pass are officially granted a VALS certification. Currently, the training and certification are available to board certified veterinary surgeons only, but Fransson plans to expand to general practitioners in the future.
For more information about VALS, go to the VALS website.