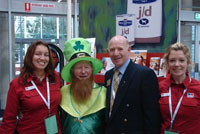 The Veterinary Ireland Companion Animal Society will host the 33rd World Small Animal Veterinary Assn. Congress and 14th Federation of European Companion Animal Veterinary Assns. Congress in Dublin, Ireland, from Aug. 20-24.
The 2008 associations' congress will include more than 200 lectures from 70 speakers. State-of-the-art presentations will cover topics such as antioxidant deficiencies in hospitalized dogs and cats, interpreting tests for thyroid disorders and genetic advances in neurological disease.
A short program will be devoted to management topics such as stress and the veterinarian, human resource management, work-life balance and starting a small animal practice, among others.
A look into why the veterinary and veterinary nursing professions have such a high incidence of stress and suicide will also be covered.
The congress is looking for research abstract submissions for oral presentations. Deadline is April 1.
Sponsors include Hill's Pet Nutrition of Topeka, Kan.; Fort Dodge Animal Health of Overland Park, Kan.; Nestle Purina of St. Louis; Bayer Animal Health of Shawnee, Kan.; Novartis Animal Health of Greensboro, N.C.; and Pfizer Animal Health of New York.
For details, visit www.wsava2008.com.