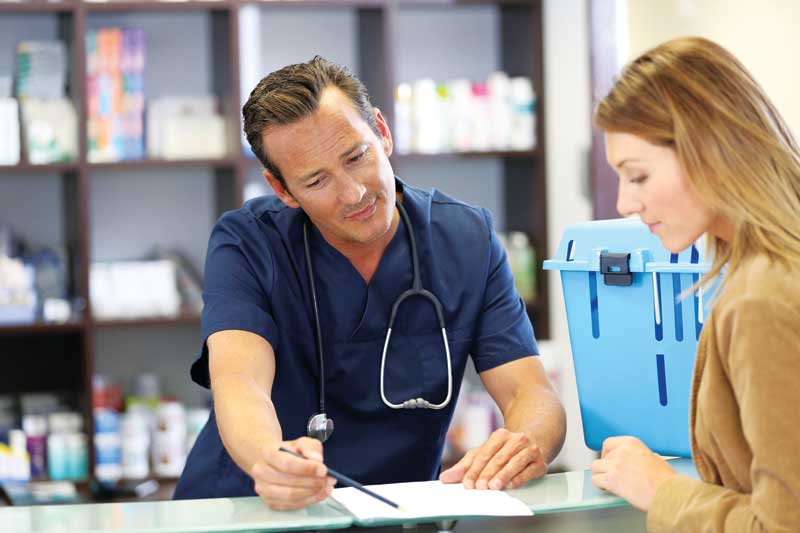 Subtle changes in your veterinary vocabulary can be the difference between client compliance and lost revenue. Many teams use words that confuse pet owners when clear explanations would result in better understanding and lead clients to say yes. Let's fix these veterinary vocabulary mistakes:
1) Why clients think rechecks are free. You diagnose a dog's ear infection and tell the client to return in two weeks for a recheck. What she actually hears is, "If the ears don't get better, come back." Worse yet, she assumes follow-up care will be free. From the client's perspective, 'recheck' sounds both free and optional.
Replace 'recheck' with 'progress exam.'
'Progress' indicates you are moving forward in resolving the health problem. 'Exam' is a professional service, which has a fee. 'Progress exam' communicates that follow-up care is medically necessary.
Say to the client, 'The doctor needs to examine Yoda's ears in two weeks. Two weeks from today would be Tuesday, March 23. Does this same time, 9 a.m., work for you for Yoda's progress exam?' Notice how I led the client to book now by presenting the same time and day of the week as today's appointment. Schedule the progress exam with the same veterinarian for exam efficiency.
Bonus tip: Increase client compliance for home care using my smartphone hack. After the veterinarian has explained the diagnosis, have a veterinary nurse or assistant demonstrate how to clean the ears and apply ointment. Research shows 65 per cent of people are visual learners, while 15 per cent are tactical learners who must 'do' tasks before they understand them.1
First, ask the pet owner to record a video on her smartphone as you clean the left ear. Verbalize your how-to instructions so they're captured in the recording. Now the pet owner has the video for reference at home and can text it to other caregivers. Next, tell the client, "I will now have you clean the right ear, so you feel comfortable doing it at home. I'm happy to answer questions as you do it."
2) Why 'recommend' lets clients wiggle out of treatments. You diagnose a dog's Grade 1 dental disease and tell the client: 'I recommend you get your dog's teeth cleaned.' The pet owner hears she can wait because the procedure is just a recommendation and is not medically necessary.
American Animal Hospital Association's (AAHA's) compliance study found that 38 per cent of pet owners accepted dental treatments when pets were diagnosed with a dental disease that required professional treatment.2 You need clients to act once they understand diagnoses.
Change 'recommend' to 'need.' In the AAHA study, a practice team that switched from 'recommend' to 'need' doubled client compliance. The 'need' statement was followed by a clear explanation of the medical reasons why treatment was required, its health benefits, and the risks that would be avoided by seeking care. In addition to understanding diagnoses, pet owners must know the value and benefits of treatments.
Focus your conversation on answering, "Why should I treat?" The veterinarian would say, "Gidget has Grade 1 dental disease. She needs a dental treatment now to treat the infection, reduce dental pain, and slow the progression of her dental disease [note action words of 'now' and 'pain']. As her dental disease gets worse, serious health problems will happen. Bacteria in the mouth pass through the bloodstream and can permanently damage the kidneys, heart, liver, and lungs [shares consequences of not treating]. Early treatment can help prevent painful abscesses and possible oral surgery. Because oral health impacts overall health, you will see long-term benefits [emphasizes preventive medicine]. I will have my technician explain the steps of a dental treatment and our anesthetic protocols. What questions can I answer about my diagnosis?"
Invite a discussion with, "What questions can I answer?" instead of the yes-or-no choice of, "Do you have questions?" You may identify concerns about fear of anesthesia or the cost of care, which lead to conversations about anesthetic safety protocols and financing options through third-party providers.
3) Why 'drop off' hurts the value of hospitalized care. Your schedule is jam-packed. A client calls about a sick dog that needs to be seen today. Your client care co-ordinator says, "Just drop off your dog, and the veterinarian will look at him." What the client actually hears is that he can hand you the leash and go.
Replace 'drop off' with 'day admission.' After all, you wouldn't 'drop off' Grandma on a hospital doorstep. 'Day admission' sets clear expectations. Say this: "I'm concerned Astro is sick [expresses empathy]. Although our schedule is full, we want Astro to get the medical care he needs and can admit him to the hospital [you're a hero]. For 15 minutes, you will meet with a veterinary nurse or assistant who will ask you questions about Astro's symptoms, get his vital signs, gather details to share with the veterinarian, and confirm the best phone number to reach you today [communicates the admission process]. I have a day admission appointment available at 9 a.m. or 10:15 a.m. Which do you prefer?"
During intake, a veterinary nurse or assistant will initially assess the patient before the veterinarian performs a comprehensive exam. What the client perceives as 'ain't doing right' could actually be a medical emergency. A blocked cat can't be parked in a cage for hours.
Easy-to-understand terms move clients' decisions forward, piloting them to accept your medical advice. As a result, patient care and hospital revenue can increase.
Wendy S. Myers, CVJ, has been training veterinary teams for more than 20 years as owner of Communication Solutions for Veterinarians. She helps teams improve their telephone and communication skills, so more pet owners say yes to medical care. Wendy shares her expertise through conferences, online courses, and monthly CE credit webinars. She is a certified veterinary journalist and author of five books. Her passion is to help practices like yours thrive and grow through effective communication skills. You may reach her at wmyers@csvets.com or csvets.com.
References
1 Klingbord J. Exam Room Communication for Veterinarians. AAHA Press, 2011:27, 29, 160-162, 34-35.
2 Compliance: Taking Quality Care to the Next Level. American Animal Hospital Association, 2009:11,19.