Winslow Animal Hospital reported on Nov.18 that it is moving from a 2,000-square-foot facility in Sicklerville, N.J., to a $3.5 million, 10,500-square-foot animal hospital just a half mile down the road. Construction is set to begin in December with an expected opening date of September 2009.
The move is due, in part, to the population growth in the area, which is in southern Camden County, about 20 minutes outside of Philadelphia. The hospital currently has about 3,500 active clients, but that number is expected to increase 30 percent once the new facility is open.
The building will be located on three acres and will feature 10 examination rooms, two surgical suites, two dental suites, a surgical orthopedic physical rehabilitation area featuring an underwater treadmill and a room designed for endoscopic procedures and diagnostic ultrasound.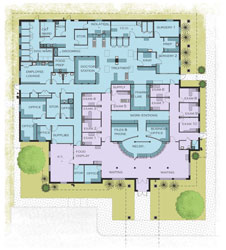 The floorplan for the new animal hospital.
Owner Philippe Coudrai, DVM, performs about 200 orthopedic surgical procedures a year for more than 30 referring veterinarian hospitals.
The facility will also have an expansive reception area, food prep and laundry areas, dog and cat ward, doctors' station, pharmacy, laboratory, an X-ray room and utility rooms.
In addition, the animal hospital will offer training classes for puppies, as well as an expanded behavioral counseling department.
The hospital has also received approval for a 2,500-square-foot addition, if needed.
"We want a facility that we will never outgrow," said Dr. Coudrai, who designed the hospital with architect Jeffry Grogan of Conshohocken, Pa.
Winslow Animal Hospital will be built by Sweetwater Construction Corp. of Cranbury, N.J., which is also working on another veterinary facility, a 33,000-square-foot specialty and emergency trauma center in Robbinsville, N.J. <HOME>