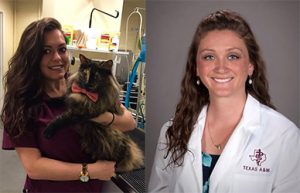 The Winn Feline Foundation and the American Association of Feline Practitioners (AAFP) have announced the recipients of the 2018 joint scholarships for clinical practice and clinical research scientist.
Each winner will receive a $2,500 scholarship.
Nicole Rowbotham, a junior at Mississippi State University who was awarded the clinical practice scholarship, aspires to obtain her American Board of Veterinary Practitioners certification in feline practice and become the owner of a feline-exclusive hospital.
Courtney Meason-Smith, a junior at Texas A&M University who was awarded the clinical research scientist scholarship, seeks to develop an independent research career investigating histoplasmosis and cryptococcosis in cats and is developing novel diagnostics and therapeutics to address these conditions.
In 2016, the boards of directors of both Winn and the AAFP approved a joint scholarship. The application process prompts students to answer two essay questions explaining their specific interest and background in feline health and welfare, as well as their plans for future participation in feline medicine. Recipients of the scholarships are selected based on individual academic achievement, strong leadership, and deep dedication to the study of feline medicine, health, and welfare.
"Both Nicole and Courtney have demonstrated outstanding leadership skills that have led to many early accomplishments; their zealous pursuit of understanding the unique needs of cats through science will open many doors to them as veterinarians and to the welfare of cats," said Vicki Thayer, DVM, DABVP (Feline), executive director of Winn. "We aim to support and highlight their enthusiasm for feline medicine so that others will continue on the same path."
"We are all impressed by the dedication shown by Nicole and Courtney at such early stages in their careers," said Heather O'Steen, CAE, CEO of AAFP. "Their passion for clinical practice and clinical research, respectively, has already led to phenomenal success in the health and welfare of felines. We're excited about what they will bring to the future of feline medicine and research."
For more information, visit catvets.com/about/in-the-news.