What to tell clients when you raise prices
by samantha_ashenhurst | July 18, 2022 3:02 pm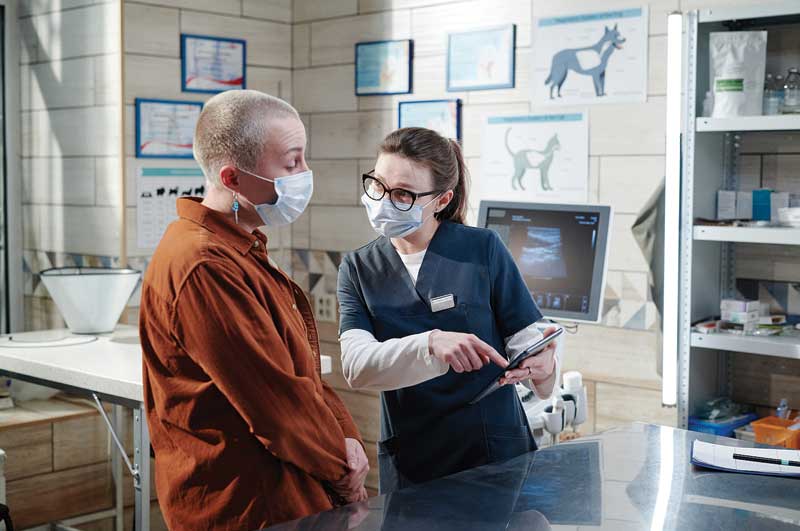 [1]A practice owner told me he has not raised prices in two years and worries how clients will react. While he knew procrastinating was a mistake, the situation is quickly getting worse. Economic changes have triggered laboratory and vendor price increases as high as 12 per cent in the veterinary profession.1 Costs are rising everywhere, from gas to groceries. If your hospital has not raised prices yet, do it now—but what should you say to your clients?
Tell employees what to say
Your team needs to understand the 'why' behind fee changes. You do not want employees to stumble when responding to clients. Have a consistent message; this will make it easier for employees to explain price increases and for clients to accept them.
Your message should be concise and empathetic. Do not apologize, as raising prices is a normal aspect of running a business. Your products and services provide excellent value, and you should charge accordingly.
If clients question fee increases, you want front-line workers to be able to answer. Never say, "You'll have to talk to the manager or doctor about prices." You risk creating angry clients if the manager and doctor are not immediately available. Indeed, it is vital every employee share a concise, confident response.2
Consider following this four-point script:
1) Express empathy: "I understand you're concerned about the cost of veterinary care for your pet." The word 'concerned' shows empathy.
2) Be transparent and state reasons for fee changes: "Like many businesses, our hospital has had price increases in the products and services we buy from vendors. We also invest in our employees' ongoing education, so they learn about medical advances to improve patients' comfort and treatment outcomes." These two statements about vendor price increases and investing in staff training concisely state specific reasons for fee changes. The statements also show you are transparent about prices.
3) Explain how the price increase will benefit the client and pet: "We strive to keep fees affordable while sourcing the best products and supplies to ensure we deliver the high-quality veterinary care you and your pet deserve." Emphasizing high-quality care explains how the price increase will benefit the client and pet.
4) Show appreciation for the client's loyalty: "Thank you for your feedback. I will share it with the doctor and manager. You're welcome to reach out to Dr. Smith or our manager, Amy, with further questions. We appreciate the opportunity to care for Max."
Your team also can share information about preventive care plans, third-party financing, and pet insurance to help pet owners manage the cost of care.
"Why is your hospital more expensive?"
Every employee needs smart responses when clients or phone shoppers question your fees.
Say this (key points in bold):
"Our hospital offers affordable fees. Our surgical fee may be higher than another hospital you contacted because we have the latest monitoring equipment, including pre-anesthetic testing and pain-relief drugs with the surgery, and have an experienced staff with ongoing continuing education. I'm confident you will see value in the quality of care our team provides. Let's schedule a pre-surgical exam so you can meet our doctor. The veterinarian also will share our surgical protocols and answer your questions. When can we meet you and Charlie? I have an appointment available at 9 a.m. Monday or 2 p.m. Tuesday. Which do you prefer?"
In this script, the client service representative (CSR) explains how the quality of care will benefit the pet. She uses positive phrases, such as, "Our hospital offers affordable fees," and "I'm confident you will see value."
The CSR has an inviting approach of, "When can we meet you and Charlie?" instead of the yes-or-no choice of "Do you want to book an appointment?" She offers the next two available exams, which leads the caller to schedule now.
Premium service
You get different service and quality from a steakhouse compared to a fast-food drive-thru. We all dine out and may choose a restaurant based on convenience, price, experience, and quality. Likewise, your community has low-cost veterinary care providers, shelters, private and corporate practices, and emergency and specialty hospitals. Each serves a need and niche.
A premium practice would include pre-anesthetic testing and pain medication in procedures, while a low-cost provider might offer these services as options. A premium practice blocks urgent care slots in its daily schedule to see sick patients, while another provider might tell clients its schedule is full and advise seeking care at an emergency hospital.
Prepare for future fee increases
Raise prices when products or fees go up
While this seems obvious, it can happen without processes in place. A team member unpacks products, updates the quantity in the inventory module of the practice-management software, stocks shelves, and passes the invoice to the bookkeeper. The bookkeeper pays and files the invoice. No one confirmed whether the unit cost on the vendor invoice matched the unit cost in the inventory module.
Say a vendor increases an item from $10 to $11. The practice incurred a 10 per cent increase that did not get passed along to clients, thereby cutting your profits.
To prevent this error, use the purchase order feature in your practice-management software. Most of these tools let you 'receipt the order,' specifying which items were received, any price change, which vendor sent the products, and apply shipping and taxes that were charged.
Make small quarterly increases
While it is smart to raise prices when vendors charge you more, when was the last time you raised professional fees for exams and procedures?
Owen McCafferty, CPA, CVPM, and founder of Owen E. McCafferty CPA Inc. in Ponte Vedra Beach, Fla., advises hospital leaders to stay ahead of inflation with quarterly fee increases and to monitor staffing.
Say your exam fee is $55 and you want to raise it 12 per cent. Increase the fee three per cent or $1.65 each quarter to $56.65, $58.30, $59.95, and $61.60, respectively. Clients are less likely to notice small increments compared to an escalation from $55 to $61.60.
Many practices are operating short-staffed and want to reward loyal employees with raises. Given employee wages and benefits average 48 per cent to 52 per cent of costs, you cannot give raises without upping prices, advises McCafferty. Take care of core employees who stick with you when times get tough, he says. Good wages and benefits will help you retain and recruit employees.
Be competitive on shopped items
Consumers shop prices on three veterinary drug categories: 1) flea and tick preventatives; 2) heartworm preventatives; and 3) long-term drugs for chronic conditions, such as arthritis and allergies. Parasiticides represent the largest market share of pet medications with 42 per cent of sales.3 Most of your prescription approval requests from internet pharmacies are flea/tick and heartworm preventatives.
The Veterinary Fee Reference reports a 65 per cent average markup on flea/tick and heartworm preventatives compared to 107 per cent on other prescription medications.4 If you markup preventatives 107 per cent, you will lose sales to third-party pharmacies and other area hospitals.
Do not procrastinate to review and raise prices regularly. Available from the American Animal Hospital Association (AAHA), The Veterinary Fee Reference is a resource to benchmark your fees against national averages. Clients will be more comfortable with small, steady increments instead of large fee hikes. Most pet owners will anticipate increased costs in the future. They know costs are rising everywhere, from gas to groceries. You need to keep your practice financially healthy, too.
Wendy S. Myers, CVJ, has been teaching communication and client service skills to veterinary teams for 22 years as owner of Communication Solutions for Veterinarians. She offers online courses and monthly live CE credit webinars. She is a certified veterinary journalist and author of five books. Her passion is to help practices like yours thrive and grow through effective communication skills. Myers can be reached at wmyers@csvets.com[2] or www.csvets.com[3].
References
1 McReynolds T. Inflation Hitting Veterinary Practices. AAHA News Stat. Published Jan. 12, 2022. Available at: https://www.aaha.org/publications/newstat/articles/2022-01/inflation-hitting-veterinary-practices[4]. Accessed Feb. 15, 2022.
2 For specific tips, see, "Raising Prices? What to Tell Clients." Find the video at: bit.ly/3LKahfG[5]
3 McReynolds T. Veterinarians Outselling Online Retailers When It Comes to Pet Meds—But Not For Long. AAHA NEWStat. August 2019. Available at: https://www.aaha.org/publications/newstat/articles/2019-08/veterinarians-outselling-online-retailers-when-it-comes-to-pet-medsbut-not-for-long/[6]. Accessed March 29, 2021.
4 The Veterinary Fee Reference, 11th ed., AAHA Press: 2020;229,230,228.
Endnotes:
[Image]: https://www.veterinarypracticenews.com/wp-content/uploads/2022/07/bigstock-Vet-Doctor-In-Uniform-Pointing-446169932.jpg
wmyers@csvets.com: mailto:wmyers@csvets.com
www.csvets.com: https://csvets.com/
https://www.aaha.org/publications/newstat/articles/2022-01/inflation-hitting-veterinary-practices: https://www.aaha.org/publications/newstat/articles/2022-01/inflation-hitting-veterinary-practices
bit.ly/3LKahfG: https://www.youtube.com/watch?v=gev5cwb1ni8&t=11s
https://www.aaha.org/publications/newstat/articles/2019-08/veterinarians-outselling-online-retailers-when-it-comes-to-pet-medsbut-not-for-long/: https://www.aaha.org/publications/newstat/articles/2019-08/veterinarians-outselling-online-retailers-when-it-comes-to-pet-medsbut-not-for-long/
Source URL: https://www.veterinarypracticenews.ca/what-to-tell-clients-when-you-raise-prices/
---