What the future holds for televeterinary practice
by Sarah Said | March 8, 2019 11:24 am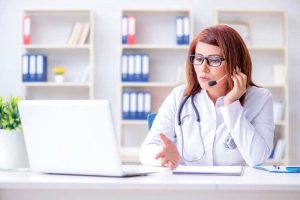 As a veterinary futurist, it seems to me the rate of change in our profession is increasing, which could lead to an economic boon for practically every segment of the veterinary profession. I believe the greatest opportunity for the profession in the coming decades is providing veterinary education, experience, and expertise remotely to pet owners in the emerging middle class in developing countries. Remote teleconsulting regarding food and non-domestic animals will likely increase, but in light of the human-animal bond, I believe the explosive growth will be in helping inexperienced pet owners access companion animal health care.
Developed countries (essentially, the G7) offer opportunity as well. Once regulatory issues are resolved, which is no small feat, I suspect it will be possible to provide better professional service to the public than ever before through expanded roles and responsibilities. Here is a best-case scenario of the spectrum of possibilities for televeterinary practice.
Televeterinary generalists
Every practice owner is familiar with the hourly ebb and flow of clients that can result in a very busy clinic at times. Similar to those early adopters in the past who incorporated dentistry or ultrasound services into their clinics, some practice owners will bring aboard remote televeterinarians. If many clients all arrive at once, instead of waiting impatiently in the lobby, a client could choose to discuss their pet's case via an exam room monitor with a live, subcontracted televeterinarian remotely logged into the practice computer.
Some remote DVMs probably will expand this work to create a complete televeterinary practice. Televeterinarians will be able to set their hours on a day-by-day basis, live wherever they choose, and potentially make more money per hour than with a traditional practice.
Attending DVM (ADVM)
In addition to reducing workflow stress, the ADVM might choose to mount a video and biometric monitor on the front of one or more intensive care kennels and delegate intensive care monitoring to a televeterinarian. That person would communicate with a local veterinary nurse who then confers as needed with the ADVM. More attention to any intensive care or other clinical case will likely improve the overall quality of care provided by the ADVM.
During slow times, ADVMs at the same practice who work with the remote televeterinarian could themselves log on to a service and provide remote consulting to other veterinarians when their client demand increased. This would result in an overall smoother workday for everyone involved and a new practice profit centre.
Televeterinary specialists
When the global emerging middle-class demand arrives, many will want immediate access to remote specialists via teleconsultation. Establishing global credentials will likely involve extensive publishing, which will move veterinary science forward.
Televeterinary specialists will have a more immediate opportunity to increase their income during slow periods by being available for televeterinary consultations when the ADVM has the client in the exam room and the client agrees to the additional fees. These cases may satisfy some portion of required continuing education requirements for ADVM licensure renewal, so this may mean additional income for specialists.
Microspecialists
Microspecialists are a postulated future phenomenon, as the current level of organ-system specialty expertise may not be detailed enough. With the advent of ubiquitous global telecommunications, the televeterinary generalist will narrow the issue far beyond the organ system and likely seek super-specialized expertise. For example, if a clotting disease is suspected and if hemophilia B is found to be the issue, there will likely be someone who becomes the global expert on this niche animal-health subject.
To become a global expert, any generalist or specialist will continue to narrow his or her focus of study to find a sweet spot where no one in the world knows more about this microtopic, yet there is enough global market for the microspecialist to become both wealthy and wise.
Veterinary receptionists
These team members will be in great demand due to greater interface with the public. These professionals offer an entry level of veterinary expertise combined with the social skills necessary to build client bonds, project a professional image, and resolve issues before they become conflicts.
Veterinary nurses
These professionals also will be in high demand and may be relocated to regions of the world similar to how many businesses move executives. These veterinary nurses will be the hands-on component of the televeterinary process and essential to its success. Initial teletriage coupled with case follow-up will increase demand and income for these veterinary professionals.
Veterinary translationists
During vet school, every student learns one version of 'veterinese.' With medical research being conducted constantly, this technical language is increasing and will soon incorporate televeterinary terminology.
Veterinary computer scientists
These professionals will be in high demand to create the web-based infrastructure necessary to triage potentially hundreds of cases a day. The challenge will be the logistics of evaluating pre-evaluation data collection, video, audio, and various consulting opinions in both synchronous (i.e. real time) and asynchronous communications. They will need to pay attention to the user experience or 'UX' as they engineer effective, efficient, easy-to-use, integrated, and intuitive solutions.
Veterinary informaticists
Veterinary informaticists create the algorithms needed to triage or manage any clinical case. Veterinary information managers can evaluate animal-specific data to determine which protocols would be most suited. Hopefully, animal owners, televeterinary generalists, and telespecialists will agree as a condition of their televeterinary client/patient relationship to allow access to anonymous clinical data by a veterinary medical database. This promotes data format standards and open-source platforms that connect easily with other systems and sharing of anonymous case outcomes. This is an opportunity to move veterinary science forward.
Pet owners
Veterinary clients might be the biggest winners in the coming opportunities in televeterinary practice. First, minor worries could be relieved from home with a remote televeterinary exam using the smartphone already in their possession. At this level, the pet owner will not need to take off time from work or travel, saving cost and fossil fuel.
If a clinical visit is indicated, the pet owner need not experience the long lobby wait that most clients have grown to hate. This may become a reason to change veterinary providers to one that incorporates remote televeterinary exams to reduce client wait times.
During the televeterinary exam, it is likely the audio and video will be recorded so the pet owner will be able to later access the practice's website and review the findings, conversation, and most importantly, the doctor's recommendations.
In even more complex cases, the pet owner will have the option to secure a specialist consultation in real time while still in the exam room, also without travel. If that is not immediately available, the pet owner who wanted a second opinion would simply pay for a review of the medical record, plus the recorded exam and findings. This video recording is part of the medical record and might be also be used in a veterinary board hearing.
Companion animals
For their initial evaluation, companion animals don't have to travel or have an unfamiliar person handle them or enter their home environment. Second, the more educated the pet owner, the better off the pet. Third, access to the best consulting on the planet means fewer missed diagnoses and more effective treatment.
Non-companion animals
Wildlife and food animals may benefit from a paid televeterinary consultation. That means the best available expertise can be incorporated at every level desired. This could be either for economic advantage or for more humane treatment of animals in general.
Veterinary regulatory agencies
Telemonitoring, possibly linked to remote drones, could assess compliance with any number of regulations. Most importantly, animal welfare can be monitored to ensure humane treatment of all animals.
The profession
The veterinary profession as a whole benefits by providing paid services to whoever might need that expertise. If the global emerging middle class embraces pet ownership, the need for veterinary expertise will increase. Then, simply because of supply-demand market forces, veterinary team incomes will rise, the cost of a veterinary education will make more economic sense, and quality of life for all members of the veterinary community will improve.
Another major benefit of televeterinary consultation is shared case data. A statement generated by the Veterinary Future Society proposes that every veterinarian participating in televeterinary practice agree to share anonymous clinical data with an open-source veterinary medical database. Data format standardization would ensure medical information is unified and associated with the pet and pet owner, whether from a televeterinary exam, an examination at their primary care veterinarian, or at an emergency or specialty hospital. Then every veterinary practice would be able to use evidence-based decisions to scientifically determine the best course of treatment in every scenario. That could mean an endless cycle of increasing opportunity for everyone involved in televeterinary practice.
Rolan Tripp, DVM, founder of veterinaryfuturesociety.org, published his first veterinary futurist article, "Veterinary Telecommunications," in 1984. He writes and frequently lectures on the future of veterinary medicine. E-mail him at drrolantripp@gmail.com.
Source URL: https://www.veterinarypracticenews.ca/what-the-future-holds-for-televeterinary-practice/
---