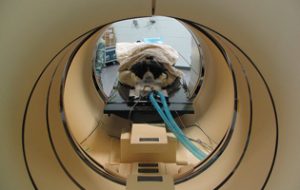 The Western College of Veterinary Medicine (WCVM) at the University of Saskatchewan will soon be home to Canada's first PET-CT unit dedicated to animals.
The scanner—which was made possible thanks to a $2.5-million donation—will be used also for teaching and research. By pairing PET and CT functions, image specialists at the college will be able to isolate the anatomic location of any notable metabolic activity, allowing them to detect cancer, brain disorders, heart disease, and infections much earlier than with standard imaging tools.
Businesswoman and philanthropist Cathy Roozen of Edmonton, Alberta, Canada, made the donation.
The PET-CT unit will also help identify the degree of a tumour, which can be particularly important for radiation and medical oncologists when developing a cancer patient's treatment plan, said Monique Mayer, DVM, MSc, a specialist in veterinary radiation oncology and a professor in the Department of Small Animal Clinical Sciences, Western College of Veterinary Medicine, University of Saskatchewan.
"When we see a cancer patient, we almost always stage them—that's just finding out where the disease is in the body so we can treat it effectively," said Dr. Mayer. "The PET-CT can add a lot of information to the staging, and it's also important for early detection, so we can monitor the patient for any signs of the disease coming back."
WCVM says it expects construction of the PET-CT suite to be completed by the end of this year, with the scanner operating by early 2019.
"The PET-CT scanner will really increase our capabilities, not only to diagnose cancers and determine the extent of the cancers, but also to follow therapy," said Elisabeth Snead, DVM, BSc, MSc, a specialist in small animal internal medicine, and associate dean of research at the Western College of Veterinary Medicine, University of Saskatchewan.
"And if we discover therapy A is more effective than therapy B, that has the potential to benefit other veterinary patients—and potentially humans."