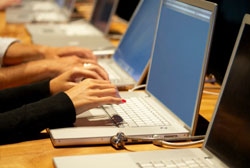 The Veterinary Support Personnel Network (VSPN) will host the online course "Emergency and Specialty Practice: Managing the Front Desk Module 4" on Thursdays May 7, 14, 21 and 28, from 2 p.m. to 3 p.m. ET.
The course, taught by Katherine Dobbs, RVT, CVPM, PHR, president of the Veterinary Emergency and Specialty Practice Association, is designed for office managers and supervisors, and all veterinary front office staff members that are involved in developing policy and protocol for the operation of the front office in an emergency or specialty practice.
According to the course description, "This course will explore how to successfully recruit and train the front office team of the emergency or specialty practice, utilizing a customized code of conduct for this niche of veterinary medicine. The course will explore many of the complicated issues involved in establishing policies related to the delivery of excellent client service to both the pet owner and the referring community."
The course will consist of four 60-minute real time sessions; library materials supplementing the required reading; multiple choice quizzes; a cumulative final exam online; and interactive message board discussions.
Participants are eligible for four hours of continuing education.
Click here for registration and tuition details.