If you have dreams of being a veterinary dentist for the big cats, keep an eye on the Exotic Feline Rescue Center in Center Point, Ind., and the Peter Emily International Veterinary Dental Foundation for opportunities. You could take part in volunteer events, such as one that was held this past weekend, where more than 15 volunteers headed over to the Exotic Feline Rescue Center to spend two days doing dentistry work for eight big cats.
The volunteers consisted of veterinary dentists, technicians and other professionals from around the United States, according to Fox 59. The animals treated included a lion, a puma and several tigers.
This was thanks to the Peter Emily International Veterinary Dental Foundation (PEIVDF). According to their 'About Us' page:
"Our mission is to provide life improving advanced veterinary dental care and treatment to exotic animals located in US (and in the future, overseas) captive animal facilities and animal sanctuaries, which are under funded and/or understaffed from a veterinary perspective. Through these missions, we are also increasing the availability of veterinary dental education through hands-on learning opportunities."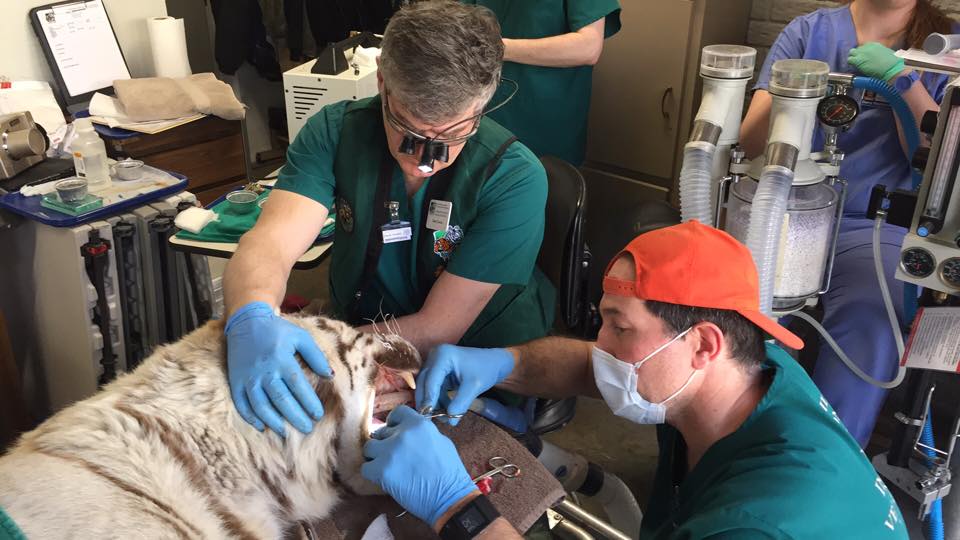 Facebook/Peter Emily International Veterinary Dental Foundation (PEIVDF)
This is Beau, a young tiger with a fractured canine that couldn't be saved. The tooth was extracted.
Big cats need dental work, as they can often damage their teeth by chewing on the fences of their exposure or biting things they shouldn't. This causes pain, and then they need dental work done. Once it's done, the animal feels much better, as Michelle Hall, the PR Coordinator at PEIVDF, told MyWabashValley.com.
"Once an animal's dental issues have been taken care of, the change can be unbelievable," she says. "A lot of owners or zoo keepers will say that it's a completely different animal."
The Exotic Feline Rescue Center's mission is to "provide permanent homes for exotic felines that have been abused, abandoned or for some reason have nowhere to live out their lives, while educating the public about these beautiful cats," according to their website.