Virtual care, COVID, and vet med's future
by samantha_ashenhurst | November 3, 2021 7:00 pm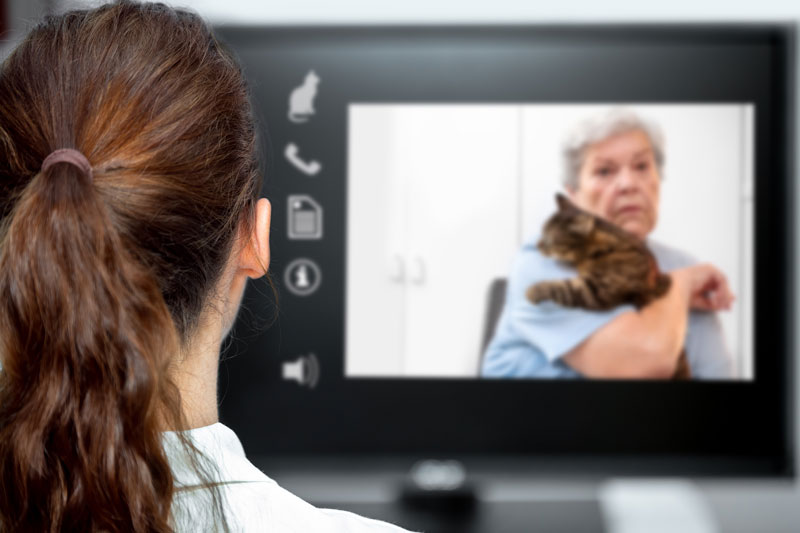 Virtual care? Telehealth? Telemedicine? Teletriage? In veterinary medicine, these terms have certainly been 'top of mind' amidst the pandemic. While telehealth (or virtual care) refers to the process of accessing care digitally, telemedicine is geared toward the actual practice of medicine from a remote distance. In the veterinary industry, telemedicine has stood the test of time, first existing as phone calls, then emails and text, and, more recently, through video chat. As this technology improves, so, too, does our connection with our clientele and patients.
Millennial and Gen-Zers have come to expect the use of technology, suggesting an even stronger future for telemedicine. After all, a trip to the veterinarian can be time-consuming and inconvenient for clients, as well as stressful for pets, making virtual appointments incredibly appealing. Additionally, in situations where clients are required to leave their pet(s) at the clinic for an extended period of time, the receiving of text updates and photos from their veterinary team can help make a difficult situation more manageable. For many, it has become second nature to communicate through smartphones, and successful clinics are leveraging this new norm by embracing virtual care.
In Canada and beyond, the pandemic has come in waves and has had a significant impact on clinics, with some being pushed to close completely. Indeed, COVID has been the impetus of change in many sectors, including the field of virtual care.
Traditionally, a trip to the clinic involves close contact between a pet owner and several members of the veterinary team—of course, amidst a pandemic that prioritized physical distancing, this style of meeting has required significant alteration. After all, requiring your clients to wear a mask for 30 minutes or more while they share an exam room with veterinary personnel is hardly ideal customer service.
As such, many clinics adopted a curbside approach, wherein pet owners were encouraged to stay in their vehicles and communicate with their veterinary team over the phone during appointments. Having a method for owners to connect with their veterinarian remotely provides peace of mind, while also allowing clinics to monetize their professional expertise.
Now, more than a year-and-a-half into pandemic-related measures, this modified and modern approach to care has led many animal health professionals to examine the extent of offerings that can be managed remotely. Indeed, behaviour, nutrition, and training consultations, as well as discussions surrounding quality of life and new adoptions, lend themselves well to telemedicine. Likewise, many medical conditions, such as mild gastrointestinal (GI) issues or certain skin conditions, are also very amenable to being managed this way.
When discussing virtual care in a clinical setting, it may be helpful to break it down and categorize it into 'buckets,' representing the different types of care clients may receive:
Bucket 1: General information
This encompasses resources pet owners can access on a clinic's website or by connecting with client care representatives. This might include intake forms, helpful links, videos, or FAQs.
Bucket 2: Triage
This refers to the practice of a veterinary team member communicating with a pet owner through remote means to triage a pet and determine if an appointment or trip to an emergency clinic is needed.
Bucket 3: Telemedicine
There are two main types of telemedicine:
Synchronous telemedicine is when a scheduled time is booked for a consultation with a veterinarian or technician. This appointment can be conducted via video or audio call and provides a dedicated time for the client and veterinary team member to connect.
Asynchronous telemedicine is when communication occurs through messaging. This is an increasingly common and appealing form of telemedicine, as it allows clients and veterinary professionals the freedom to respond at their own convenience.
Leveraging these multiple forms of virtual care can boost a clinic's efficiency and revenue. Most hospitals are very busy and often understaffed, and do not have the capacity to handle more calls, emails, and client requests. Burnout is another serious issue in veterinary medicine, resulting in more and more professionals leaving the industry pre-emptively. Veterinarians and practice managers should look for ways to improve efficiencies in their clinics, reduce the burden on their support staff, and improve overall job satisfaction. Adopting aspects of virtual care can certainly help achieve this.
Veterinarians are busy professionals and may feel they do not have the time to introduce a new service. That said, using virtual care allows veterinarians to prioritize more urgent in-clinic appointments, while simultaneously managing a large caseload of paid virtual consultations. Setting up a telemedicine service may seem daunting, but it does not have to be. This technology offers a way to reduce some of the back-and-forth phone calls and receive compensation for a veterinarian's time and professional expertise, rather than answer a constant influx of emails and messages at no charge.
While the technology used may be ever-improving, telemedicine has stood the test of time, and its use will only increase as newer generations of clients expect it. Telemedicine has the potential to boost revenue, increase efficiency, and decrease stress and burnout amongst veterinary team members—and it is here to stay.
Steve Boyer, DVM, is a practicing small animal veterinarian, and co-founder and chief veterinary officer at Vetsie. He is passionate about modernizing the typical veterinary experience and improving accessibility for pet owners.
Endnotes:
[Image]: https://www.veterinarypracticenews.com/wp-content/uploads/2021/11/SA_VirtualCare.jpg
Source URL: https://www.veterinarypracticenews.ca/virtual-care-covid-and-vet-meds-future/
---