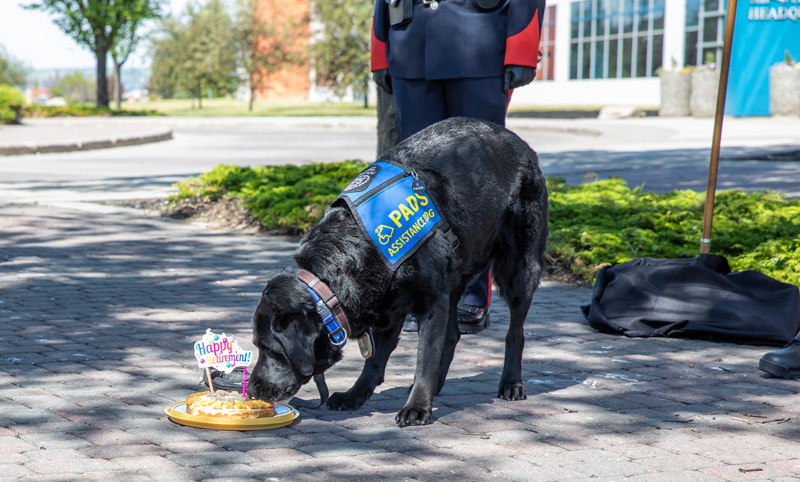 Calgary's first-ever victim assistance dog has hung up his leash and retired after nearly a decade of service.
Hawk joined Calgary Police Service's (CPS's) Victim Response Team in 2013 after being raised and trained by the Pacific Assistance Dogs Society (PADS) in Burnaby, B.C. Throughout his career, the black Labrador assisted many community groups, supporting victims via the Calgary Sexual Assault Response Team, Alberta Children's Hospital, the Calgary Child Advocacy Centre, and Calgary Communities Against Sexual Abuse, as well as through different events at police headquarters.
Additionally, Hawk has the unique honour of being the first legally recognized victim support dog in Canada, CPS says. This distinction has been integral in having courts across the country permit victim assistance dogs as allowable support during witness and victim testimony.
"Hawk has had an exceptional career, but what we are celebrating is really more than just what he contributed," says CPS superintendent, Asif Rashid. "His accomplishments are truly a testament to the vision of the people around him who have worked so hard over the years to get him where he was needed."
"From his trainers at PADS, to his handlers, to our partners throughout the city, everyone recognized the significant impact a victim assistance dog could have in the lives of hurting people and made sure that kind of compassionate care was available."
During his retirement ceremony, Hawk was presented with a medal from the Calgary Humane Society, honouring his contributions to humans need of comfort.
"[Hawk] certainly fits the bill as an animal hero and is only the third recipient of this distinction since it was developed in 2013," says the humane society's director of operations, Brad Nichols. "For the countless victims of crime whom Hawk has facilitated journeys through the justice system, we congratulate this incredible dog on his accomplishments and retirement."
Hawk, whose position has been filled by two new assistance dogs, has been adopted by his most recent handler.
For more on Hawk's career, check out the video below, courtesy CPS.