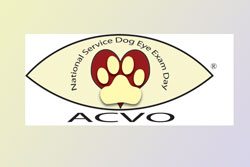 More than 140 board certified veterinary ophthalmologists and 1,300 general veterinarians across the United States will be providing free eye exams and preventative health reports to 5,000-10,000 service dogs the week of May 12.
The event is being launched by the American College of Veterinary Ophthalmologists, Pet Health Systems of Memphis, Tenn., and Merial of Duluth, Ga.
The ACVO National Service Dog Eye Exam is expected to garner almost $1 million in services to help guide dogs, handicapped assistance dogs, detection dogs and search and rescue dogs.
Participants will also receive a Pet Wellness Report (a preventative health diagnosis) and blood panel through their primary care veterinarian.
The idea of the national eye exam was spurred after the success of a similar local event in Memphis. Bill Miller, DVM, Dipl. ACVO, of Advanced Animal Eye Care, examined 87 service dogs.
Click here for details.