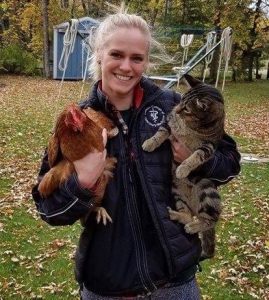 Six veterinary students have been chosen by classmates to receive an award recognizing leadership in student affairs.
The Canadian Veterinary Medical Association (CVMA) Student Leadership Award is presented annually to one student from each Canadian veterinary college. The International CVMA Student Leadership Award is also presented every year to a student attending one of CVMA's international affiliate schools.
Recipients are chosen by the CVMA awards selection committee and senior representatives of the students of the CVMA (SCVMA) committee.
The 2018 CVMA Student Leadership Award recipients are:
Katya Melnick, a fourth-year student at Western College of Veterinary Medicine (WCVM)
Rae-Leigh Pederzolli, a third-year student at University of Calgary Faculty of Veterinary Medicine (UCVM)
Jolene Vermeulen, a fourth-year student at Atlantic Veterinary College (AVC)
Rachel Gauvin, a fourth-year student at Université de Montréal's Faculté de Médecine Vétérinaire (FMV)
Eastman Welsford, a fourth-year student at Ontario Veterinary College (OVC)
Matthew Barnes, a fourth-year Canadian student at the University of Glasgow School of Veterinary Medicine in Scotland.
For more about the recipients, click here.