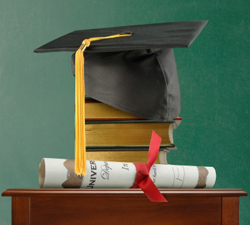 Veterinary Post-Graduate Education Rising Trend, AVMA SaysVeterinary Post-Graduate Education Rising Trend, AVMA Says
More veterinarians are pursuing post-graduate education, according to a recent American Veterinary Medical Assn. study published in the Journal of the American Veterinary Medical Assn.
In fact, almost 40 percent of graduating new veterinarians in 2008 reported that they were going into advanced education—89.2 percent of those into internships and 6 percent into residencies. In 2003, only 26.3 percent of graduates chose advanced educational positions. In 1995, 15 percent opted for more education.
One motivating factor driving these new graduates is the promise of additional income in the long term. According to the 2007 AVMA Report on Veterinary Compensation, board-certified veterinary specialists earned a median income of $139,000 in 2005 compared to the median income of $79,000 for private practice veterinarians with no post-graduate education.
"Internships have quadrupled and residencies have doubled in the past 20 years," said Michael Garvey, DVM, a Pennsylvania veterinarian who has run the Veterinary Internship and Residency Matching Program for the American Assn. of Veterinary Clinicians for more than two decades.
In 1986, there were 179 internships and 130 residencies filled through the matching service, for a total of just over 300. Last year, there were 630 internships and 250 residencies, totaling 883.
However, there currently are more student applicants for post-graduate work than there are positions, with post-graduate posts often outnumbering the positions by more than 20 to one.
John Berg, DVM, chair of the Department of Clinical Sciences at Tufts Veterinary School, said that the school receives about 100 applications for their two surgical residencies each year.
Larry Berkwitt, DVM, at the Vet Referral and Emergency Center in Norwalk, Conn., said that when his intern program began in 1983 there were three specialists and two interns. Now they have 10 specialists and 16 interns.
"More students are graduating from school and realizing that it's important to get more education," Dr. Berkwitt said. "There are some specialties that are so sought after that people are completing general internships, applying for a residency, and, when they don't get the residency, they are applying for specialty internships in order to make themselves more attractive for the residency."
If so many students are demanding more post-graduate education for additional training or improved career opportunities, veterinary medicine should supply it, he adds.
"I think that internships are great, but there is a larger problem today that so many people who desire an internship don't get one," Berkwitt said. "It would be a good idea if we could improve and expand our matching program so that it was more like human medicine, where everybody gets matched." <HOME>