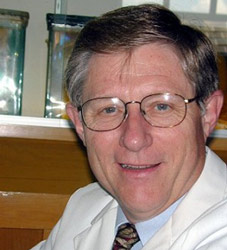 Veterinary Parasite Center Receives Novartis Grant Veterinary Parasite Center Receives Novartis Grant newsline
Novartis Animal Health of Greensboro, N.C., has donated $225,000 to the Oklahoma State University Foundation to become the first industry partner of the university's National Center for Veterinary Parasitology, the company announced Jan. 6.
The grant will help make the center operational by providing support for laboratory renovations and related start-up costs, according to the foundation, OSU's principal fund-raising organization. Renovations are scheduled to begin in 2009 and graduate studies in 2010.
As a founding partner, Novartis will help guide and develop the center as a member of its advisory board and interact with graduate students and residents in training.
Ultimately, OSU sees the center becoming a national resource for diagnostic testing that will help train clinically oriented veterinary parasitologists.
"In the last several years, there has been a decline of veterinary parasitology training in the U.S.," said Michael Lorenz, DVM, Dipl. ACVIM, dean of the Center for Veterinary Health Sciences. "The NCVP is an opportunity for us to continue training in the discipline of veterinary parasitology and to provide a source for national diagnostic testing."