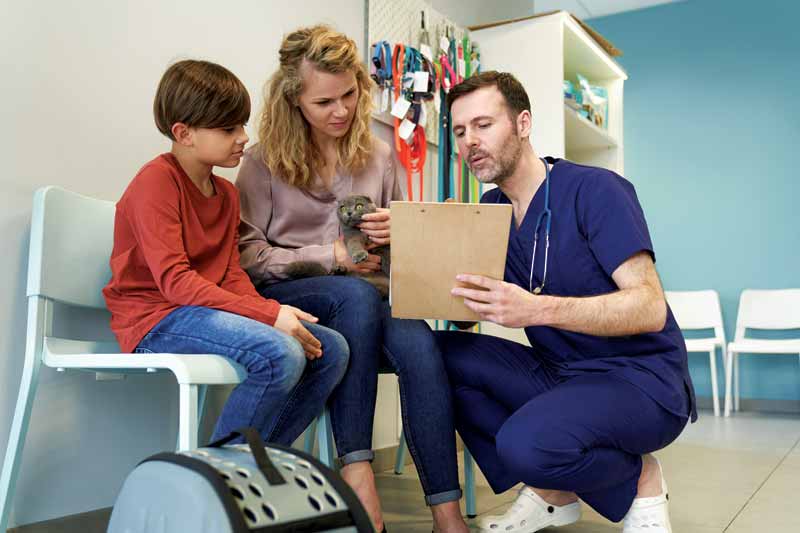 What if there was a superpower veterinary healthcare teams could harness in the exam room? Imagine this ability could decrease medical board complaints and improve medical outcomes, and that this certain something was proven to make physicians in human medicine happier and more likely to stay in their roles. Wouldn't all veterinary professionals want to learn about this superpower and harness it?
Fortunately, we can—this ability is called clinical empathy, and it is a game-changer for veterinary medicine.
Best of all, we don't have to be Avengers to use it. While the skill of clinical empathy may come easier to some than others, everyone can learn it and, most importantly, find their practice greatly improved by it.
What is clinical empathy?
While the word "empathy" can sometimes be associated with burnout and compassion fatigue in the veterinary profession, clinical empathy does not involve picking up a client's emotional troubles and carrying them within yourself. This description is more aligned with "personal distress empathy," and is very different from clinical empathy. The latter includes setting boundaries and recognizing feelings and needs without crossing over into taking on the often-intense emotions experienced by the clients we serve.
Clinical empathy is a learned skill for veterinarians that begins by listening and thinking about what a pet family might be going through, then communicating this understanding to them. Simple statements acknowledging a hectic schedule or competing needs within a family's budget can go a long way in this regard. The skill then continues by acting on this understanding, often by adjusting veterinary recommendations.
The impact of clinical empathy on patients and providers in human medicine is extremely well-studied, and the concept is increasingly included in medical education programs. Empathic communication is associated with improved patient satisfaction, increased adherence to treatment, and fewer malpractice complaints, as well as increased physician health, well-being, and professional satisfaction.1
Clinical empathy is an essential element in practicing a spectrum of care approach to veterinary medicine. As a refresher, a spectrum of care approach uses pet-family-centered communication to present a range of evidence-based diagnostic and treatment options that are responsive to pet families' goals, values, and resources in a non-judgmental way.2
A clinically empathetic person excels at exactly that: listening to and talking with pet families, then understanding and incorporating their concerns to guide them in choosing the care that works best for them.
Clinical empathy in the exam room
You might be thinking you already practice this skill—after all, across veterinary healthcare teams, we care deeply about the animals we serve! While this is certainly true, veterinary professionals tend to be less vocal when it comes to expressing care for clients. Indeed, sometimes we move through appointments so quickly, we might skip the opportunity to show or say we care. Without establishing clear emotional connection, a wellness visit can feel purely transactional, and clients may feel diminished or misunderstood. Simply saying something out loud can change the tone of an appointment and lead to a more successful outcome.
Consider taking this three-step approach:
Ask open-ended questions to truly understand the family's situation and the ways in which diagnostic and treatment plans fit in (e.g. "How are things going at home?")
Use active listening paired with an empathic statement to show you are absorbing what is being communicated to you (e.g. "That sounds hard." "I'm hearing a lot of moving pieces right now….", "I can't imagine what you're going through.")
Adjust your response to show you are taking the pet owner's concerns seriously (e.g. "I understand this feels scary. Let's talk about what the options are for next steps, including the risks and benefits of each one, and then you can decide what you want to do.")
Receiving empathy from you and your team can help nervous, anxious, or concerned pet owners feel seen and heard, which allows them to feel more connected to you. Importantly, it also makes them more likely to trust your guidance and to comply with your care recommendations.
Adjust the end goal
Practicing clinical empathy is not always easy, nor is it necessarily intuitive. Indeed, it is much simpler to make assumptions about pet owners, or to want to push clients toward the option we feel is right for an individual pet. Making space to find empathy, especially when we're tired or stressed at work, can be difficult. How can veterinary healthcare team members overcome these challenges?
First, check in with yourself. If you find your patience waning or annoyance building, take a five-minute "brain break." Eat something or drink some water. Try box-breathing for 60 seconds.  Do the day's Wordle. (Be sure to check in with your team to make sure they have opportunities to do the same.)
Next, expand your view and think about the end goal. How do you measure success? Is it about the sheer number of patients seen in a day? Is it tied to the average client transaction? Is it something else entirely?
For most veterinary practitioners, true success is rooted in how well we connect with and serve clients. More than anything, those in this profession want to connect with pet owners and treat their animals in a way that builds trust and delivers positive long-term outcomes for each individual family.
If you can adjust your focus to the long-term outcome, you can more easily connect with clinical empathy. Doing so allows you to say to yourself, "This may not be the option I would choose if this were my pet, but I recognize this is the right decision for this family right now." Because basic and advanced options alike fit within an acceptable spectrum of care, you can walk out of the exam room feeling confident you fulfilled your oath.
Clinical empathy is not a soft skill; it's a crucial skill. Once you and your team have harnessed it, you can truly do incredible things for your patients, your clients, and your personal career fulfilment.
Emily M. Tincher, DVM, is senior director of pet health at Nationwide. She is a second-generation veterinarian, focused on providing more care for more pets by combining evidence-based medicine and pet family-centred communication to practice across a spectrum of care. Dr. Tincher is a member of the American Veterinary Medical Association (AVMA) Early Career Development Committee, president of the Veterinary Leadership Institute board of directors, and has experience in education, partnerships, and emergency medicine.
References
1 Derksen F, Bensing J, Lagro-Janssen A. Effectiveness of empathy in general practice: A systematic review (2013). British Journal of General Practice, 63 (606): e76-e84. https://pubmed.ncbi.nlm.nih.gov/23336477
2 Brown CR, Garrett LD, Gilles WK, Houlihan KE, McCobb E, Pailler S, Putnam H, Scarlett JL, Treglia L, Watson B, Wietsma HT. Spectrum of care: More than treatment options (2021). Journal of the American Veterinary Medical Association, 259(7), 712-717. https://pubmed.ncbi.nlm.nih.gov/34516261