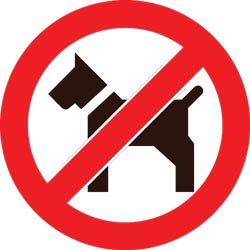 Veterinarians and other animal experts consistently agree that there is no  scientific evidence to demonstrate that a specific breed of dog is more dangerous than another.
Still, the American Kennel Club reports that more than 100 U.S. municipalities have enacted breed-specific legislation  in the past three years.
Veterinarians and veterinary associations who make their stance known in breed debates  can meet staunch resistance from politicians and residents determined to take legal action after a dog attack.
Lack of acknowledgement for veterinarians' expertise deters practitioners from becoming involved, say those close to the controversy.
"Pet owners look to veterinarians as a resource, but when it comes to banning a breed, the veterinary opinion is trumped by inaccurate statistics and mob mentality hysteria," says Adam Goldfarb of the Humane Society of the United States (HSUS).
"However, there are ways to be successful in denouncing claims made in favor of breed bans. HSUS, among others, provides a guide to testify against breed-specific legislation."
Some tips in the HSUS guide include:
Plan ahead and recruit others. Know what you'll say and plan with allies so as not to make the same points.
Read materials discussing the issue.
Be professional; do not make the topic a personal issue. Dress professionally, use appropriate jargon and speak concisely.
The American Veterinary Medical Association recruited a task force on canine aggression and human-canine interactions to help communities avoid ineffective responses to dog bites.
"The task force created a community guide to dog-bite prevention," says Bonnie Beaver, DVM, Dipl. ACVB, a Texas A&M University professor and past AVMA president. "AVMA task force solutions were crafted to assist veterinarians or community leaders eager to assemble a coalition against BSL."
Dr. Beaver chaired the Canine Aggression and Human-Canine Interactions task force, and says an alternative to breed-specific legislation is to create and enforce good legislation on any dog proven to be vicious.
"Veterinarians can attest that small breeds are as aggressive as large breeds, if not more," Beaver says. "Large-breed dogs are capable of doing more damage if they bite, but no one is asking to outlaw all large breeds. Vets need to get involved with community officials to offer assistance in creating language for dangerous dog ordinances."
Points in the AVMA guide suggest ways to initiate a coalition of like-minded professionals to battle breed-specific legislation. Providing alternative solutions to ease public concerns will give validity to the argument.
AVMA suggestions include:
Get the active support of a commissioner or health department head. Without his/her backing, a fledgling dog-bite prevention program is vulnerable to shifting funding initiatives and political pressure.
Know what dog bite-related agendas are getting politicians' attention. Politicians are influenced by well-organized constituents. Know whether any legislators have a strong interest in the dog-bite issue.
Gather community resources. Identify organizations, agencies, businesses and individuals offering training, assistance, consulting, library or computer search capabilities, in-kind contributions, volunteer help or supplemental funding.
Determine whether an assessment has already been conducted on dog-bite data. Ask about reports related to injuries and costs from dog bites, surveys that include dog bite or dog ownership.
Know what interventions and dog ordinances have been previously introduced and their history of success. Individuals involved in these efforts may be valuable allies. Current ordinances should be evaluated to determine whether enforcement or revision could increase their effectiveness.
Coordinate efforts among participating organizations. Develop an action plan.
Generate public and legislative support for dog-bite control.
Identify dog-bite reporting sources.
Interpret data.
Provide technical expertise for the program. Recommend goals and objectives for prevention.
Keep an updated list of local media contacts who have an interest in animal issues. Create press releases and make yourself available for interview
Background reading
"Veterinarians need to speak up," says Karen Delise, a former veterinary technician and author of the "Pit Bull Placebo: The media myths and politics of canine aggression" and "Fatal Dog Attacks: The stories behind the statistics."  "I think they can do more to stop this situation. Politicians are now listening to victims become 'overnight dog experts,' letting emotions outweigh professional knowledge."
Centers for Disease Control (CDC)
"There is currently no accurate way to determine which breeds are more likely to bite or kill," says Gail Hayes of the Centers for Disease Control and Prevention media relations department.
"A 1997-1998 CDC report on breeds of dogs involved in fatal human attacks does not identify breeds most likely to bite or kill and is not appropriate for policy-making. I urge caution when looking at reports because there are so many factors that do not allow reporting accuracy."
The CDC no longer records dog bite fatalities, but reports that in 2006, 306,273 dog bite injuries were seen in U.S. emergency rooms.
Although politicians still refer to the dated report in lobbying in favor of breed bans, the same report cites a Pinckney and Kennedy study that indicates death by breed.
The report shows three deaths by golden retrievers, two by daschunds and one by a Yorkshire terrier.
"This statement in the same report should trump evidence used against specific breed bias," Hayes says.
Beaver also contests the CDC report's accuracy because the center relied on media reports.
"Media reports involve a lot of human error on part of the reporters and their informants," Beaver says. "In addition, there isn't a national database on dog bites, therefore, no go-to resource for more precise records."
State Association involvement
The Colorado Veterinary Medical Assn. formed the Coalition for Living Safely with Dogs to educate dog owners and the general public, says Judy Calhoun, associate executive director of CVMA.
"The coalition offers assistance to municipalities that are establishing new or more effective dangerous-dog laws."
The Wisconsin Veterinary Medical Assn. is organizing a Companion Animal Coalition, in an effort to combine allies to effectively dispute issues such as breed-specific legislation, says Leslie Grendahl, WVMA executive director.
"I suggest all VMAs get a coalition of like-minded people together before there is an issue," Grendahl adds. "Never have just one veterinarian speak at an engagement and exhibit stats showing evidence of the profession's position.  Prove you are an expert by citing your training and education. Orchestrate a speech and AVMA for help."
The Chicago Veterinary Medical Assn. was successful in stopping breed-specific legislation in 2005, when then Chicago VMA President Joanne Carlson, DVM, wrote a letter to the mayor giving the association's credentials, a legislation  position statement and offering its expertise in legislative matters involving animals.
"We attended hearings and worked with other organizations to provide a solution to banning pit bulls," says Kathleen Heneghan, DVM, past president of Chicago VMA. "Dangerous dog legislation is now in place for the city, without mention of specific breeds."
Legislation Prevention
"Prevention may be the key to avoid a legal breed ban dispute," says Sophia Yin, DVM, director for media relations American Veterinary Society of Animal Behavior.
"Veterinarians and veterinary staff can create a policy that addresses clients owning aggressive [animals] before the animal bites.
Keep a list of local animal behaviorists to refer these clients to and let clients with targeted breeds know they'll be scrutinized more than people with other large breeds."
Veterinarians' role in preventing breed bans can be as simple as explaining behavior they should expect from their dogs, and that can lead to trouble, Dr. Yin adds.
"Veterinarians need to recognize a client's lack of judgment or education on their dog, especially in large breeds," Yin notes. "Offer advice on training the pet, suggest behavior classes, even medication if necessary. It only takes one incident to spur legislation. Vets can provide their clients with a brochure listing appropriate types of play. "
Yin admits most of the dogs she treats for behavior issues have already bitten someone or at least nipped.
"In some cases, the dog has shown aggression to numerous people or other animals," Yin adds. "At the point when a dog has been aggressive without reprimand, reversing the behavior is much more difficult than the prevention approach. Unfortunately a lot of people are the wrong match for the breed they've adopted, which is a liability and additional obstacle."
According to the Insurance Information Institute, 13 states have laws prohibiting counties and cities from legally targeting certain breeds. Insurance companies in Pennsylvania and Michigan, by law, cannot cancel or deny coverage to owners of specific breeds.
The Insurance Company Stance
"We look for the potential to harm," says Steve Witmer, spokesman for the American Family Insurance.
"Since 1994, we haven't provided homeowners insurance for people owning an Akita, American Staffordshire terrier, pit bull, Chow, Rottweiler, wolf hybrid or any mix of these breeds.
"In recent years, AFI has paid $5 million annually on dog bite claims. There has been some decrease and we believe that's due to the dog-bite legislation. Our approach is fair and doesn't impose higher rates for other customers."
State Farm's Ryan Devins says the company does not offer insurance to pit bull owners and says many insurance companies have a list of breeds they won't insure.
"Some companies will offer separate insurance policies for these breeds, but with some cities requiring $100,000 coverage, those who do own the dogs are likely doing so illegally," Devins says.
Beaver says she refers to insurance companies' lists as 'I hate this breed' lists.
"Dogs cost insurance companies billions of dollars annually, paid out in homeowners insurance, so the industry wants no part in the popular problem dog," she says.
"There are about 65 million dogs in the country and roughly 4 million bites reported annually. That means there are 61 million good dogs.
"Still, politicians look like they've done something in response to community outcry following a dog attack. Instead, all they've done is create a false sense of security. Breed specific legislation only guarantees the breed of dog involved with serious bites will change."
"I don't know when pit bulls' 'dangerous dog' label will expire, but whatever is coming next will be bigger and badder and people in favor of breed bans will be begging for pit bulls to come back," Goldfarb says.
---
Click on any of the following for more information:
www.akc.org/canine_legislation/position_statements.cfm#dangerousdog
www.livingsafelywithdogs.org/
www.iii.org/media/hottopics/insurance/dogbite
www.nationalcanineresearchcouncil.com
www.atts.org/statistics.html
www.fataldogattacks.com