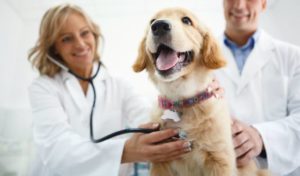 Pets diagnosed with cancer will now have greater access to advanced, collaborative pet cancer care.
VCA Animal Hospitals says it is launching 35 VCA Pet CancerCare Centers across North America, including several in Canada. Facilities have been slated for Laval and Brossard near Montreal; Ottawa, Newmarket, Oakville, and Scarborough in Ontario; Victoria; and Calgary.
The centres will be staffed by multidisciplinary oncology teams that will design individualized treatment plans using the latest in medical health-care technology.
"At VCA Pet CancerCare Centers, we are leading cancer care into a hopeful new era with longer lifespans and improved quality of life," says Zack Wright, DVM, DACVIM/Oncology, director of oncology at VCA Animal Diagnostic Clinic in Dallas, Texas.
"Our dedicated oncologists across the network are committed to working with primary care veterinarians to make advanced cancer care accessible to pet owners, with the goal always being extended, high quality of life for our patients."
By introducing these cancer centres, VCA hopes to provide greater accessibility of world-class treatment to help improve the quality of life for pets, as well as to cultivate open lines of communication and collaboration between oncologists, primary care veterinarians, and pet owners.
According to a VCA survey, 58 per cent of pet owners would do everything possible to make the lives of their pets more comfortable when diagnosed with cancer.