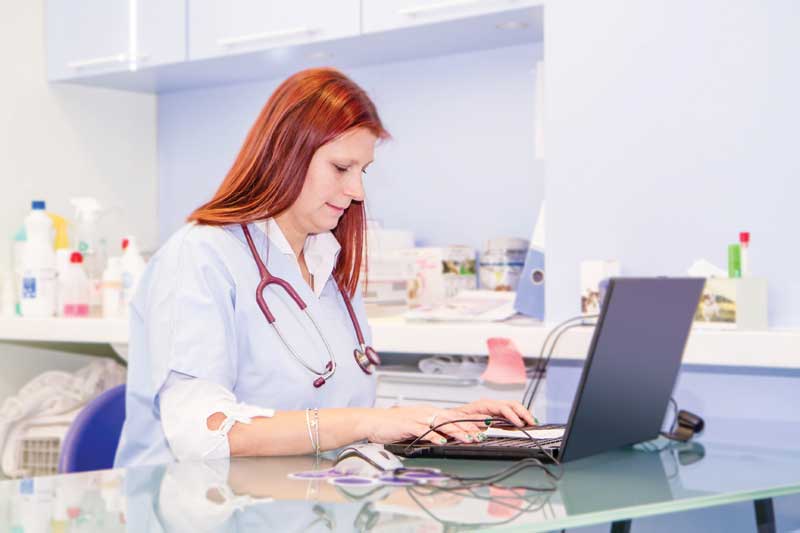 Even though most practice management software programs feature high-level configuration, clinics should demand even more from their practice management software, according to industry experts.
Practitioners should think about their short, mid- and long-term goals when considering a practice management system, according to Heather Ansell, senior director of technology sales for Henry Schein Veterinary Solutions.
"For example, a practice owner who is interested in expanding to multiple locations and wants to have control from a centralized location will want to have that in mind when assessing which practice management software solution best fits his or her needs," Ansell said.
Those practices that already have a good system in place should ensure they are using the latest version of the software platform.
"If not, you may be missing out on new features that address your needs," Ansell said. "Make a list of your needs and contact your software company to confirm what the latest version offers. Upgrades are much less disruptive than changing software."
Sagi Solomon, CEO and founder of Vetter Software, sees a lot of interest in solutions that empower client acquisition and engagement, including online appointment booking solutions and mobile apps for clients.
"We believe that the apps are still early in their development, but some are showing real promise in particular with respect to enabling commerce and appointment booking," Solomon said.
Also, an increasing number of customers are leaning on data to improve their businesses, he added.
"The data that they are using includes data about their own practices, but also benchmarking data to help assess performance of the business within a relevant group," he said. "If these trends continue, which I believe they will, open exchange of data will become key to ensuring the success of the software company. That means that companies that offer application programming interfaces, or APIs, and that are open to integrating with other companies are more likely to be able to offer a suite of services for the practitioner and his or her clients."
4 key points before purchase
Practices increasingly want the flexibility to offer new services and streamline key tasks, said Rachel Houlihan, director of IDEXX's veterinary software and services. However, she added that no matter the complexity of offerings, those who make the purchase decision should keep important staples in mind:
Security – Data is an important asset that must be protected against accidents, human error, or malicious attacks. Choose a software provider that can create a strategy to secure your network, protect software and operating systems, safeguard and recover data, and educate your team on security best practices.
Integration – Maintaining the integrity of patient and client data is easier with secure two-way integration between the various software and services operating in the practice. Ask vendors if their software integrates with the products and services you use.
Support and training – Make sure the software is backed by live training and dependable support in order to quickly
solve problems.
Reputation – Software should improve the longer you own it, acquiring new capabilities and performance improvements
via regular upgrades. Take a very close look at each provider's track record for delivering innovation.
Look at the track record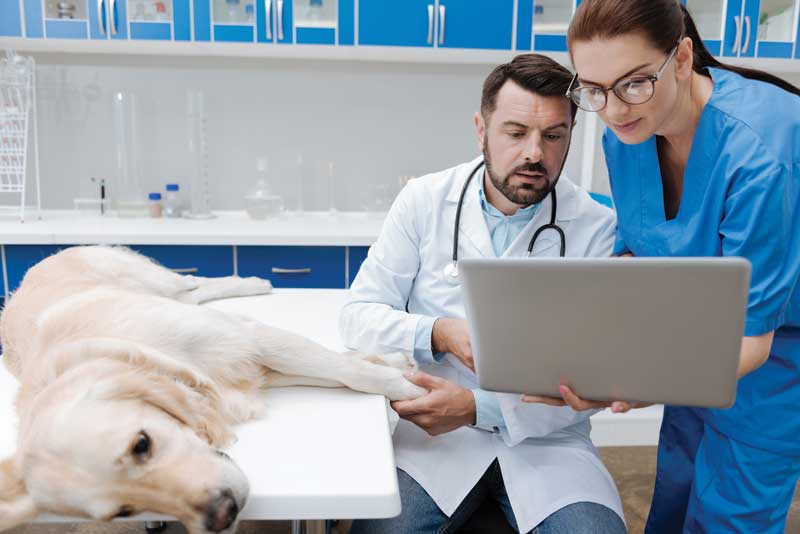 Selecting a software platform means "signing up for an ongoing relationship" with the software provider, said Ali Hashmat, CEO of Cure Partners, which recently introduced NaVetor, a new cloud software platform for veterinary practices offered in partnership with Patterson Veterinary.
What that means is it's important to have confidence in the company behind the software, he added.
According to Hashmat, the smartest way to establish a relationship with the best software provider is for practitioners to ask such questions as: Does the company stand behind the product? Does it offer strong support? Does it continuously invest in software advancements to stay current?
"Software that tracks key performance indicators is becoming a valuable tool for veterinary practices to help them maintain the health and profitability of their practice," he said. "The best software platforms are tools that practices can rely on, not only for keeping accurate patient and financial records, but also for providing the right information and analytics to manage a successful veterinary business."
He said that staying on top of software advances and continuously investing in the software platform is also important.
"Busy veterinary practices rely on technology to make life easier and less stressful," Hashmat said. "Smart workflows, time-saving features, and strong data analytics decrease tension and let everyone focus on what's really important—clients and patients."
Is the cloud right for you?
"Assess your ability to support on-site IT infrastructure as well as your mobility needs," Ansell said. "On-site and cloud solutions each have their advantages and disadvantages, so be sure to balance them against your practice's needs."
Eric Bregman, VMD, CEO of VetOfficeSuite.com, also encouraged would-be buyers to consider cloud capabilities.
"When considering new software, owners should think about whether they want a cloud-based system or an installed system with server and work station requirements," Dr. Bregman said. "Longevity of the company, cost, and customer service would also be key items to consider."
MANAGEMENT SOFTWARE FOR THE EQUINE PRACTICE
Generally speaking, all veterinarians looking for practice management software are ultimately in search of a way to better streamline their operation's capabilities.

But that's not all they want.

"Time savings is obviously a big part of it, but bridging these disconnects also mitigates likely errors involved when all these important parts of the practice are divided," said Jed Packer, EmberEquine product manager for Juniper Systems, a provider of data collectors, GPS receivers, and software solutions.

A solid management software system eliminates errors, duplications, and other hiccups one may encounter.

"Having a clean workflow lays the groundwork for a smooth transition into practice growth and expansion," Packer said. "Working with the latest technology also sends a message to clients that the practice uses methods that are up to date and accurate."

Not only is he referring to practice management software in general, but also his company's handhelds and its EmberEquine software, which is designed to provide an efficient process for mare exams and recordkeeping.

"Vets are able to create customized mare exam forms, transfer ultrasound images from the 4VetJ ultrasound to the Mesa 2, schedule appointments, create billing codes, export organized client reports, and more," Packer said.

The software also connects to the Microsoft Azure Cloud.

"This allows office personnel, other vets, and vet techs to view historical mare records at all times," Packer said.

The software also provides customizable mare exam forms, ultrasound image transfer, appointment scheduling, billing codes, and client reports.

"Equine vets during repro season are too busy to tolerate disconnects in their practice processes," he said. "Implementing a software that can easily organize mare exam information and ultrasound images, schedule appointments, provide billing codes, and export a clean client report gives vets more time to focus on their job, and less time working out logistics."