The recent Southern California wildfires forced more than a half million people from their homes, many with their pets, and quickly consumed almost 800 square miles.
At one point, at least 15 fires burned from Los Angeles' San Fernando Valley south to the Mexican border.
When fires of this great magnitude ignite, it takes preparedness and collaboration between veterinarians, animal control, pet owners, government agencies and other organizations to help ensure the safety of people and their pets.
This is one reason the American Red Cross now partners with local animal control in setting up emergency shelters.

When the Red Cross opens a shelter, it informs local animal control that more than likely it will have animal needs. Animal control then sets up a shelter adjoining the Red Cross shelter.
The Southern California wildfires brought many types of animals to Red Cross shelters, including dogs, cats, snakes, birds and even fish, says Amy Hegy, public affairs manager of the San Diego chapter.

"The initial concern for many of these evacuees is 'What's going to happen to my pet?'" Hegy says. "It was very comforting for people to know that their pet was there and was being well taken care of. And for people who didn't have pets, having dogs and cats on the property was a calming influence."
The driving factor in forming these alliances was Hurricane Katrina in 2005, says Dante Glinieki, government liaison for the Red Cross. Many pet owners were so concerned about what was going to happen to their pets that they stayed behind when they should have been evacuating, he notes.
"It's come a tremendously long way in just a matter of a couple years, nationwide," he says. "[These alliances] are now a part of what we do in emergency management … so we can provide for pets in disaster situations."
Glinieki says that the Red Cross wants to spread its appreciation to not only animal control but to other animal welfare groups and their donors during the firestorms.
"That's what really made the difference," he says. "That's what's going to make it in the future, too. It's going to take those kinds of coalition efforts to make it work."
Creating a Safe Haven
Pet hospitals, shelters, fairgrounds and ranches opened their doors to provide shelter for displaced animals during the fire emergency.
In San Diego County alone, about 4,000 to 5,000 horses were evacuated, says Terry Paik, DVM, San Diego County California Veterinary Medical Assn. disaster coordinator. Del Mar Racetrack took in about 2,400 horses on the first day.
"The initial concern for many of these evacuees is 'What's going to happen to my pet?'"
Dr. Paik says that San Diego County has a strong disaster plan. It specifies that animal control officers, the San Diego Humane Society and private animal care shelters will assist in the rescue, transport and sheltering of small and large animals. It further outlines owner responsibility, public education and pet identification, among other factors.
"Ensuring for the transportation, care and sheltering of animals is an important factor in evacuation planning," states the Unified San Diego County Emergency Services Organization Operational Area Emergency Plan.

"Many people will refuse to evacuate their homes if they cannot take their pets with them. It is estimated that up to 25 percent of pet owners will completely fail to evacuate because of their animals.
"Furthermore, about 30 percent to 50 percent of pet owners will leave pets behind; and approximately 50 percent to 70 percent of those individuals who leave animals behind, will attempt to re-enter an evacuated site to rescue their animals.
"Therefore, it is imperative that evacuation plans address pet evacuation and sheltering procedures to protect both human and animal health and safety."
Paik stresses the importance for individuals to also have their own emergency plans.
"Practice your plan," he says. "Without practicing it, you don't know how it's going to work. Be prepared. It'll make everyone's job so much easier."
Wild Animal Park
The San Diego Zoo's Wild Animal Park in Escondido has faced the threat of fires in the past and has had an evacuation plan in place for quite some time.
"We know that there is a fire potential and, therefore, we have had an emergency plan in place from years and years ago," says Yadira Galindo, zoo spokeswoman.
"[The plan] gives us details as to which animals to move in case of a fire. It starts with the critically endangered species, like the California condor. We have a priority list and start moving animals depending on certain factors–if the fires are getting very close, if the smoke is too much."
During the October fires, which burned 600 acres of the 1,800-acre park, the condors, other endangered species and the animals easiest to transport (reptiles, birds and cheetahs) were moved to the park's fire-resistant veterinary hospital.
The emergency plan also calls for fire breaks around the perimeter of the park, which requires clearing of vegetation so it doesn't add fuel to the fire.
Of the more than 3,500 animals that reside at the park, only two, a clapper rail and a kiang, were lost due to distress from the fire.
"We are an organization that understands emergency situations and we plan for a variety of possible scenarios," Galindo says. "We are prepared as best we can to protect these animals. Unfortunately these natural disasters do pose a problem and we did lose two animals, but we will always do our best to try to protect all of those animals, as well as our own team."
Helping Hands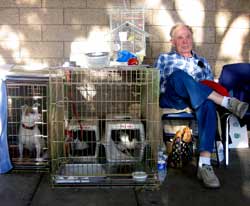 (Courtesy of Melissa Ash)
Harry Davies sits with his dog, two cats and bird at the Red Cross shelter, El Toro High School, Lake Forest, Calif.
Many pet health companies and associations donated goods and services, including the American Society for the Prevention of Cruelty to Animals, which provided funding for hay and other equine supplies; Petco, which donated pet food, leashes, kennels, collars and other supplies; PetSmart Charities, which dispatched two tractor trailers with emergency pet supplies; Iams pet food, which established an emergency assistance hotline for pet owners; Hill's Pet Nutrition, which donated about 50,000 pounds of Science Diet and Prescription Diet foods; VCA Animal Hospitals, which offered free boarding at more than 40 of its Southern California locations; Banfield, which dispatched a mobile emergency pet hospital to assist with medical emergencies; Henry Schein, which activated a disaster relief hotline to support its veterinary customers; and the American Kennel Club, which donated bowls, collars, crates and pet food.


Aid for Vets
Veterinarians affected directly by the wildfires or those who incurred costs by offering veterinary medical services can apply for up to $2,000 in grants through the American Veterinary Medical Foundation, a program created by the American Veterinary Medical Assn. in response to Hurricane Katrina.
These funds can include reimbursement for business and/or personal damage, a reduction in business clientele and/or income, travel expenses associated with disaster and medical supplies.
Veterinarians have up to nine months from the date of the fires to apply for a grant. For details, click here or contact Monique Buonincontro, AVMF grants coordinator, at 800-248-2862, ext. 6691.
The California Veterinary Medical Foundation, which was formed by CVMA in 1995, also has funds available to assist veterinarians with reimbursement for out-of-pocket expenses.
Reimbursements can include medical supplies (such as bandages, pharmaceuticals, injections, anesthetics, etc.), pet hospitalization (half the cost) and boarding costs ($15 per day).
Veterinarians must submit a grant request form by Dec. 31. Click here for details.
Through collaboration, veterinarians and volunteers made the relief efforts possible, says Jeff Smith, DVM, president of CVMA.
"I think it is remarkable the way the profession does rally in these disasters," he says. "There is a lot of self-sacrifice involved. I am very proud of all of our members who contributed either through the personal rendering of veterinary services or through coordinating different agencies and relief efforts."