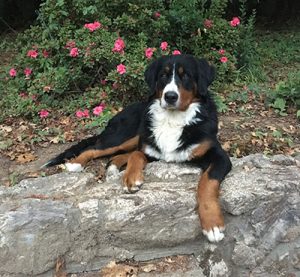 Swiss Star's Chasing Moonbeams, aka Luna, a 1-year-old female Bernese mountain dog, recently jumped out of the window of a moving car. After Luna immediately showed lameness in her pelvic limb, co-owner Mary Beam had her examined. X-rays showed a break in the head of Luna's right femur, so she was referred to a local veterinary surgeon. After discovering that Luna was a champion show dog, the surgeon suggested Beam take her to see orthopedic surgeon Denis Marcellin-Little, DEDV, DACVS, DECVS, at the University of California Davis veterinary hospital.
Dr. Marcellin-Little discussed three options for Luna. Option one included medical management with cage rest and pain medication, to let the hip heal on its own. However, this option brought an increased risk of persistent hip joint instability and osteoarthritis. Option two was a femoral head osteotomy, a surgery that would relieve the pain and discomfort, but involved a high risk of causing an abnormal gait. Beam chose option three, a total hip replacement. This more-involved surgery would give Luna the best chance of returning to a normal gait and preventing osteoarthritis in the long term.
After serving on the faculty at North Carolina State University for 23 years, Marcellin-Little joined the faculty at UC Davis in August 2017. With his arrival at UC Davis, the hospital's Orthopedic Surgery Service is expanding joint replacement offerings, including all types of total hip replacement and custom implants for patients with severe problems. In future, the program will incorporate total knees, total elbows, and fully custom total joints. To help enhance patient recovery, the hospital has renovated a ward specifically for joint replacement patients, equipped with nonskid rubber flooring for patients' safety and comfort.
"We were excited to work with Dr. Marcellin-Little," said Ms. Beam. "We felt that we were getting the best care for Luna by coming to UC Davis to see him."
Luna underwent surgery at UC Davis three weeks after her first birthday. The total hip replacement involved removing the head of her fractured femur and implanting a cup in her pelvis and a stem in her thigh bone. The implants are made of titanium, with rough surfaces that Luna's bones will grow into and become permanently integrated. Because Luna is a large and heavy dog, a special stem with a locking bolt was used.
Luna's surgery was successful, and she received post-operative care in the intermediate care ward, where she remained hospitalized for three nights. She was maintained on IV pain medications, supportive care, and was closely monitored for any signs of post-operative or post-anesthetic complications. Luna was able to support weight in her right pelvic limb the day after surgery. Her care team purposefully limited her movements and only allowed brief trips outside to protect her healing hip joint and minimize the forces applied to her total hip components.
Luna was placed on crate rest for three months. Now just over a month post-surgery, she is healing as well as could be expected. She will be re-evaluated by Marcellin-Little in two months. If her recovery continues to go well, Luna may be back in competition by this summer.
"We're happy that it looks like Luna will be able to return to her show career," said Ms. Beam, who has been showing dogs for 15 years. "I keep recommending UC Davis to everyone who is in need of specialty care. And I also tell everyone to get pet insurance. Our insurance covered 95 percent of Luna's bill for this surgery. I'm a big advocate for pet insurance because you don't want to be that pet owner who has to say, 'I can't do this surgery because I can't afford it.' We just won't do that with our dogs. They're all insured, so we never have to say that."