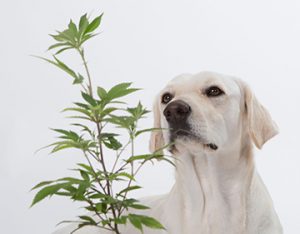 The University of California, Davis School of Veterinary Medicine has launched a survey to learn more about the use of cannabis products on pets.
"With the increasing use of medical cannabis and the start of recreational use [in California] in January, the interest in using it for pets has really grown," said Jamie Peyton, DVM, chief of small animal integrative medicine at UC Davis and the primary researcher behind the study. "The goal of the survey is to start the conversation about the use of hemp and cannabis products for pets."
More pet owners are asking veterinarians about cannabis use for their companion animals, but vets currently are not allowed to prescribe or recommend cannabis products for pets, Dr. Peyton said.
The anonymous online survey asks basic information about the pet and about its medical history, and includes questions about the type of marijuana products the pet owner administers, the reason for using the product, and how often it is administered. The final question asks if the respondent would involve their pet in a study of marijuana products for pets.
The goal of the survey is to inform future research.
"There's no published, peer-reviewed study on the growth of the use of marijuana products on animals and [their] effects," said Peyton.
Research would begin at the most basic level, such as determining appropriate dosages and possible serious adverse side effects. More advanced research may show that cannabis products for pets could be used for managing pain, seizures, and anxiety, according to Peyton.
Challenges to conducting the research include acquiring funding and a Schedule I license from the federal government. UC Davis researchers plan to submit their Schedule I license application within the next few months and hope to receive the license within a year, Peyton said.